Days of week names are related to occult powers inside the man (alchemy):

7. Sun-day – Gold – Crown chakra – URANIC gate – Point of soul

6. Moon-day – Silver – Third eye

5. Tues-day (in italian marte-dì or Mars day) – ETHER - Iron/Sulphur – Throat chakra

4. Wednes-day (in Italian mercole-di or Mercury day) – AIR - Mercury - Heart chakra – Point of spirit

3. Thurs-day (in Italian giove-di or Jupiter day) – FIRE - Tin – Solar plexus chakra

2. Fri-day (in Italian vener-di or Venus day) – WATER - Copper - Sacral plexus chakra

1. Satur-day (Saturn day) – EARTH - Lead/Steel/Salt/Ammoniac – Root chakra – TELLURIC gate


The same for the months that have an alchemy meaning:

1. Aries, FIRE, Calcination
2. Taurus, EARTH, Congelation
3. Gemini, AIR, Fixation
4. Cancer, WATER, Dissolution
5. Leo, FIRE, Digestion
6. Virgo, EARTH, Distillation
7. Libra, AIR, Sublimation
8. Scorpio, WATER, Separation
9. Sagittarius, FIRE, Incineration
10. Capricorn, EARTH, Fermentation
11. Aquarius, AIR, Multiplication
12. Pisces, WATER, Projection

SATURNIA




(ITALY THE SEAT OF WORLD POWER)



Hotel Saturnia logo with its Dragon looks very fishy like Dagon known as Saturn (EL)


Hotel Saturnia & International
S. Marco 2398 - Via XXII Marzo Venice - Italy

VENICE - ITALY HOME OF THE HIGHEST BLACK NOBILITY

Hotel Saturnia is located in the heart of Venice, only 250 metres from St. Mark's Square

SQUARE = SATURN THE GOD EL
(THE BLACK SQUARE/BLACK SUN)

"SATURN wandered to Italy, where he ruled as king in the Golden Age and gave the name SATURNIA to the country." (Encyclopedia Britannica, "Saturn," p. 231)



Pope Benedict XVI wears a "saturno hat", inspired by the ringed planet Saturn, to shield himself from the sun as he waves to the crowd of faithful prior to his weekly general audience in St. Peter's Square at the Vatican Wednesday.



The Pope's Mitre is simply taken from once again Saturnknown as Dagon

Catholic means UNIVERSAL and it is the sum of Christianity , mitraism, cult of Saturn and other pagan rites and cults. This in order to create a super-religion with the purpose to dominate and enslave people under the Roman empire.

Another target of catholic religion was to bind temporal power with spiritual power.

Vatican is a monument to occult powers: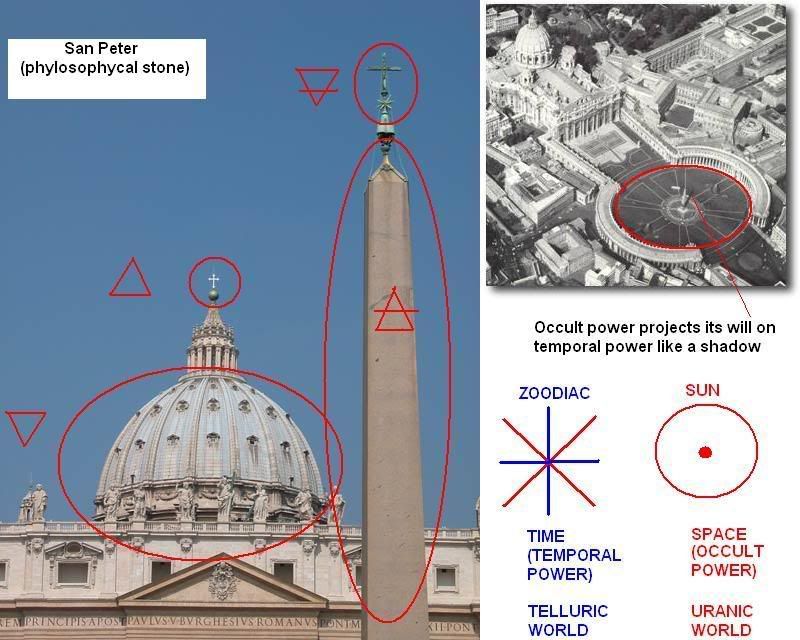 URANUS AND THE MYTH The implications of Uranus in the chart seem to be reversed in comparison to the mythical meaning of Ouranus. Uranus is the sun of the earth goddess Gaea. And at the same time her husband. The children born out of this relationship were imprisoned but one of them, Cronus (later called Saturn) was able to castrate his father (encouraged by his mother). The genitals fell into the see and so Aphrodite was produced (Venus).
CRONUS= SATURN =MACHINE TIME
| | |
| --- | --- |
| Reply | Message 6 of 6 on the subject |