Un buen actor puede interpretar varios papeles sin encasillarse, pero un gran actor es capaz de moldearse y transformarse completamente para ponerse al servicio de su personaje.
Hollywood nos ha provisto de varios grandes actores que a través del tiempo han demostrado una y otra vez que ningún rol es demasiado difícil para ellos. Acompañados del trabajo de talentosos artistas del maquillaje, estas celebridades pasaron a la historia por quedar tan irreconocibles, que incluso sus fans no fueron capaces de identificarlos en un primer momento.
A continuación te contamos algunos de estos casos.
1. Gutless en Hook (1991)
En 1991 Steven Spielberg estrenó una versión muy particular del clásico de la literatura Peter Pan. En la cinta titulada Hook, la historia se centraba en un adulto Peter Pan que no recordaba quién era.
La producción cuenta con actores de renombre como Robin Williams, Dustin Hoffman e incluso Phil Collins, sin embargo, hubo un cameo que acaparó la atención de los espectadores y los dejó pensando en quién era.
Gutless era el nombre de este peculiar pirata que fue interpretado nada menos que por Glenn Close. La actriz quedó irreconocible gracias al equipo de maquillaje de la cinta que fue encabezado por Christina Smith, Monty Westmore y Adelbert Acevedo.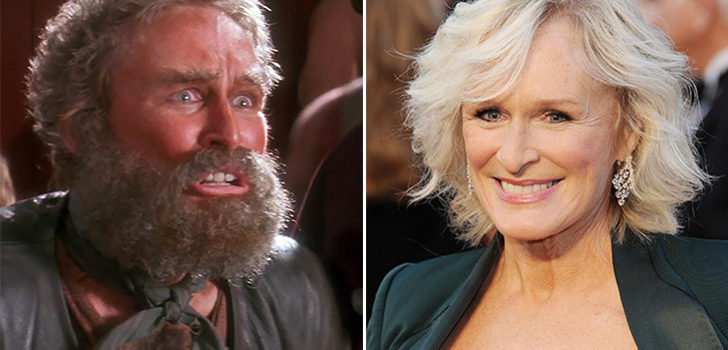 2. Jocasta Ayrs en Cloud Atlas (2012)
Halle Berry sufrió varias transformaciones que la convirtieron en seis personas distintas, en la cinta de los hermanos Wachowski, Cloud Atlas.
Uno de esos personajes es Jocasta Ayrs, una chica judía de los años 30 que hizo que la actriz dejara atrás su piel morena para convertirse en una mujer blanca, rubia y de ojos verdes.
En otro segmento de la película dio vida a un cirujano de nombre Ovid, que requirió varias horas de maquillaje trabajado por Sin Richards, makeup artist personal de Berry.
Dicho rol también requirió de un gran equipo de artistas que trabajaron en las prótesis que llevó la actriz en su rostro.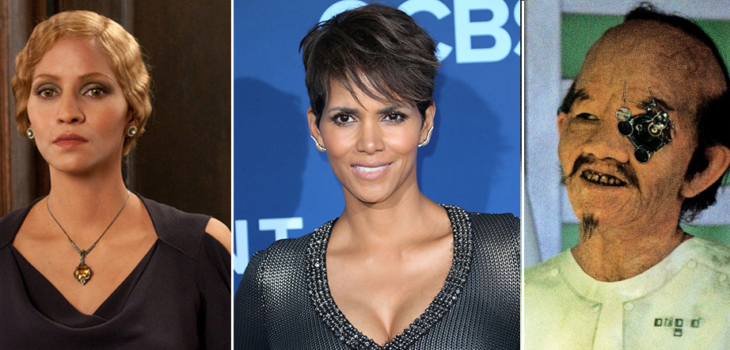 3. Mason Verger en Hannibal (2001)
En la secuela de El Silencio de los Inocentes, Gary Oldman pasaba más de seis horas diarias sentado en una silla de maquillaje transformándose en Mason Verger. El actor quedó tan irreconocible que por años nadie supo que se trataba de él, tampoco ayudó que su nombre no apareciera en los créditos.
Sin embargo, no cualquier actor podía someterse a este tipo de cambio. "Sabía que podíamos ir más allá con él que con cualquier otro actor. Lo primero que dijo cuando comenzamos a trabajar fue '¿Podemos estirar mi ojo abierto?"", recordó el responsable de la transformación Greg Cannom en una entrevista con The Guardian.
Cannom está tan orgulloso que hasta el día de hoy agradece los cumplidos. "He enseñado fotografías a la gente [de Oldman como Verger] y todos dicen solamente 'Oh, Dios mío', lo que me hace muy feliz", agregó.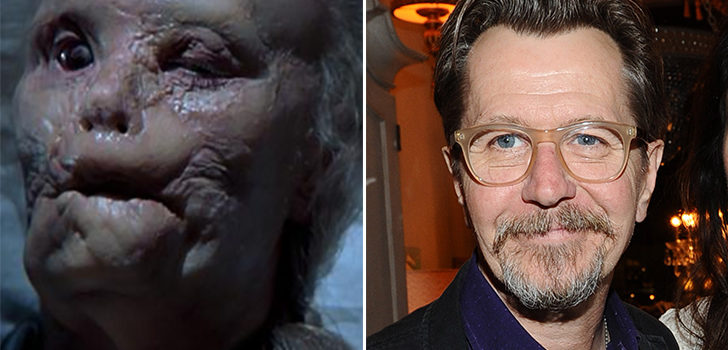 4. Marlene McFly en Back to the Future Part II (1989)
La hermana de Marty McFly en la segunda entrega de Volver al Futuro fue interpretada nada menos que por el mismo Michael J. Fox. El entonces joven actor, sólo necesitó de varias capas de maquillaje, una peluca y ropa de mujer para parecer un ser humano completamente distinto.
Sin embargo, ésta no fue la única transformación, pues también interpretó una versión adolescente y a otra madura de él.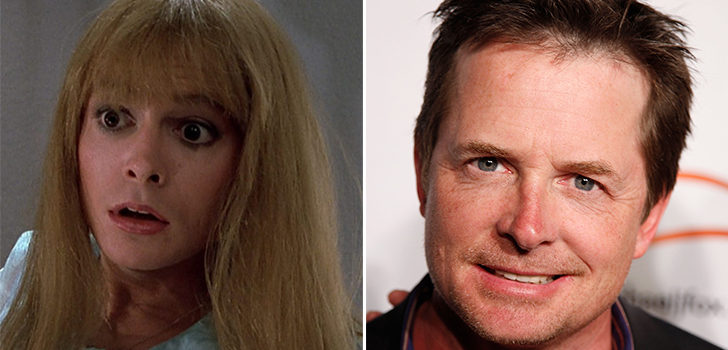 5. Rabino en Angels in America (2003)
En 2003 Meryl Streep dejó en claro por qué es una de las actrices más talentosas y versátiles de Hollywood. La ganadora del Oscar se unió a Al Pacino, Mary Loise Parker y Justin Kirk en la miniserie de HBO Angels in America.
En la producción dio vida a varios roles, sin embargo, fue el "Rabino", quien más llamó la atención. Dicho personaje no sólo convirtió en hombre a la actriz, sino que la dejó irreconocible gracias a su pelo canoso, su larga barba blanca y lentes.