| | |
| --- | --- |
| Reply | Message 1 of 14 on the subject |
Where is Mary Magdalene?
The legend takes place in the first century, when the sun as personified by Jesus was drifting from Aries to Pisces during the vernal equinox. In the picture below, notice the juxtaposition of our three actors to the sun's path from Aries to Pisces. The story describes the picture.
Matthew tells us there were three people involved in Jesus' funeral: Joseph from Arimathea, Mary Madgalene and the other Mary. Joseph was wealthy while Cepheus was a king, presumably wealthy too.
When it was evening, there came a rich man from Arimathea, named Joseph, who also was a disciple of Jesus.
He went to Pilate and asked for the body of Jesus. Then Pilate ordered it to be given to him.
And Joseph took the body, and wrapped it in a clean linen shroud,
and laid it in his own new tomb, which he had hewn in the rock; and he rolled a great stone to the door of the tomb, and departed.
Mary Magdalene and the other Mary were there, sitting opposite the sepulchre. (Matt. 27:57-61)
Mary Magdalene and the other Mary went to the sepulchre.
Now after the sabbath, toward the dawn of the first day of the week, Mary Magdalene and the other Mary went to see the sepulchre. (Matt. 28:1)
Mark tells us Mary Magdalene was the first to see Jesus after he appeared from the sepulchre. In the image she is right next to the sun in Pisces. We are also told Jesus cast out seven demons from Mary Madgalene. In the myth of Andromeda, she was chained to a rock and left to the mercy of the sea monster, only to be rescured by Perseus. There is no monster in this picture, but it shows a parallel rescue with Perseus' foot on the seven stars of the Pleiades as if to be stomping on them like they were demons.
Now when he rose early on the first day of the week, he appeared first to Mary Magdalene, from whom he had cast out seven demons. (Mark 16:9)
First
Previous
2 to 14 of 14
Next
Last
| | |
| --- | --- |
| Reply | Message 2 of 14 on the subject |
1N. David and Bathsheba
Just above Perseus is the constellation Andromeda. In myth she was known for her beauty. When David was on the roof of the king's house he saw a beautiful woman bathing. When he inquired who she was, she was identified as Bathsheba, the wife of Uriah the Hittite. David sent for her and lay with her. Within a short time she found herself pregnant.
2It happened, late one afternoon, when David arose from his couch and was walking upon the roof of the king's house, that he saw from the roof a woman bathing; and the woman was very beautiful.
3And David sent and inquired about the woman. And one said, "Is not this Bathsheba, the daughter of Eliam, the wife of Uriah the Hittite?"
4So David sent messengers, and took her; and she came to him, and he lay with her. (Now she was purifying herself from her uncleanness.) Then she returned to her house.
5And the woman conceived; and she sent and told David, "I am with child." (2 Sam. 11:2-5)
David solved his problem by having Uriah sent to the front lines of battle where he would meet certain death.
14In the morning David wrote a letter to Joab, and sent it by the hand of Uriah.
15In the letter he wrote, "Set Uriah in the forefront of the hardest fighting, and then draw back from him, that he may be struck
| | |
| --- | --- |
| Reply | Message 3 of 14 on the subject |
Like many biblical accounts there are similar stories throughout various ancient cultures, and the resurrection is no different. The symbolisms of Jesus and the Egyptian god Osiris are the same and are embodied in celestial events focused on Orion. Both were sons of god, the sons of kings. Both died and were resurrected again, and hold the key to eternal life for their people. Even the name Jesus (Greek Iesous) means "the great of magic" and is related to the Egyptian names Isis and the feminine form of Re (Iusaas).1 Jesus birthday is celebrated on the feast of Horus, who as Re-Harakhte, was also a sungod. The links are not surprising considering the connection between the Hebrews and Egyptians during their sojourn in Egypt, with Moses (another Egyptian name) being raised as a son of Pharaoh. It can also been seen that the Resurrection which links Osiris-Jesus is intimately connected to the heliacal rising of the constellation Orion, with which Osiris was intimately connected. The Babylonians knew this constellation as Sitaddalu, the great shepherd who tended his flock (the stars) - another symbolism of Jesus.
Orion stands at the great celestial cross-roads, the permanent intersection of the galactic plane (Milky Way) and the ecliptic (the apparent path of the sun from earth or the actual orbital plane of the earth around the sun), marking the outer edge of the galaxy . In the age when the Great Pyramid was built, the plane of the celestial equator also aligned with this point so that the sun rose in conjunction with Orion - Osiris at the northern spring equinox in the mid-fifth millenium BC, an event which happens once around very 26,000 years. This was a very potent symbolism, in itself, for eternal life, something reflected in the eternal celestial and natural cycles. It was at this point in time that the rebirth of Osiris began gradually taking place, over a Celestial Age, on the Western Horizon as Lord of the Dead at the spring equinoxial dawn, with the western horizon being associated with the dead by the ancient Egyptians.
At the time of Jesus, the two celestial systems of the tropical and sidereal zodiacs were coming into alignment, thus giving Christianity the symbolism of the fish and the lamb, representing Pisces and Aries, respectively.
The crucifixion occurred three days before the northern spring equinox,2 giving astrological meaning to the resurrection three days after his death, for this was when the sun was reborn with the whole of nature at the spring equinox. His death was preceded by a total solar eclipse located at 0 degrees 21 minutes Aries of the sidereal zodiac, or 26 degrees 51 Pisces of the tropical zodiac. Adjacent to this eclipse position was Venus, the brightest celestial body after the Sun and Moon which were then not giving their light.
Orion in midheaven at the time of solar eclipse (at the time of the crucifixion).
v
v
The powerful imagery for the birth of a new religion does not end here. At the exact time of the eclipse, the symbol of Orion-Jesus-Osiris was conjunct the mid-heaven adjacent to the great celestial cross of the Milky Way and ecliptic as Jesus hung on the cross. As the eclipsed sun emerged from darkness, Jesus commended his spirit into the hands of his father. At this time, the temple of God (the heavens) was torn in two with the division of day from night when sunset occurred. Then, as a sign in the heavens, the magnificent constellation of Orion could be seen above the western horizon as Lord of the Dead, accompanied by the stars (who were saints raised up).
Orion in west at sunset on the day of the crucifixion.
Jesus had surely spoken the truth when he spoke about the sign of his coming and the end of the age, "The sun will be darkened and the moon will not give its light, and the stars will fall from heaven ... and then will appear the sign of the sun of man in heaven"3. This perfectly describes his crucifixion and resurrection when there was a solar eclipse in the afternoon of his death (1pm LMT) at a time when the stars were falling towards their setting and Orion appeared above the western horizon after sunset.
In the coming months, Orion would disappear from sight as the sun journeyed through that part of the sky, eventually being reborn in the second resurrection at the approach of summer, seated at the right hand of the father, just as Jesus predicted through the sign of the figtree.
Orion rising heliacally at the summer solstice in the era of Jesus.
The entire prophecy of the second coming has already been fulfilled with the heliacal rising (and resurrection) of Orion on the eastern horizon of life at the summer solstice dawn in his age. This fact of astronomy is reflected in Jesus' statement: "From the fig tree learn its lesson: as soon as its branch becomes tender and puts forth leaves, you know that summer is near. So also, when you see all these things you know that he is near, at the very gates. Truly I say to you that this generation will not pass away till all these things take place."4Jesus made this statement in response to a question about the second coming and the close of the age. The Age of Aries ended around 300 AD and thus began the New Age of Pisces. the second coming has already taken place as has the tribulation.
The imagery of the second coming is a powerful one for, as one faced east at dawn in that age, Orion sat at the right had of power on the eastern horizon as the Father, Re or the Sun, rose at the summer solstice dawn. Where there is reference to the son of man holding a sharp sickle in his hand, the imagery can be seen in Orion holding the Sword of Orion.
1 Moroney, A., "Pathway to Atlantis", Sydney, 1998, p 152
2 Moroney, A., "Pathway to Atlantis", Sydney, 1998, p 157
3 Matthew 24: 29-30
4 Matthew 24: 32-34
This is the original work of Alison Moroney and was published on the internet on August 11, 1999 and previously in her book Pathway to Atlantis(1998).
Copyright © Alison Moroney, 1994
| | |
| --- | --- |
| Reply | Message 4 of 14 on the subject |
Juan
20:1 El primer día de la semana,

María Magdalena fue de mañana

, siendo aún oscuro, al sepulcro; y vio quitada la piedra del sepulcro.

(Antes de la salida del sol. Hay un obvio nexo con el SOL NACIENTE Y PROBABLEMENTE TAMBIEN CON LA SALIDA HELIACA DE SIRIO)
20:2 Entonces corrió, y fue a

Simón Pedro y al otro discípulo, aquel al que amaba Jesús

, y les dijo: Se han llevado del sepulcro al Señor, y no sabemos dónde le han puesto.

(El discipulo amado es Juan Marcos, que en el contexto a la vida de Cristo aun era niño. En MATEO 16:18 (NUMERO DE ORO PHI)

JESUCRISTO HACE REFERENCIA EN CONTEXTO A PEDRO/PETRA/EDOM/LUNA CRECIENTE/ESTRELLA DE 5 PUNTAS/SIRIO/VENUS/NUMERO DE ORO PHI/DISCIPULO AMADO/SANTO GRIAL. VENUS TIENE UN CICLO PENTAGONAL INTERRELACIONADO CON EL NUMERO DE ORO. 8 AÑOS TERRESTRES EQUIVALEN A 13 DE VENUS. Recordemos que el 8 y el 13 son numeros de la SERIE DE FIBONACCI DE DONDE SALE EL NUMERO DE ORO. Incluso en MATEO 16:19 HAY UN CONTEXTO CON ORION/JESUCRISTO Y LAS PLEYADES/MARIA MAGDALENA. ESTE ES UN PATRON MUNDIAL CODIFICADO EN TODAS LAS CULTURAS DEL MUNDO. YHWH CODIFICO EN TODO EL MUNDO EL ENCUENTRO ENTRE NUESTRO PADRE ESPIRITUAL JESUCRISTO Y NUESTRA MADRE ESPIRITUAL MARIA MAGDALENA EN GIZE, STONEHENGE, ISLA DE PASCUA, CUZCO, JAPON, BOLIVIA, CHILE, CHICHEN ITZA, VATICANO, WASHINGTON D.C, BUENOS AIRES, JERUSALEN, ETC,ETC. MARIA/MIRYAM/MARES/NACIONES/GENTILES/APOCALIPSIS 17. MARIA MAGDALENA SIMBOLIZA A LOS GENTILES RECHAZADOS POR LA TRADICION RELIGIOSA.)
20:3 Y salieron Pedro y el otro discípulo, y fueron al sepulcro.
20:4 Corrían los dos juntos; pero

el otro discípulo corrió más aprisa que Pedro

, y llegó primero al sepulcro.

(El mensaje obviamente nos quiere decir que EL DISCIPULO AMADO ERA MUCHO MAS JOVEN que PEDRO)
20:5 Y bajándose a mirar, vio los lienzos puestos allí, pero no entró.
20:6 Luego llegó Simón Pedro tras él, y entró en el sepulcro, y vio los lienzos puestos allí,
20:7 y el sudario, que había estado sobre la cabeza de Jesús, no puesto con los lienzos, sino enrollado en un lugar aparte.
20:8 Entonces entró también

el otro discípulo, que había venido primero al sepulcro; y vio, y creyó

.
20:9 Porque aún no habían entendido la Escritura, que era necesario que

él resucitase de los muertos

.

(Cristo siempre hace referencia en el contexto al tercer dia/martes al HIJO DEL HOMBRE/ORION)
20:10 Y volvieron los discípulos a los suyos.
20:11 Pero

María

estaba fuera llorando junto al sepulcro; y mientras llo

raba

, se inclinó para mirar dentro del sepulcro;

(El termino LLO-RABA esta en CLAVE CON REFERENCIA A RABA/AMMAN/FI-LADEL-FIA/PHI-LADEL-PHI-A/UTERO DE ISIS/LLAVE DE DAVID segun APOCALIPSIS 3. RABA ERA UNA CIUDAD DE 7 COLINAS. EL VATICANO/WASHINGTON D.C/ASUNCION DEL PARAGUAY/JERUSALEN/ESTAMBUL/TOKIO/MOSCU/LISBOA/PARIS, ETC,ETC ESTAN DISEÑADO EN FUNCION A LA RESURRECCION DE CRISTO CON MARIA MAGDALENA EN CONTEXTO A ORION/PLEYADES. APOCALIPSIS 1 ESTA 100% ENGANCHADO CON JUAN 20 EN EL CONTEXTO A LA RESURRECCION DE CRISTO. HAY UN OBVIO NEXO CON LAS 7 ESTRELLAS/PLEYADES/7 IGLESIAS EN EL CONTEXTO AL MONTE DE ARARAT EN ANTIOQUIA, AL NORTE DE LA MESOPOTAMIA ASIATICA. EN MATEO 16:18 (NUMERO DE ORO PHI, JUSTAMENTE SE HACE REFERENCIA A ORION/PLEYADES/SIRIO EN EL CONTEXTO A PEDRO CON EL DISCIPULO AMADO/JUAN MARCOS/SANTO GRIAL)
JORDANIA (RABA/AMMAN)=7 COLINAS:EDOM/ROJO/PETRA/LUNA
20:12 y vio a dos ángeles con vestiduras blancas, que estaban sentados el uno a la cabecera, y el otro a los pies, donde el cuerpo de Jesús había sido puesto.
20:13 Y le dijeron: Mujer, ¿por qué lloras? Les dijo: Porque se han llevado a

mi Señor

, y no sé dónde le han puesto.

(MISTER/M-STAR/STAR/ESTRELLA/GRIAL. ESTA TODO EN CLAVE. Aparte el termino SEÑOR es una REFERENCIA A GENESIS 3:15. MAGDALENA ES LA NUEVA EVA)
es.wikipedia.org/wiki/Mister
Mister. Mister palabra inglesa que significa señor.

20:14 Cuando había dicho esto, se volvió, y vio a Jesús que estaba allí; mas no sabía que era Jesús.
20:15 Jesús le dijo: Mujer, ¿por qué lloras? ¿A quién buscas? Ella, pensando que era el hortelano, le dijo: Señor, si tú lo has llevado, dime dónde lo has puesto, y yo lo llevaré.
20:16 Jesús le dijo: ¡María! Volviéndose ella, le dijo: ¡Raboni! (que quiere decir,

Maestro

).

(Impresionate clave con referencia a MAESTRO/MASTER/MOTHER/MOTHER OF STAR/MADRE DE UNA ESTRELLA/ESTRELLA/STAR/GRIAL. LA estrella ES UNA REFERNCIA AL SUEÑO DE JOSE EN QUE JACOB ES EL SOL, RAQUEL LA LUNA Y LOS 12 HIJOS LAS ESTRELLAS. MARIA MAGDALENA ES LA VERDADERA ISTAR CRISTIANA, SIMBOLIZADA POR LA ESTATUA DE LA LIBERTAD, QUE MEDIANTE CRISTO NOS LIBERA Y NOS LLEVA A LA VERDAD. MARIA MAGDALENA NOS LIBERA DE LA MISOGINIA RELIGIOSA. Maestro tiene un fuerte nexo con el SALMO 119, con fuerte nexo con el JUBILEO/LIBERACION.)
milky way

in Simple Gematria Equals: 119

(

m 13

i9

l 12

k 11

y 25

0

w 23

a1

y 25

)
queen mary

in Simple Gematria Equals: 119

(

q 17

u 21

e5

e5

n 14

0

m 13

a1

r 18

y 25
hebrew calendar

in Simple Gematria Equals: 119

(

h8

e5

b2

r 18

e5

w 23

0

c3

a1

l 12

e5

n 14

d4

a1

r 18
mary magdalene

in Simple Gematria Equals: 119

(

m 13

a1

r 18

y 25

0

m 13

a1

g7

d4

a1

l 12

e5

n 14

e5
orion

in Simple Gematria Equals: 71
(
o

---

15
r

---

18
i

---

9
o

---

15
n

---

14
)
pleiades

in Simple Gematria Equals: 71
(
p

---

16
l

---

12
e

---

5
i

---

9
a

---

1
d

---

4
e

---

5
s

---

19
)
NOTEN QUE LA SUMA DE OR Y DE PLE DAN 33. ORION ESTA A 33 GRADOS DE LAS PLEIADES. HAY UN OBVIO NEXO CON JUAN MARCOS EN EL CONTEXTO AL NUMERO 33.
master

in Simple Gematria Equals: 76
(
m

---

13
a

---

1
s

---

19
t

---

20
e

---

5
r

---

18
)
EN MASTER SUCEDE ALGO SIMILAR. SUMANDO MAS TAMBIEN TENEMOS 33 Y SUMANDO TER TENEMOS 43 QUE TIENE NEXO CON ORION/M43.
YHWH MANEJA LOS HILOS DE TODO PARA MALDICION DE AQUELLOS QUE LO RECHAZAN.
3. Deuteronomio 4:48:
Desde Aroer, que está junto a la ribera del arroyo de Arnón, hasta el

monte de Sion, que es Hermón

;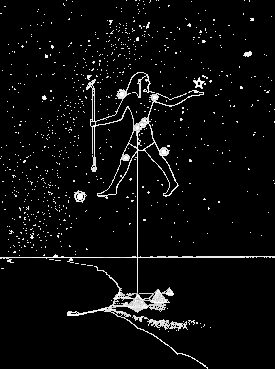 CUANDO CRISTO LE HABLO A PEDRO EN MATEO 16:18 (NUMERO DE ORO PHI) ESTABA EN C-ESAREA DE PHI-LIPO AL PIE DEL MONTE HERMON). ESTA TODO CALCULADO. YHWH MANEJA LOS HILOS DE TODO. CESAREA/C-SAR/
SAR=PRINCIPE=ESTRELLA DE 5 PUNTAS=NUMERO DE ORO PHI
ENCIMA CRISTO RESUCITO EN LUNA CRECIENTE.
PLANETA MARTE Y SU NEXO CON ISIS, EL TORO Y LA LUNA CRECIENTE
DOMINGO=PRIMER DIA
LUNES=SEGUNDO DIA
MARTES=TERCER DIA
20:17 Jesús le dijo: No me toques, porque aún no he subido

a mi Padre; mas ve a mis hermanos

, y diles:

Subo a mi Padre y a vuestro Padre, a mi Dios y a vuestro Dios

.

(La expresion "mis hermanos" ES UN OBVIO NEXO CON EL SALMO 119. HAY UN OBVIO NEXO ESOTERICO CON EL SANTO GRIAL. LA EXPRESION "MI PADRE Y VUESTRO PADRE" tiene connotacion con el PACTO DAVIDICO DE 2 DE SAMUEL 7:14 Y LA EXPRESION "MI DIOS Y VUESTRO DIOS" TIENE CONNOTACION CON EL PACTO ABRAHAMICO DE GENESIS 17. INCLUSO ESTA TAMBIEN LA "ESCALERA DE JACOB" DE GENESIS 28 EN CONEXTO A LOS ANGELES QUE SUBEN DE LA TIERRA AL CIELO, UNA OBVIA REFERENCIA A LA ALQUIMIA, OSEA EL GRIAL. ESTA TODO CODIFICADO. ES increible la profundidad que tiene cada versiculo. ES IMPOSIBLE QUE ESTO LO HAYA ESCRITO EL HOMBRE. LO INCREIBLE ES QUE EL PATRON ORION, PLEYADES Y SIRIO ES MUNDIAL. EL MENSAJE AQUI ES QUE EL EVANGELIO DE NUESTRO SEÑOR ES PARA TODAS LAS NACIONES DE LA TIERRA)
ESCALERA DE JACOB (ALQUIMIA)=GRIAL
20:18 Fue entonces

María Magdalena

para dar a los discípulos las nuevas de que había visto al Señor, y que él le había dicho estas cosas.
APOTEMA =PHI/1.618033
phi

in Simple Gematria Equals: 33
(
p

---

16
h

---

8
i

---

9
)
ophir

in Simple Gematria Equals: 66
(
o

---

15
p

---

16
h

---

8
i

---

9
r

---

18
)
| | |
| --- | --- |
| Reply | Message 5 of 14 on the subject |
You are right, thanks, this is the standard for the archbishops, anyway what mattered there was the tetractys, so lets analize Pope Ratzinger coat of arms.
On the
left we can see Cassiopeia the black Queen of Ethiopia - In Greek means burned face one - encrypts fire on Cassiopeia constellation
.
To the right the big bear of Arcadia - Ursa Major - the bear bears our cube and pillar Boaz our B-US, number 6 domain - counterclockwise.
The Shell symbolizes the growing interaction of 9-6 spirals, between both constellations.
The
silver key the gate of man in Taurus, and the gold key the gate of the Gods in Ophihchus , between Sagitarius and Scorpius
.
A circumpolar star is a star that, as viewed from a given latitude on Earth, never sets (that is, never disappears below the horizon), due to its proximity to one of the celestial poles. Circumpolar stars are therefore visible from said location towards nearest pole for the entire night on every night of the year (and would be continuously visible throughout the day too, were they not overwhelmed by the Sun's glare).
All circumpolar stars are within the circumpolar circle. This was in fact the original meaning of "Arctic Circle", before the current geographical meaning, meaning "Circle of the Bears" (Ursa Major, the Great Bear; and Ursa Minor, the Little Bear), from Greek αρκτικός (arktikos), "near the Bear", from the word άρκτος (arktos) bear.
Whitney Houston as the black Queen of Ethiopia - killed 2 - 11 - 2 = B = Boaz 11 = Solar system coordinates
Number 2 under Boaz, Capricorn constellation - the goat and Devil symbol
| | |
| --- | --- |
| Reply | Message 6 of 14 on the subject |
WHITNEY HOUSTON MON-K-EYE-S
CASSIOPEIA CONSTELLATION -THE BLACK QUEEN OF ETHIOPIA ( BURNED FACE AND BROKEN EGG CODE.
MONK BALD EGG KEY
LEFT AND MAN 6 COUNTERCLOCKWISE AND OUR TOWER BOAZ 2-11 MIDDLE COORDINATES, COLLAPSED BY CASSIOPEIA W EGG (HUMPTY DUMPTY ) AS SHOWN IN THE TAROT XVI CARD.
9-11 RIGHT BOAZ RIGHT ROOF INCLINED COORDINATES
BENEDICT XVI COAT OF ARMS WITH THE BLACK QUEEN ON THE LEFT
OF THE S-HELL REPRESENTING 6 AND 9 SPIRALS MEETING IN VESICA PISCIS RHOMBIC EQUILATERAL TRIANGLE 60 DEGREES POINT. ( 911 EMERGENCY CALL NUMBER LOGO )
AT THE RIGHT THE BIG DIPPER, THE ARCADIA BEAR, REPRESENTING WOMAN 9 JACHIN TOWER AND THE RIGHT GALACTIC EGG. ( 2 EGGS OF LEDA AND THE SWAN -CYGNUS CONSTELLATION CODE )
AT THE LEFT FREISLING COAT OF ARMS WITH THE ETHIOPIAN BURNED FACE QUEEN, THE RHOMBIC BAVARIAN VESICA PISCIS NET OF B-M-W LOGO AND THE PENTAGONAL ROSAE CRUCIS.
GRAMMY AWARDS
THE POPE ACCOMPANIED BY NICKI MINAJ WITH A HIGH PRIESTESS RED SATANIC ROBES, NOTE WHITNEY HOUSTON MED-USA'S ( LATIN JELLY FISH ) - ( GALACTIC MED - MIDDLE -SER-PENTAGONAL CYCLE ) FACE ON IT.
CASSIOPEIA UP SIDE DOWN W-M JELLY FISH CODE, THE CANCER CRAB 9-6 PROTECTS WITH IT.
The Queen Cassiopeia, wife of king Cepheus of Æthiopia, was beautiful but also arrogant and vain; these latter two characteristics led to her downfall.
Her name in Greek is Κασσιόπη, which means "she whose words excel".
The boast of Cassiopeia was that both she and

her daughter Andromeda

were more beautiful than all the Nereids, the nymph-daughters of the sea god Nereus. This brought the wrath of Poseidon, ruling god of the sea, upon the kingdom of Ethiopia.
The constellation is in a circumpolar position, i.e. it revolves around the pole star, Polaris, and being so close to the pole, its position appears to change dramatically throughout the night. The five brightest stars trace the shape of a slightly distorted M, known as the Celestial M, when above the pole, and a W, known as Celestial W, when below the pole, when Cassiopeia is in an upside-down position.
Cassiopea, is the name of the genus of the "upside-down" jellyfish.
Pliny the Elder described Adulis, which port he said was the Ethiopians' principal trading town. He also stated that the term "Ethiopia" was derived from an individual named Aethiops, said to be the son of Hephaestus (aka Vulcan).[5] This etymology was followed by all authorities, until around 1600, when Jacob Salianus in Tome I of his Annales first proposed an alternate hypothesis deriving it from the Greek words aitho "I burn" and ops "face". This is according to a Spanish priest by the name of Francisco Colin (1592–1660), in his book "Sacra India" which includes a lengthy chapter on Ethiopia. Colin mentioned Salianus' opinion as one tentative new hypothesis for the source of the name.[6] The 'burnt face' derivation next appeared in works by German authors Christopher von Waldenfels (1677) and Johannes Minellius (1683), and was soon adopted as standard by most European scholars.
| | |
| --- | --- |
| Reply | Message 7 of 14 on the subject |
Illuminati facebook secret doomsday codes on plain sight :
http://www.facebook.com/photo.php?fbid= ... =3&theater
http://www.facebook.com/photo.php?fbid= ... =3&theater
333
Jesus age and Freemasons degree, component from Alpha Aquarius and Omega Libra to the Pyra-mid-le fire.
"You and me: we are one, I can not hurt you without hurting myself." Mahatma Gandhi.
Meaning Cat eye Draco Nebula and Cassiopeia, the black burned face Queen of Ethiopia.
Attachments:
tiger whitney 3.JPG [ 81.36 KiB | Viewed 239 times ]
tiger whitney 2.JPG [ 42.13 KiB | Viewed 239 times ]
whitney houston tiger 333.JPG [ 75.12 KiB | Viewed 239 times ]
Last edited by INDIGOMEROVINGIAN on Tue Feb 21, 2012 3:30 pm, edited 2 times in total.
| | |
| --- | --- |
| Reply | Message 8 of 14 on the subject |
The Italian Crop circles
"Riva presso Chieri"
June 2010, supposedly is encoded as well with ASCII decimal code of E=MC2 in the outer parts
the inner circles are supposedly the lunar cycle over a period of 6 months. And some even think the star in the middle is our sun and the outer circles are our nearest stars.
and the
other
Italian cropcircle
June 20, 2011 in Poirino, Italy. According to analysis of various people, the outer rim of the circle contains the name 'Enki Ea'
The name 'Enki Ea' is of an ancient Sumerian god, said to be a tall, blonde, and extra-terrestrial. And its said the formation has the name of this god encoded in the outer rim of the formation using 8-bit ASCII code.
Ea Enki
is an Akadian god from Summeria
http://www.cropcircleconnector.com/inter2011/italy/Poirino2011a.html
Some analysis of the crop circle
23 circles on the tips of the star make the number 161 (23x7). 161x161 is 25,921, the exact number on the precession of the equinoxes. The crop, therefore, indicates the end of our era precessional. The large dot is on number 21 (refer to December 21, 2012?). It is also found in the tip relative to the constellation of Pegasus which, incidentally, refers to the god Enki
Pegasus is a constellation in the northern sky, named after the winged horse Pegasus in Greek mythology
within this constellation is the square of Perseus which contains Andromeda
51 Pegasi, a star in this constellation, is the first Sun-like star known to have an extrasolar planet.
IK Pegasi is the nearest supernova candidate.
Spectroscopic analysis of HD 209458 b, an extrasolar planet in this constellation has provided the first evidence of atmospheric water vapor beyond the solar system, while extrasolar planets orbiting the star HR 8799 also in Pegasus are the first to be directly imaged.
Pegasus flew Perseus son of Zeus) to save the beautiful Adromeda
http://en.wikipedia.org/wiki/Pegasus_%28constellation%29
According to ancient legends, he and Innanna created modern humans by hybridizing sperm from the male gods with eggs taken from local aboriginals, already living on Earth tens of thousands of years ago.
Cheval de Dieu Horse of God
Delacroix
found in the chapel of the Angels at Saint Sulpice done in 1861
A connection at Rennes with the Summerians is the pine cone...
| | |
| --- | --- |
| Reply | Message 9 of 14 on the subject |
Thanks Roscoe interesting lyrics...
Don't interrupt the sorrow
Darn right
In flames our prophet witches
Be polite
A room full of glasses
He says 'Your notches liberation doll'
And he chains me with that serpent
To that Ethiopian wall ( Cassiopeia 9 domain s-pira-l coming to us clockwise like Venus, our domain 6 Ursa Major - bears us )
Anima rising
Queen of Queens
Wash my guilt of Eden
Wash and balance me
Anima rising
Uprising in me tonight
She's a vengeful little goddess
With an ancient crown to fight
Truth goes up in vapors
The steeples lean
Winds of change patriarchs
Snug in your bible belt dreams
God goes up the chimney
Like childhood Santa Claus
The good slaves love the good book
A rebel loves a cause
I'm leaving on the 1:15 ( 1 = mon -singularity 15 = 1111 binary )
You're darn right
Since I was seventeen ( 17 summation = 153 fish net of Arqui-medes 1-7 moon mon-key fractal )
I've had no one over me
He says 'Anima rising-
So what-
Petrified wood process
Tall timber down to rock!'
Don't interrupt the sorrow
Darn right
He says 'We walked on the moon
You be polite.'
Don't let up the sorrow
Death and birth and death and birth and death and birth
He says 'Bring that bottle kindly
And I'll pad your purse-
I've got a head full of quandary
And a mighty, mighty, thirst.'
Seventeen glasses
Rhine wine
Milk of the Madonna
Clandestine
He don't let up the sorrow
He lies and he cheats
It takes a heart like Mary's these days
When your man gets weak
Modern European scholars beginning c. 1600[32] have considered the name to be derived from the Greek words aitho "I burn" + ops "face"
Mythology
Main article: Cassiopeia (mythology)
The constellation is named after Cassiopeia, a queen (in Greek Mythology). Cassiopeia was the wife of Cepheus, King of Aethiopia and mother of Princess Andromeda. Cepheus and Cassiopeia were placed next to each other among the stars, the King by his Queen and their daughter Andromeda.
The arrival of the Queen of the Night. Stage set by Karl Friedrich Schinkel (1781–1841) for an 1815 production
The Magic Flute is noted for its prominent Masonic elements; Schikaneder and Mozart were Masons and lodge brothers (see: Mozart and Freemasonry). The opera is also influenced by Enlightenment philosophy, and can be regarded as an allegory advocating enlightened absolutism. The Queen of the Night represents a dangerous form of obscurantism or, according to some, the anti-Masonic Empress Maria Theresa.[6] Her antagonist Sarastro symbolises the enlightened sovereign who rules according to principles based on reason, wisdom, and nature. The story itself portrays the education of mankind, progressing from chaos through religious superstition to rationalistic enlightenment, by means of trial (Tamino) and error (Papageno), ultimately to make "the Earth a heavenly kingdom, and mortals like the gods". ("Dann ist die Erd' ein Himmelreich, und Sterbliche den Göttern gleich." This couplet is sung in the finales to both acts.)
Cassiopeia Whitney Houston Queen of the night, sacrificed, 2-11-2012, 2 Capricorn 11 Taurus
2 = B -oaz tower base
Light blue the heptagram fractal on the galactic center singularity, Cat Eye Nebula constructred from the vesica piscis.
Light green the pentagram - Venus cycle fractal - the forbidden galactic apple.
Nasa seal with Cassiopea and son Andromeda which
http://www.youtube.com/watch?v=rFcnGLFGbL8
Pillars, peacock, chains, God Mercury casque, the wheel of time, etc
Ratzinger coat of arms - Cassiopea and Ursa Major with the singularity S-hell 96 spiral construction
Bonfire Lyrics Performed by Third Eye Blind
A little early in spring
A bonfire ring, she's shivering alone
I bumped into you somehow
You can wear, my duct taped vest
It's my party best, its really all I own
Everything's changing now
And I am high like a star thats flying
Cassiopeia
Everything's changing now
She said it's alright
She said no, don't die alone
There's no goodbyes
Lightning comes and lightning goes
And its all the same to me
Let it in
Cuz I want you so
I can hardly breathe, or release
Into on thousand pieces
I have broke in to, over you
That shame will soon be gone
but I keep burning on
If nothing else I am myself
It's all i have to give
Everything's changing now
And we could live like kings if we take the risk
Or we could live with doubt
Everything's changing now
Oh now
Come on, come on
Lightning comes and lightning goes
And its all the same to me
Let it in
Cuz I want you so
I can hardly breathe, or release
Into on thousand pieces
I have broke in to, over you
That shame will soon be gone
but I keep burning on
Some girls will break you down
Just to see you come undone
Everythings changing now
Maybe you and I are cursed
Or maybe you and I are one
And thats the universe
Spin round, keep changing
Lightning comes and lightning goes
And its all the same to me
Let it in
Cuz I want you so
I can hardly breathe, or release
Into on thousand pieces
I have broke in to, over you
That shame will soon be gone
but I keep burning on and on and on
Following the draconian Alan Parson Ammonia Avenue Cat keys
Year of the Cat is the seventh studio album by Al Stewart, released in 1976 and engineered by Alan Parsons; it is considered his masterpiece,[3] its sales helped by the hit single "Year of the Cat", "one of those 'mysterious woman' songs,"[4] co-written by Peter Wood. The other single from the album was "On the Border". Stewart wrote "Lord Grenville" about the Elizabethan sailor and explorer Sir Richard Grenville (1542–1591).[5]
THE YEAR OF THE CAT
On a morning from a Bogart movie
In a country where they turn back time
You go strolling through the crowd like Peter Lorre *
Contemplating a crime
She comes out of the sun in a silk dress running
Like a watercolour in the rain
Don't bother asking for explanations
She'll just tell you that she came
In the year of the cat.
She doesn't give you time for questions
As she locks up your arm in hers
And you follow till your sense of which direction
Completely disappears
By the blue tiled walls near the market stalls
There's a hidden door she leads you to
These days, she says, I feel my life
Just like a river running through
The year of the cat
She looks at you so cooly
And her eyes shine like the moon in the sea
She comes in incense and patchouli
So you take her, to find what's waiting inside
The year of the cat.
Well morning comes and you're still with her
And the bus and the tourists are gone
And you've thrown away the choice and lost your ticket
So you have to stay on
But the drum-beat strains of the night remain
In the rhythm of the new-born day
You know sometime you're bound to leave her
But for now you're going to stay
In the year of the cat.
| | |
| --- | --- |
| Reply | Message 10 of 14 on the subject |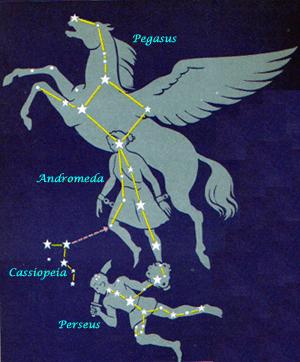 Pegasus constellation
Pegasus, The Winged Horse, is a constellation that appears in the south in the autumn for the northern latitudes. Its main geometrical figure is the "Great Square of Pegasus.
In the year 2000 DRAC offically recognized the Caves of Crussac
there was a white horse there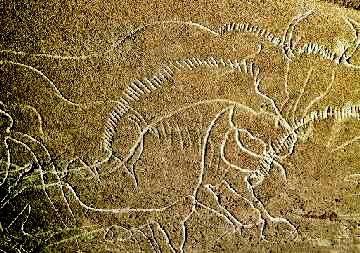 It maybe 28,000 years old
A knights tour

_________________
Everything is Connected and there are no
coincidences
| | |
| --- | --- |
| Reply | Message 11 of 14 on the subject |
| | |
| --- | --- |
| Reply | Message 12 of 14 on the subject |
To the east of Hercules is Pegasus and The Cross.
| | |
| --- | --- |
| Reply | Message 13 of 14 on the subject |
Cassiopeia
the Ethiopian Queen, the Seated Woman
Urania's Mirror 1825
Cassiopeia (Greek Kassiope, Kassiepeia) is queen of the celestial royal family, her husband Cepheus is king of Ethiopeia, they are parents of Andromeda. Cassiopeia was proud of her daughter's beauty and boasted that her daughter was more beautiful than the Sea Nymphs, the Nereids, who were daughters of Poseidon (Neptune). The Nereids complained to Poseidon who sent a sea monster, Cetus, to ravage the coast. With his kingdom in grave danger, Cepheus consulted the oracle of Ammon in Libya for advice. He learned that the only way to save his kingdom was to sacrifice his daughter Andromeda to the sea monster. Andromeda was chained to a rock and left to the mercy of the sea monster. The hero, Perseus, arrives at the scene and falls in love with her, he has a quick consultation with Cepheus and Cassiopeia, it is agreed that if he rescues their daughter, he could marry her. The sea monster arrives and Perseus kills it. Perseus breaks the chains that binds Andromeda to the rock. The wedding follows.
The constellation is in a circumpolar position, i.e. it revolves around the pole star, Polaris, and being so close to the pole, its position appears to change dramatically throughout the night. The five brightest stars trace the shape of a slightly distorted M, known as the Celestial M, when above the pole, and a W, known as Celestial W, when below the pole, when Cassiopeia is in an upside-down position.
Cassiopea, is the name of the genus of the "upside-down" jellyfish.
Cassiopeia, the Enthroned Queen, is a sitting figure, at times suspended upside-down in the sky in a very undignified position, she is depicted firmly bound to her throne and refrained from falling out of it, in going around the pole head downward (rather like being on a Ferris wheel I imagine). Greeks knowing it as Kassiepeia E tou thronou, 'Cassiopeia, She of the Throne'; and Hyde gave it the title Inthronata. The constellation is often referred to as Cassiopeia's throne because the stars clearly outline the chair, or throne, upon which the queen sits. The word 'throne' comes from the Indo-European root *dher-2 'To hold firmly, support'. Derivatives: farm, fermata (in music the prolongation of a tone, chord), firm¹, firm², firmament, affirm, confirm, furl, infirm, infirmary, (these words from Latin firmus, firm, strong), throne (from Greek thronos, seat, throne < 'support'), dharma (from Sanskrit dharma, statute, law < 'that which is established firmly'), dharna (the practice of protesting against an injustice by sitting and fasting outside the door of the offender, from Prakrit dharana, a holding firm), Darius (from old Persian darayava(h)us, 'holding firm the good', from daraya- to hold firm, uphold). [Pokorny 2. dher- 252. Watkins]
The Egyptian word for 'throne' or 'seat' is 'KXA' ('kazhaa') [1] which looks like it could be pronounced 'cassa', resembling Cassiopeia's name.
According to Wikipedia Cassiopeia's name in Greek is Κassiope, which means "she whose words excel".
The word 'dharma' (from *dher-2) is related to the word throne. According to the American Heritage Dictionary; "dharma in Hinduism and Buddhism is the principle or law that orders the universe, also the body of teachings expounded by the Buddha". Hindus called this constellation Casyapi (Kasyapi, similar to Cassiopeia or Kassiopeia). In Buddhist tradition there is a monk Kasyapa (Kashyapa, Kasiapa) whom Zen Buddhists consider their First Patriarch and the founder of their lineage [2], of whom the Buddha remarked that he alone of all his students had received his teaching (dharma), and should thereafter be known as Mahakasyapa, the Buddha said "I have true dharma, and I transmit my dharma to Mahakasyapa" [3].
An extinct constellation occupied a position in what is now northern Cassiopeia, Custos Messium, the Harvest Keeper. The Phoenicians are said to have imagined a large Wheat Field in this part of the sky. This might explain 'farm' cognate of *dher-2
__________
The name Ethiopeia, from Greek aitho, 'I burn' from the verb aithein, 'to burn', and ops, 'face', is believed to derive from the Indo-European root *ai-2 'To burn'. Related words: ember, estival, estivate, from Latin aestas, heat, summer; aestus, 'heat', estuary, aedile, edifice, edify, ether, etheric, ethyl, ethane, Mt Etna. [Pokorny, ai-dh- 11, Watkins]. "Akasha (or Akash) is the Sanskrit word meaning "aether" in both its elemental and mythological senses" [4].
Cepheus and Cassiopeia are king and queen of Ethiopeia. The name Ethiopeia is a cognate of Greek aither, Latin aether, shortened to ether. There are masculine and feminine derivatives from the word 'aether'; the Greek word Aither, Latin spelling Aether, is masculine, and may relate to Cepheus; and the feminine Cassiopeia to Aithre, Latin spelling Aithra. Aither was the ancient Greek Protogenos (first-born elemental god) of the bright, glowing upper air of heaven. His female counterpart was Aithre, "Titanis of the Clear Blue Sky, mother of the Sun and Moon."
Aether or ether was understood to be the element itself; and aethra is the glow of the aether; according to Isidore (The Etymologies, p.272.):
"The ether (aether) is the place where the stars are, and signifies that fire which is separated high above from the entire world. Of course, ether is itself an element, but aethra (i.e. another word for ether) is the radiance of ether; it is a Greek word."
The aether (ether) was a general word for the sky, kindle, burn, shine, the regions of space beyond the earth's atmosphere; the heavens (not the same as Ouranos, Uranus, Caelum). Aether was also the element believed in ancient and medieval civilizations to fill all space above the sphere of the moon and to compose the stars and planets [AHD]. The precise nature of the aether is an open question. Scientists in the late 19th century failed to detect the aether because it could not be measured, and concluded that the space was filled with void, or was a vacuum. Some think that what is now called 'quintessence' or 'dark-matter' is what the ancients meant by aether [5].
Cassiopeia may be Aithre, Latin spelling Aithra. Aithre was also apparently a female aspect of the protogenos Aither, the bright upper air, or shining blue sky. Aithra was the Greek word for the sky, usually translated "the bright sky." Firmamentum is the classical Latin term for the sky, the firmament, this word is related to throne. See the etymology of the word 'throne' above.
Aithra was also known as Theia.
Theia was the Titan goddess of sight (thea) and shining light of the clear blue sky (aithre). She was also, by extension, the goddess who endowed gold, silver and gems with their brilliance and intrinsic value. Theia married Hyperion, the Titan-god of light, and bore him three bright children--Helios the Sun, Eos the Dawn, and Selene the Moon. [http://www.theoi.com/Titan/TitanisTheia.html ]
"Theia was the Titan goddess of sight (thea)..." Greek thea is the root of our word theatre, literally 'a place for seeing', or viewing.
Theia was "the goddess who endowed gold, silver and gems with their brilliance and intrinsic value". See the astrological influences given by Manilius below: "Cassiope will produce goldsmiths who can turn their work into a thousand different shapes, endow the precious substance with yet greater value, and add thereto the vivid hue of Jewels..."
__________
The astrological influences of the constellation given by Manilius:
"and Cassiepia, her face upturned to witness the sacrifice she caused" (to her daughter Andromeda) [Manilius, Astronomica, book 1, 1st century AD, p.33.]
"Cassiope will produce goldsmiths who can turn their work into a thousand different shapes, endow the precious substance with yet greater value, and add thereto the vivid hue of Jewels. From Cassiope come the gifts of Augustus which gleam in the temples he consecrated, where the blaze of gold rivals the sun's brightness and the fires of gems flash forth light out of shadow. From Cassiope come the memorials of Pompey's triumph of old and the trophies which bear the features of Mithridates: they remain to this very day, spoils undimmed by the passage of time, their sparkle as fresh as ever.
"From Cassiope come the enhancement of beauty and devices for adorning the body: from gold has been sought the means to give grace to the appearance; precious stones have been spread over head, neck, and hands and golden chains have shone on snow-white feet. What products would a grand lady like Cassiope prefer her sons to handle rather than those she could turn to her own employments? And that material for such employment should not be lacking, she bids men look for gold beneath the ground, uproot all which nature stealthily conceals, and turn earth upside down in search of gain; she bids them detect the treasure in lumps of ore and finally, for all its reluctance, expose it to a sky it has never seen. The son of Cassiope will also count greedily the yellow sands, and drench a dripping beach with a new flood; he will make small weights to measure the tiny grains, or else will collect the wealth of gold-foaming Pactolus [Pactolus]; or he will smelt lumps of silver, separating the hidden metal and causing the mineral to flow forth in a running stream; otherwise he will become a trader of the metals produced by these two craftsmen, ever ready to change coinage of the one metal into wares of the other. Such are the inclinations which Cassiope will fashion in those born under her" [Manilius, Astronomica, book 5, 1st century AD, p.343.]
© Anne Wright 2008.
Fixed stars in Cassiopeia
Fixed Star
Long 1900
Long 2000
Decl 2000
Lat 2000
R A
Sp.Cl
Mag
zeta (ζ)
03TAU41
05TAU04
+53° 53' 49"
+44.43
0h 36m 58.3s
B2
3.7
Caph Beta (β)
03TAU43
05TAU07
+59° 8' 59"
+51.13
0h 9m 10.7s
F2
2.4
Schedir Alpha (α)
06TAU24
07TAU47
+56° 32' 14"
+46.37
0h 40m 30.5s
K0
2.5
Achird Eta (η)
08TAU50
10TAU15
+57° 48' 57"
+47.00
0h 49m 6s
F9
3.6
Cih Gamma (γ)
12TAU33
13TAU56
+60° 43' 0"
+48.48
0h 56m 42.5s
B0
VAR
Rucha Delta (δ)
16TAU32
17TAU56
+60° 14' 7"
+46.24
1h 25m 49s
A5
2.8
Segin Epsilon (ε)
23TAU22
24TAU46
+63° 40' 12"
+47.32
1h 54m 23.7s
B3
3.4
| | |
| --- | --- |
| Reply | Message 14 of 14 on the subject |
¿Dónde está María Magdalena?
La leyenda se desarrolla en el siglo I, cuando el sol como personificada por Jesús iba a la deriva de Aries a Piscis durante el equinoccio de primavera . En la imagen de abajo, note la yuxtaposición de los tres actores de la trayectoria del sol de Aries a Piscis. La historia describe la imagen.
Mateo nos dice que había tres personas involucradas en el funeral de Jesús: José de Arimatea, María Madgalene y la otra María. Joseph era rico mientras Cefeo era un rey, presumiblemente rico también.
Cuando llegó la noche, vino un hombre rico de Arimatea, llamado José, que era también discípulo de Jesús.
Él fue a Pilato y le pidió el cuerpo de Jesús. Entonces Pilato mandó que se lo entregaran.
Y José tomó el cuerpo, lo envolvió en una sábana limpia,
y lo puso en su sepulcro nuevo, que había labrado en la roca, rodó una piedra grande a la entrada del sepulcro, y se fue.
María Magdalena y la otra María se quedaron allí sentadas enfrente del sepulcro. (Mateo 27:57-61)
María Magdalena y la otra María fueron al sepulcro.
Pasado el día de reposo, al amanecer del primer día de la semana, María Magdalena y la otra María fueron a ver el sepulcro. (Mateo 28:1)
Marcos nos dice que María Magdalena fue la primera en ver a Jesús después de que apareció en el sepulcro. En la imagen que está justo al lado del sol en Piscis. También se nos dice que Jesús echó fuera siete demonios de María Madgalene. En el mito de Andrómeda, que fue encadenado a una roca y deja a la merced del monstruo de mar, sólo para ser rescured por Perseo. No hay monstruos en este cuadro, pero muestra un rescate paralelo con pies de Perseo en las siete estrellas de las Pléyades como si fuera a ser pisando fuerte en ellos como si fueran demonios.
Ahora, cuando se levantó temprano el primer día de la semana, se apareció primero a María Magdalena, de quien había echado siete demonios. (Marcos 16:09)
EN EL MENSAJE ANTERIOR HAY UNA EQUIVALENCIA CON LA DESTRUCCION DE BABILONIA. INDUDABLEMENTE LA TORA ESTA IRONIZANDO QUE LA RAMERA DE BABILONIA ES LA MISMA MARIA MAGDALENA.
ESE ES EL MENSAJE DETRAS DE LA EXPULSION DE LOS 7 DEMONIOS SOBRE LA MISMA.
ES OBVIO EL MARCO ESOTERICO CON APOCALIPSIS 17:9. (17X9=153)
ESTO INCLUSO SE CONFIRMA POR SU MARCO CON EL NUMERO 153 (JUAN 21:11).
PERSEO, APARENTEMENTE ES COMO QUE PISA A LAS PLEYADES SEGUN EL MENSAJE ANTERIOR. VAMOS A TRATAR DE ESTUDIAR SI ESTO ES ASI.
First
Previous
2 a 14 de 14
Next
Last