ASTROTEOLOGIA-EVANGELIO EN LAS ESTRELLAS: PATRON ASTROTEOLOGICO DE LA RESURRECCION DE CRISTO
Choose another message board
| | |
| --- | --- |
| Reply | Message 1 of 35 on the subject |
Juan
20:1 El primer día de la semana,

María Magdalena fue de mañana

, siendo aún oscuro, al sepulcro; y vio quitada la piedra del sepulcro.

(Antes de la salida del sol. Hay un obvio nexo con el SOL NACIENTE Y PROBABLEMENTE TAMBIEN CON LA SALIDA HELIACA DE SIRIO)
20:2 Entonces corrió, y fue a

Simón Pedro y al otro discípulo, aquel al que amaba Jesús

, y les dijo: Se han llevado del sepulcro al Señor, y no sabemos dónde le han puesto.

(El discipulo amado es Juan Marcos, que en el contexto a la vida de Cristo aun era niño. En MATEO 16:18 (NUMERO DE ORO PHI)

JESUCRISTO HACE REFERENCIA EN CONTEXTO A PEDRO/PETRA/EDOM/LUNA CRECIENTE/ESTRELLA DE 5 PUNTAS/SIRIO/VENUS/NUMERO DE ORO PHI/DISCIPULO AMADO/SANTO GRIAL. VENUS TIENE UN CICLO PENTAGONAL INTERRELACIONADO CON EL NUMERO DE ORO. 8 AÑOS TERRESTRES EQUIVALEN A 13 DE VENUS. Recordemos que el 8 y el 13 son numeros de la SERIE DE FIBONACCI DE DONDE SALE EL NUMERO DE ORO. Incluso en MATEO 16:19 HAY UN CONTEXTO CON ORION/JESUCRISTO Y LAS PLEYADES/MARIA MAGDALENA. ESTE ES UN PATRON MUNDIAL CODIFICADO EN TODAS LAS CULTURAS DEL MUNDO. YHWH CODIFICO EN TODO EL MUNDO EL ENCUENTRO ENTRE NUESTRO PADRE ESPIRITUAL JESUCRISTO Y NUESTRA MADRE ESPIRITUAL MARIA MAGDALENA EN GIZE, STONEHENGE, ISLA DE PASCUA, CUZCO, JAPON, BOLIVIA, CHILE, CHICHEN ITZA, VATICANO, WASHINGTON D.C, BUENOS AIRES, JERUSALEN, ETC,ETC. MARIA/MIRYAM/MARES/NACIONES/GENTILES/APOCALIPSIS 17. MARIA MAGDALENA SIMBOLIZA A LOS GENTILES RECHAZADOS POR LA TRADICION RELIGIOSA.)
20:3 Y salieron Pedro y el otro discípulo, y fueron al sepulcro.
20:4 Corrían los dos juntos; pero

el otro discípulo corrió más aprisa que Pedro

, y llegó primero al sepulcro.

(El mensaje obviamente nos quiere decir que EL DISCIPULO AMADO ERA MUCHO MAS JOVEN que PEDRO)
20:5 Y bajándose a mirar, vio los lienzos puestos allí, pero no entró.
20:6 Luego llegó Simón Pedro tras él, y entró en el sepulcro, y vio los lienzos puestos allí,
20:7 y el sudario, que había estado sobre la cabeza de Jesús, no puesto con los lienzos, sino enrollado en un lugar aparte.
20:8 Entonces entró también

el otro discípulo, que había venido primero al sepulcro; y vio, y creyó

.
20:9 Porque aún no habían entendido la Escritura, que era necesario que

él resucitase de los muertos

.

(Cristo siempre hace referencia en el contexto al tercer dia/martes al HIJO DEL HOMBRE/ORION)
20:10 Y volvieron los discípulos a los suyos.
20:11 Pero

María

estaba fuera llorando junto al sepulcro; y mientras llo

raba

, se inclinó para mirar dentro del sepulcro;

(El termino LLO-RABA esta en CLAVE CON REFERENCIA A RABA/AMMAN/FI-LADEL-FIA/PHI-LADEL-PHI-A/UTERO DE ISIS/LLAVE DE DAVID segun APOCALIPSIS 3. RABA ERA UNA CIUDAD DE 7 COLINAS. EL VATICANO/WASHINGTON D.C/ASUNCION DEL PARAGUAY/JERUSALEN/ESTAMBUL/TOKIO/MOSCU/LISBOA/PARIS, ETC,ETC ESTAN DISEÑADO EN FUNCION A LA RESURRECCION DE CRISTO CON MARIA MAGDALENA EN CONTEXTO A ORION/PLEYADES. APOCALIPSIS 1 ESTA 100% ENGANCHADO CON JUAN 20 EN EL CONTEXTO A LA RESURRECCION DE CRISTO. HAY UN OBVIO NEXO CON LAS 7 ESTRELLAS/PLEYADES/7 IGLESIAS EN EL CONTEXTO AL MONTE DE ARARAT EN ANTIOQUIA, AL NORTE DE LA MESOPOTAMIA ASIATICA. EN MATEO 16:18 (NUMERO DE ORO PHI, JUSTAMENTE SE HACE REFERENCIA A ORION/PLEYADES/SIRIO EN EL CONTEXTO A PEDRO CON EL DISCIPULO AMADO/JUAN MARCOS/SANTO GRIAL)
JORDANIA (RABA/AMMAN)=7 COLINAS:EDOM/ROJO/PETRA/LUNA
20:12 y vio a dos ángeles con vestiduras blancas, que estaban sentados el uno a la cabecera, y el otro a los pies, donde el cuerpo de Jesús había sido puesto.
20:13 Y le dijeron: Mujer, ¿por qué lloras? Les dijo: Porque se han llevado a

mi Señor

, y no sé dónde le han puesto.

(MISTER/M-STAR/STAR/ESTRELLA/GRIAL. ESTA TODO EN CLAVE. Aparte el termino SEÑOR es una REFERENCIA A GENESIS 3:15. MAGDALENA ES LA NUEVA EVA)
es.wikipedia.org/wiki/Mister
Mister. Mister palabra inglesa que significa señor.

20:14 Cuando había dicho esto, se volvió, y vio a Jesús que estaba allí; mas no sabía que era Jesús.
20:15 Jesús le dijo: Mujer, ¿por qué lloras? ¿A quién buscas? Ella, pensando que era el hortelano, le dijo: Señor, si tú lo has llevado, dime dónde lo has puesto, y yo lo llevaré.
20:16 Jesús le dijo: ¡María! Volviéndose ella, le dijo: ¡Raboni! (que quiere decir,

Maestro

).

(Impresionate clave con referencia a MAESTRO/MASTER/MOTHER/MOTHER OF STAR/MADRE DE UNA ESTRELLA/ESTRELLA/STAR/GRIAL. LA estrella ES UNA REFERNCIA AL SUEÑO DE JOSE EN QUE JACOB ES EL SOL, RAQUEL LA LUNA Y LOS 12 HIJOS LAS ESTRELLAS. MARIA MAGDALENA ES LA VERDADERA ISTAR CRISTIANA, SIMBOLIZADA POR LA ESTATUA DE LA LIBERTAD, QUE MEDIANTE CRISTO NOS LIBERA Y NOS LLEVA A LA VERDAD. MARIA MAGDALENA NOS LIBERA DE LA MISOGINIA RELIGIOSA. Maestro tiene un fuerte nexo con el SALMO 119, con fuerte nexo con el JUBILEO/LIBERACION.)
milky way

in Simple Gematria Equals: 119

(

m 13

i9

l 12

k 11

y 25

0

w 23

a1

y 25

)
queen mary

in Simple Gematria Equals: 119

(

q 17

u 21

e5

e5

n 14

0

m 13

a1

r 18

y 25
hebrew calendar

in Simple Gematria Equals: 119

(

h8

e5

b2

r 18

e5

w 23

0

c3

a1

l 12

e5

n 14

d4

a1

r 18
mary magdalene

in Simple Gematria Equals: 119

(

m 13

a1

r 18

y 25

0

m 13

a1

g7

d4

a1

l 12

e5

n 14

e5
orion

in Simple Gematria Equals: 71
(
o

---

15
r

---

18
i

---

9
o

---

15
n

---

14
)
pleiades

in Simple Gematria Equals: 71
(
p

---

16
l

---

12
e

---

5
i

---

9
a

---

1
d

---

4
e

---

5
s

---

19
)
NOTEN QUE LA SUMA DE OR Y DE PLE DAN 33. ORION ESTA A 33 GRADOS DE LAS PLEIADES. HAY UN OBVIO NEXO CON JUAN MARCOS EN EL CONTEXTO AL NUMERO 33.
master

in Simple Gematria Equals: 76
(
m

---

13
a

---

1
s

---

19
t

---

20
e

---

5
r

---

18
)
EN MASTER SUCEDE ALGO SIMILAR. SUMANDO MAS TAMBIEN TENEMOS 33 Y SUMANDO TER TENEMOS 43 QUE TIENE NEXO CON ORION/M43.
YHWH MANEJA LOS HILOS DE TODO PARA MALDICION DE AQUELLOS QUE LO RECHAZAN.
3. Deuteronomio 4:48:
Desde Aroer, que está junto a la ribera del arroyo de Arnón, hasta el

monte de Sion, que es Hermón

;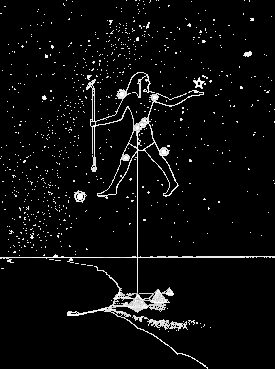 CUANDO CRISTO LE HABLO A PEDRO EN MATEO 16:18 (NUMERO DE ORO PHI) ESTABA EN C-ESAREA DE PHI-LIPO AL PIE DEL MONTE HERMON). ESTA TODO CALCULADO. YHWH MANEJA LOS HILOS DE TODO. CESAREA/C-SAR/
SAR=PRINCIPE=ESTRELLA DE 5 PUNTAS=NUMERO DE ORO PHI
ENCIMA CRISTO RESUCITO EN LUNA CRECIENTE.
PLANETA MARTE Y SU NEXO CON ISIS, EL TORO Y LA LUNA CRECIENTE
DOMINGO=PRIMER DIA
LUNES=SEGUNDO DIA
MARTES=TERCER DIA
20:17 Jesús le dijo: No me toques, porque aún no he subido

a mi Padre; mas ve a mis hermanos

, y diles:

Subo a mi Padre y a vuestro Padre, a mi Dios y a vuestro Dios

.

(La expresion "mis hermanos" ES UN OBVIO NEXO CON EL SALMO 119. HAY UN OBVIO NEXO ESOTERICO CON EL SANTO GRIAL. LA EXPRESION "MI PADRE Y VUESTRO PADRE" tiene connotacion con el PACTO DAVIDICO DE 2 DE SAMUEL 7:14 Y LA EXPRESION "MI DIOS Y VUESTRO DIOS" TIENE CONNOTACION CON EL PACTO ABRAHAMICO DE GENESIS 17. INCLUSO ESTA TAMBIEN LA "ESCALERA DE JACOB" DE GENESIS 28 EN CONEXTO A LOS ANGELES QUE SUBEN DE LA TIERRA AL CIELO, UNA OBVIA REFERENCIA A LA ALQUIMIA, OSEA EL GRIAL. ESTA TODO CODIFICADO. ES increible la profundidad que tiene cada versiculo. ES IMPOSIBLE QUE ESTO LO HAYA ESCRITO EL HOMBRE. LO INCREIBLE ES QUE EL PATRON ORION, PLEYADES Y SIRIO ES MUNDIAL. EL MENSAJE AQUI ES QUE EL EVANGELIO DE NUESTRO SEÑOR ES PARA TODAS LAS NACIONES DE LA TIERRA)
ESCALERA DE JACOB (ALQUIMIA)=GRIAL
20:18 Fue entonces

María Magdalena

para dar a los discípulos las nuevas de que había visto al Señor, y que él le había dicho estas cosas.
APOTEMA =PHI/1.618033
phi

in Simple Gematria Equals: 33
(
p

---

16
h

---

8
i

---

9
)
ophir

in Simple Gematria Equals: 66
(
o

---

15
p

---

16
h

---

8
i

---

9
r

---

18
)
| | |
| --- | --- |
| Reply | Message 2 of 35 on the subject |

1947=33x59 ROLLOS DEL "MAR MUERTO"-¿NEXO CON LA
1947=33x59 ROLLOS DEL "MAR MUERTO"-¿NEXO CON LA
Here is an interesting read on Stargates and 19.47
In terms of
Richard Hoagland
's '
hyperdimensional physics
' derived from
the geometric 'message' of Cydonia
(Mars), the conduit or 'stargate' between this world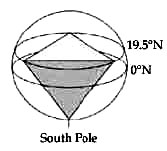 and the Otherworld (i.e. hyperspace) is prominently represented by the angle 19.5°. According to the theory, it is the tetrahedral geometry signified by this angle that enables inter-dimensional energy transfer between the two realms.



This 'stargate' geometry is expressed by a circumscribed tetrahedron (made up of four equilateral triangles). Interestingly enough, the hieroglyphic sign denoting Sirius was a triangle in ancient Egypt.

The connection is made evident by archaeo-astronomy. First, it is widely accepted these days that the 'air shafts' inside the Great Pyramid were designed to aligned with certain stars. One was specifically targeted toward Sirius in c. 2350 BC.
And at that pinpointed time (c. 2350 BC), Sirius and Orion's Alnitak (representing the Great Pyramid as per the Orion Correlation Theory) together produced the angle 19.5° (when Sirius was rising on the Giza horizon).[10]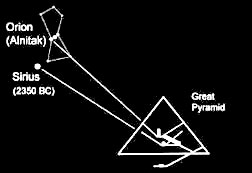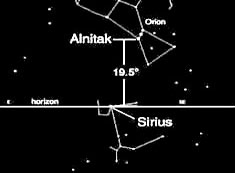 Next, it is natural - given the Sirius-Great Bend connection - to wonder about the possibility of the Nile's 'Winding Waterway' having some relevance to tetrahedral geometry. Indeed, we do find a clear connection!
Believe it or not, the northern peak of the Great Bend precisely pinpoints the tetrahedral/stargate latitude, 19.5°N.!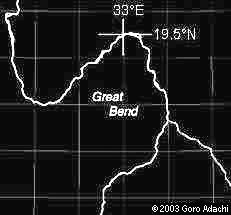 What's even more incredible is the fact that the same Bend peak also pinpoints 33°E longitude. As those familiar with Hoagland's work would surely know, '33' and '19.5' are considered the two key numbers in the 'hyperdimensional code'! (Hoagland is just not yet aware of this Nile connection.)

In 1997, the esoteric importance of those numbers was overtly demonstrated as NASA landed a tetrahedron-shaped Mars Pathfinder lander on the Red Planet at 19.5 N and 33 W.! (That's pretty in your face, isn't it?)
phi

in Simple Gematria Equals: 33
(
p

---

16
h

---

8
i

---

9
)
ophir

in Simple Gematria Equals: 66
(
o

---

15
p

---

16
h

---

8
i

---

9
r

---

18
)
The time of the clock on back of the $100 dollar bill, As you can clearly see the time reads 2:22.
19.47 x

12

.

12

yrs = 235.9764 yrs = 235 yrs and 356 days
December 31, 1776 + 235 yrs and 356 days = December 21, 2012
19.47 x 12 yrs = 233.64 yrs = 233 yrs and 233 days
July 4, 1776 + 233 yrs and 233 days = February 22, 2010
2:22 HORA ACTUAL Y 3:22 ANTES DE LA PRIMERA GUERRA MUNDIAL
LA VIUDA PIDE JUSTICIA
Lucas
18:1 También les refirió Jesús una parábola sobre la necesidad de orar siempre, y no desmayar,
18:2 diciendo: Había en una ciudad un juez, que ni temía a Dios, ni respetaba a hombre.
18:3 Había también en aquella ciudad una viuda, la cual venía a él, diciendo: Hazme justicia de mi adversario.
18:4 Y él no quiso por algún tiempo; pero después de esto dijo dentro de sí: Aunque ni temo a Dios, ni tengo respeto a hombre,
18:5 sin embargo, porque esta viuda me es molesta, le haré justicia, no sea que viniendo de continuo, me agote la paciencia.
18:6 Y dijo el Señor: Oíd lo que dijo el juez injusto.
18:7 ¿Y acaso Dios no hará justicia a sus escogidos, que claman a él día y noche? ¿Se tardará en responderles?
18:8 Os digo que pronto les hará justicia. Pero cuando venga el Hijo del Hombre, ¿hallará fe en la tierra?

55. Mateo 23:14:
¡Ay de vosotros, escribas y fariseos, hipócritas! porque devoráis las
casas
de las
VIUDA
s, y como pretexto hacéis largas
oraciones
; por esto recibiréis mayor condenación.
56. Marcos 12:40:
que devoran las
casas
de las
VIUDA
s, y por pretexto hacen largas
oraciones
. Estos recibirán mayor condenación.
65.
Lucas 20:47
:
que devoran las
casas
de las
VIUDA
s, y por pretexto hacen largas
oraciones
; éstos recibirán mayor condenación.
¿"Devoran la casas de las viudas" no es una alusion a que devoran la casa/linaje de la viuda? ¿Porque Jesucristo incluso relaciona la viuda con JUAN MARCOS en Hechos 12:12?

1.
Hechos 12:12: Y habiendo considerado esto, llegó a

casa

de

María la madre de Juan

, el que tenía por sobrenombre MARCOS, donde muchos estaban reunidos

orando

.
Es obvio que MARIA LA MADRE DE JUAN ES LA VIUDA.
¿PORQUE SE RELACIONA LA VIUDA CON LA EXPULSION DE LOS MERCADERES DEL TEMPLO? ¿HAY UNA CONSPIRACION CONTRA LA VIUDA? ¿QUE PIENSA USTED?
1. Isaías 56:7:
yo los llevaré a mi santo monte, y los recrearé en mi
casa de oración
; sus holocaustos y sus sacrificios serán aceptos sobre mi altar; porque mi casa será llamada casa de oración para todos los pueblos.
2. Mateo 21:13:
y les dijo: Escrito está: Mi casa,
casa de oración
será llamada; mas vosotros la habéis hecho cueva de ladrones.
3. Marcos 11:17:
Y les enseñaba, diciendo: ¿No está escrito: Mi casa será llamada
casa de oración
para todas las naciones? Mas vosotros la habéis hecho cueva de ladrones.
4. Lucas 19:46:
diciéndoles: Escrito está: Mi casa es
casa de oración
; mas vosotros la habéis hecho cueva de ladrones.
19:46 diciéndoles: Escrito está: Mi casa es

casa de oración

; mas vosotros la habéis hecho

cueva de ladrones

.
19:47 Y enseñaba cada día en el templo;

pero los principales sacerdotes, los escribas y los principales del pueblo procuraban matarle

.
19:48 Y no hallaban nada que pudieran hacerle, porque todo el pueblo estaba suspenso oyéndole.
| | |
| --- | --- |
| Reply | Message 3 of 35 on the subject |
LA BANDERA DE BRASIL TIENE FUERTE NEXO CON VESCICA PISCIS (NUMERO 153) EN EL CONTEXTO A LA ILUMINACION

"porque, cuando Jonás estaba en la barriga del pez tres días y tres noches, así el Hijo de Hombre estará en el corazón de la tierra tres días y tres noches".

- Mateo12:40
Como acompañado por la historia del pez de Jesús, ayudando milagrosamente a sus discípulos a hacer una captura de 153 peces, este mismo hecho también es extrañamente logrado por Pitágoras quinientos años más temprano en una antigua leyenda registrada por el neo-platonista Porfirio. El propio Pitágoras prediciendo el número exacto de peces a ser cogidos, con el número 153 siendo un número sagrado Pitagórico, asociado con el "Vesica Piscis" o "Envase del Pez ".
Alli se ve la CRUZ DEL SUR. LA CRUZ TIENE UNA FUERTE CONNOTACION ALQUIMICA.
EL IRIS DEL OJO TIENE CONNOTACION, EN EL CONTEXTO A VESCICA PISCIS, AL ARCO IRIS QUE TAMBIEN TIENE CONNOTACION CON EL PACTO DE NOE EN GENESIS 9:11 EN EL CONTEXTO AL LINAJE. SEM/SEMEN/SEMITA. EN EL ZODIACO TIENE NEXO CON SAGITARIO/BENJAMIN en el contexto al ARCO.
LA CIUDAD DE RIO DE JANEIRO (JANO=CONTRUCTOR) TIENE UN FUERTE NEXO con el TROPICO DE CAPRICORNIO/SAGITARIO. Osea EN EL SOLSTICIO DE INVIERNO (HEMISFERIO NORTE) QUE ES EN EL 21/22 DE DICIEMBRE. JANO/PUERTA DEL HIJO DE DIOS O PUERTA DE ORO/DOOR/DIANA/DINA.
PARA UN JUDIO CONSTRUIR (BANAH) ES TENER UN HIJO (BEN). MASON/CONSTRUCTOR/ALBAÑIL TIENE FUERTE CONNOTACION CON EL GRIAL.
PURIM, que aparece en el libro de Ester, tiene fuerte connotacion con el CARNAVAL PERO OBVIAMENTE QUE UN CONTEXTO JUDIO.
LA CIUDAD DE RIO DE JANEIRO TAMBIEN ES UNA CIUDAD QUE TIENE 7 COLINAS, osea que tiene un fuerte nexo CON LAS PLEYADES/TAURO/TORO. LAODICEA, QUE ERA LA CIUDAD DE LA ILUMINACION CON FUERTE NEXO CON LAS PLEYADES E INCLUSO CON LA GRAN PIRAMIDE, ERA UNA CIUDAD QUE TENIA 7 COLINAS.
Lo impresionante es que RIO DE JANEIRO esta ubicado PRACTICAMENTE EN EL TROPICO. ESTA TODO CALCULADO PORQUE YHWH MUEVE TODO PARA QUE EL MUNDO ENTIENDA QUE MARIA MAGDALENA FUE ESPOSA DE NUESTRO SEÑOR Y QUE HAY UN NUEVO MESIAS.
JANEIRO/JANUARY/ENERO, OSEA EL NACIMIENTO DE SIRIO (LA LUZ DE ISHTAR).
Istar con la luz como simbolo de la iluminacion. ISHTAR DA A LUZ UN HIJO, OSEA EL GRIAL.
IN GOD WE TRUST
NOSOTROS CREEMOS EN DIOS
BRASIL/ BRESIL = FERRUM / IRON
LA VERDADERA LIBERACION ESTA EN YHWH MEDIANTE NUESTROS PADRES ESPIRITUALES JESUCRISTO Y MAGDALENA
| | |
| --- | --- |
| Reply | Message 4 of 35 on the subject |
Freemasonry is believed to incorporate some sacred number combinations and they seem to have something to do with the stars of Orion, The Pleiades and stars in Taurus.

Click here Ref: Albert Pike 33 degree mason text.

The information contained in the link above proves this unequivocally. The stars of Taurus the bull, the Pleiades, Orion and a special "blazing star" are all mentioned. However top ranking Masons generally believe the "blazing star" to be Sirius. Let us test the Masonic Sirius theory. First we will reason how the stars appear to be linked to the sacred numbers. Secondly, how the solution is another little astronomical viewing trick to remember how the real "blazing star" can be located.

Here is a reproduced popular Masonic image with some valuable symbolism. The image adds clarity to part of the sequence 3 - 5 - 7 and how the numbers lead towards the illuminated secret - shown 'in the heavens'.






Click here Ref: masonic 3 5 7 stairway journey to 1, the Grand Architect of the heavens

The first thing that one should question is how would numbers be of any measurable value if the secret involves stars? Secondly if the solution involves the use of numbers to identify constellations then what would it be leading the initiate towards?

The only rational answer here would be if the numbers were finding the way to an important star in the heavens... a star associated with the solar deities revered in all ancient civilizations and in the case of Freemasonry… the "blazing star".

If there is a measurable star sequence at hand, then one can solve the identity for the "blazing star" mystery. Is it Sirius as many Freemasons believe, or is it another that is more Sun-like if one accepts the premise that the celestial gods were real Solar deities of flesh and blood?

Let us start with what astronomers refer to as the cosmic signpost: Orion's famous three in a row 'belt' stars, the most recognizable stars in the night sky. Logically this would be our point of departure.

The number seven, as the Freemasons suggest, is synonymous with the seven stars of the Pleiades. That leaves the number one and number five. The image of the staircase suggests that the number five is in the middle. This matches with the Roman numeral V, which is the shape, the stars of the Taurus constellation form and which also appear as five stars.

The number sequence now joins three constellations in a row.






The ultimate question is this: Do we start with the sacred number one or do we work our way up towards the sacred number one?

Here is what Wayne has reasoned: The image suggests that we begin with the three stars in a row. As stars, the three 'belt' stars of Orion show the way in alignment through the five stars of Taurus... through to the seven stars of the Pleiades, to find the ultimate star. This is traveling with our line of sight away from the star Sirius. The ultimate star is very tiny, and impossible to see with the naked eye! Small wonder that the Masons figured the solution needed to be Sirius as the "blazing star"!

This explanation that Wayne ventures as an alternative to the Freemason's "blazing star" becomes quite logical in the context of his bigger picture star map theory, and has made sense in each and every one of his star maps so far, where the special star of the ancients is always found in the direction that the Pleiades 'leg of the bull' points to.





If the grand secret involves extraterrestrial beings that once arrived on this world (our human ancestors from another star system) then did Washington leave any other clues proving how they got here?

George Washington has presented so many clues that it is certain he wanted people of the future to crack his code. His story would not be complete until it depicts like the ancient civilizations some kind of celestial ship of those that came from above.

This now begs the million-dollar question: Did George Washington have ancient knowledge that also included the celestial ships of the gods?

What are the odds of finding an image or proof of some sort depicting what we would class today as a UFO... a ship of the sky that does not originate from this Earth?

Where else could we search for either a journal or some form of record where he the once American president would have been able to depict his own interpretation of how our ancestors arrived here?

There probably is no secret book passed down from president to president, but there is one special medium with which he could have expressed himself, as a Freemason.







He would have had his own personal Masonic apron. It does exist, and yes, there appears to be something embossed on it that could be interpreted as a UFO as we know it.

Here is a one more thing to think about on Wayne's Washington DC star map theory. Consider another critical reason behind George Washington's motivation to build the United States' capital in the way it is depicted in the main image above. It stands as the only modern monumental star map layout visible from space on our planet.

Look carefully at the proverbial "x" that marks the spot on the star map.

It is the grand obelisk, the Washington Monument.

If our cosmic ancestors officially decide to visit one day... and IF all our world leaders change their military protocol completely from chasing UFO's to shoot them out of the sky, to a protocol where we let them be, what appears to have been deliberately built with such an impending visit in mind, is an identifiable official landing site built exactly like the Inca Cuzco 'landing' site theorized by Wayne.

Click here Ref: Cuzco Puma landmark and stellar dark cloud discovery

An 'invitational' area so to speak seems to have been provided for such a 'visit' and it is also in the perfect shape. It lies between the great Yule tree and the Washington Monument obelisk… the two ultimate markers on either side of the massive round field highlighted in red.

How perfect.

And quite peculiarly, this site may well be the very same field used in one of the earliest science fiction films to re-enact a story of a UFO landing!

Coincidence?

The layout of Washington DC also clearly depicts and cryptically 'shows the way' to the position of the residence of the world Super Power leader, along its beautiful causeway and secret symbols: The most cryptic of which is the crescent shaped garden around the Presidential residence, the Capitol - perhaps symbolic of the planet of the ancestors.

In the coming weeks Wayne will be releasing a 4500 year old Egyptian papyrus that shows this identical artistic impression of a UFO, a papyrus that depicts the cosmos, the Pleiades and more compelling than anything else... where it landed in Egypt!

Watch this website for more.

Some say George Washington was the founder member of the order of the skull and bones that George Bush apparently belongs to, but this is purely speculation perhaps interpreted from the insignia on the apron.






In 1848, the breaking of ground cornerstone of the Washington Monument obelisk was celebrated... on the 4th of July.

The Declaration of Independence was signed and celebrated on this day too. Since then, Americans have celebrated the day with an illumination ceremony... fireworks displays. Not only does this ceremony occur annually at the Washington Monument, but also at the statue of Liberty in New York.

It is a day that begins with an important rising star formation on the horizon that occurs exactly the same moment as sunrise.


The Ancient Egyptians celebrated the rising of important stars on the eastern horizon across the Nile River and would probably have known this special date. What is becoming quite evident in Wayne's research is that the same is true for all the other ancient civilizations. They too revere the rising of important stars when they rise at the exact same time as the Sun.

There is only day in the year where the three stars of Orion's 'belt' rise almost perfectly due east and at the exact moment with the rising Sun...

The 4th of July



The star program recreates the positions perfectly. Note how the ecliptic path of the Sun, as well as the Sun alignment with Orion's Belt and the line up towards the sacred star near the Pleiades also recreates the strange pattern found in the Dollar bill seal and on the Solomon talismans shown earlier.

The pattern in the sky is reflected in the waterway… as if beckoning the observer to look in the heavens.

The pattern in the sky IS the solution to the Key of Solomon.

Click here Ref: Key of Solomon

The very same star pattern occurs on Christmas Eve in Rome down the causeway above the Castel Sant Angelo, the star castle in Dan Brown's 'Angels and Demons' that Wayne identifies in another shocking star map celebration.

Click here Ref: Vatican star map.

In the interest of Dan Brown's new book getting history right, Wayne has sent his star map research material (predominantly the Solomon Key star map and Vatican star map theory) to Dan Brown's literary agent in New York offering it to Dan as reference so the important meaning is clear and that it has already been released. This was late in 2007. Certain that Brown would be anxious to get history right, all Wayne asked him to do is mention the reference source as any other author would if he decided to use it. After a few phone calls and discussions Heide Lange wrote back and mentioned that Dan was completely 'incognito' and unable to receive any mail no matter of what importance it may be deemed.

The exact date Dan Brown is to launch his new book, probably titled 'The Solomon Key', has not yet been released. He did however say it would be on a very important Masonic day fitting his story.

Did he get to see the new material sent to him? Will he make the same connections? Or will he reinterpret it all in an entirely different way?

Instead of identifying the 4th of July, Dan has chosen another important date only found encoded on the solomon talisman... the 15th of September.





The most exciting breaking story right now is how this story connects to the record of what appears to be the predominant and most ancient Hebrew talisman - listed also as the Key of Solomon (image directly below).

Click here: Ref source of manuscript

The 'key' to deciphering the talisman appears to be the smaller talisman shown below it. It contains what looks like an image of the earliest rendition of The Sacred Cross. The Solution connects this Washington DC story to Stonehenge in more ways than any other. Wayne's deciphering of 'The Key of Solomon' is currently being published in magazines internationally and as soon as the scheduled articles have released in American and British magazines the full story will be online at: www.KeyofSolomon.net.


| | |
| --- | --- |
| Reply | Message 5 of 35 on the subject |
| | |
| --- | --- |
| Joh 20:16 Jesus saith unto her, Mary. She turned herself, and saith unto him, Rabboni; which is to say, Master. | |
| | |
| | |
---
διδασκαλος didaskalos {did-as'-kal-os} from 1321; TDNT - 2:148,161; n m AV - Master (Jesus) 40, teacher 10, master 7, doctor 1; 58 1) a teacher 2) in the NT one who teaches concerning the things of God, and the duties of man 1a) one who is fitted to teach, or thinks himself so 1b) the teachers of the Jewish religion 1c) of those who by their great power as teachers draw crowds around them i.e. John the Baptist, Jesus 1d) by preeminence used of Jesus by himself, as one who showed men the way of salvation 1e) of the apostles, and of Paul 1f) of those who in the religious assemblies of the Christians, undertook the work of teaching, with the special assistance of the Holy Spirit 1g) of false teachers among Christians
---
Gematria: 540
540 ES EQUIVALENTE AL RADIO LUNAR/2=1080/2
First
Previous
2 a 5 de 35
Next
Last
©2022 - Gabitos - All rights reserved