ASTROTEOLOGIA-EVANGELIO EN LAS ESTRELLAS: VISION GALACTICA (GRADOS SEXAGESIMALES)
Choose another message board
| | |
| --- | --- |
| Reply | Message 1 of 14 on the subject |
First
Previous
2 to 14 of 14
Next
Last
| | |
| --- | --- |
| Reply | Message 2 of 14 on the subject |
Looking at all the maps I could find..this one at least has a circumference and a center point. with a point of our solar system, making it easy to measure


| | |
| --- | --- |
| Reply | Message 3 of 14 on the subject |
: Vortex, 19.47 theory/ Sacred Geometry
---
Glad your are following Boudicca
This is very interesting stuff.

Okay..this one has a center point, with a solar system point, and the circumference would be easy to add with the center point
It's a little smaller..but might be usable?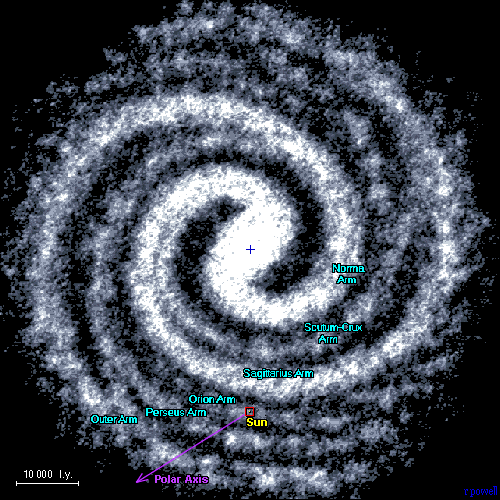 | | |
| --- | --- |
| Reply | Message 4 of 14 on the subject |
Re: Vortex, 19.47 theory/ Sacred Geometry
---
OK, one problem is that our solar system is tilted 90 degrees to the galaxial plane. Like if you took a quarter and stood it on edge on top of another quarter. So not only are we at a 90 degree angle but we're also oscillating up and down through the galaxial plane, putting a lot of variables into play here.
EXPLANATION OF THE MODEL:
It is not simple to position of our Solar System with respect to the Plane of the galaxy -the Milky Way. There are few books of Astronomy screening a diagram of the coplanarity of the Solar System with the galaxy, so we regularly think that what is "up" or north for the Earth it is also "up" or north for the galaxy. However, the plane of the Solar System is not coplanar with the plane of the Milky Way, but it is tilted almost 90°.
The Solar System describes three kinds of motion, each one at a specific speed and with a limited alternation:
1. The wider and fastest movement is the orbital motion of the Solar System around the nucleus of our galaxy. The speed of the Solar System orbital motion around the center of the galaxy is 217.215 Km/s. The Solar System completes one track around the galaxy each ~226 million years.
2. The second movement, described in most of astronomy books, is the oscillation of the Solar System from north to south and vice versa with respect to the galactic plane. It is a swing upwards and downwards, determined mainly by the gravitational pull among the celestial bodies in the Solar System. The speed of this movement is of 7 Km/second.
3. The third movement is in route towards the center of the galaxy and the order reversed or moving away from the center of the galaxy. It is also a swinging movement, but influenced by the gravitational pull of outer and inner celestial bodies of the galaxy that are near to the Solar System. This motion has a speed of 20 Km/s, and it is drawing now toward Hercules constellation.
Web
www.biocab.org
---
Last edited by Dantheman62; 11-25-2009 at

03:27 PM

.
| | |
| --- | --- |
| Reply | Message 5 of 14 on the subject |
Re: Vortex, 19.47 theory/ Sacred Geometry

---

I did find this simulator....it's pretty cool

http://space.jpl.nasa.gov/You can choose your field of view
| | |
| --- | --- |
| Reply | Message 6 of 14 on the subject |
Ok. La "Puerta del Hombre" sería la constelación de Orión (que tiene la forma esquemática de una figura humana) y la fecha es el 20 de junio (solsticio).
Y la "Puerta de Dios" sería el centro de la Galaxia (el Dios Hunab-ku de los Maya) que desde la Tierra se ve entre Sagitario, Ofiuco y Escorpio (cuya estrella más brillante es Antares) y el Sol pasa por encima cada 19 de junio.

Y en esta vista más amplia vemos las dos "puertas" a la vez.
| | |
| --- | --- |
| Reply | Message 7 of 14 on the subject |
The origin of the symbolism for the constellation Leo was the Nile at that time of year where the lions gathered.
Lions gathered at the Nile River in Uganda.
"Many civilizations over thousands of years have portrayed the constellation of Leo as a lion. One theory is that the Sun was among its stars in Midsummer, during which time the lions of the Egyptian desert left their accustomed haunts for the banks of the Nile, where they could find relief from the heat in the waters of the inundation. Pliny the Elder wrote that the Egyptians worshipped the stars of Leo because the rise of their great river coincided with the Sun entering among them. The constellation is referred to in an inscription on the walls of the Ramesseum at Thebes, which, like the Nile temples generally, was adorned with the animal's bristles. On the planisphere of Dendera, its figure is shown standing on an outstretched serpent. The Egyptian stellar Lion, however, comprised only a part of the modern constellation, and in the earliest records some of its stars were shown as a knife, whereas they now are as a sickle. Kircher gave its title there as Πιμεντεκεων."
The corn carvings of Rosslyn Chapel 50 years before the official discovery of America by Columbus.
The Rosslyn carvings show groups of 4 cobs of corn. Display of blue, white, yellow, and red corn.
| | |
| --- | --- |
| Reply | Message 8 of 14 on the subject |
El 21 de Diciembre coincide con el codigo de Jesus, su muerte y resurreccion 3 dias despues, el dia 24 o Navidad.
Sabemos que los Mayas conocian los codigos y sus calendarios eran muy exactos, si conocía la fecha con exactitud es un misterio.
Lo que he expuesto como mayor prueba de que estamos cerca de este acontecimiento es el componente magnetico del hipercubo a 60 grados, lo cual fue confirmado por el Voyager fuera del sistema solar, en realidad deberia ser inferior a 60, 59,9.. o simil ya que la forma hexagonal del hipercubo es incompatible con el fluido del tiempo, los cubos se fusionan al chocar el 9 y el 6, de 16 puntos de la matriz pasamos a 15, numero impar por lo tanto se pierde polaridad.
Por que 33, el misterioso numero? Simplemente por que 4/3 = 8/6 =1.33, 8 el octogono del orden conformado por 2 cubos sobre el hexagono como el caos.
El punto medio entre ambos simboliza el pasaje entre la muerte y la resurreccion, los 3 dias de noche, el sol negro, etc.



| | |
| --- | --- |
| | Click para ampliar |
| | |
| --- | --- |
| | Click para ampliar |
El corte grafico 8/6 desde un extremo la singularidad del octogono en el centro de la galaxia a 33 grados y la componente medio de Virgo/Virgen a medio Piscis/Jesus desde la circunferencia exterior pasando por el centro.
| | |
| --- | --- |
| | Click para ampliar |
Las calles de Washington reflejan el octogono o la nueva era dorada.
| | |
| --- | --- |
| | Click para ampliar |
| | |
| --- | --- |
| | Click para ampliar |
| | |
| --- | --- |
| | Click para ampliar |
Fractales de tiempo del octogono regenerativo-24 horas del dia
8 octogono/33 = 0.242424
8 octogono/33.333..=0.2400024
800/33.333=24.00024
La lineas amarillas que alternan en 33 grados tienden y por lo tanto median hacia la semilla de la flor octogonal en verde del toro geometrico comprendido en el hipercubo.
| | |
| --- | --- |
| | Click para ampliar |
| | |
| --- | --- |
| | Click para ampliar |
| | |
| --- | --- |
| | Click para ampliar |
| | |
| --- | --- |
| | Click para ampliar |
---
Última edición por IndigoMerovingio; 12-nov-2012 a las

19:24
| | |
| --- | --- |
| Reply | Message 9 of 14 on the subject |
RESURRECCION DE CRISTO EQUIVALE EN UN CONTEXTO EGIPCIO A LA RESURRECCION DE ORIRIS
OSIRIS = O-RISIS = EYE RISES = I RISES = I AM RISES = SUN RISES = SON RISES
LEO = OYEL = YELLOW = YELLOH = HOLY OYEL = HOLY OIL
The Rise of the Nile at the annual flooding corresponded to the SUN entering the STARS of the constellation LEO. The suggestion being, that the Lion is the Lord. As implied with the title extended to the Christian saviour Jesus… 'The Lion from the Tribe of Judah'.
JUDAH = YUDAH = YOU / WHO DIE – the tribe of Death
ORION – The Key To The Kingdom Of Heaven
TEXT TO FOLLOW
LAS PLEYADES A 33 GRADOS DE ORION EN EL HORIZONTE, JUSTO EN EL DIA 4 DE JULIO DE 1776
SUNRISE
Sunrise is the instant at which the upper edge of the Sun appears above the horizon in the east. Sunrise should not be confused with dawn, which is the ...
| | |
| --- | --- |
| Reply | Message 10 of 14 on the subject |
And at that pinpointed time (c. 2350 BC), Sirius and Orion's Alnitak (representing the Great Pyramid as per the Orion Correlation Theory) together produced the angle 19.5° (when Sirius was rising on the Giza horizon).[10]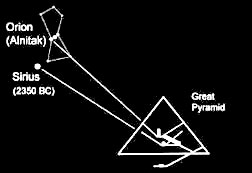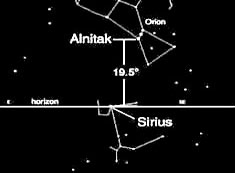 Next, it is natural - given the Sirius-Great Bend connection - to wonder about the possibility of the Nile's 'Winding Waterway' having some relevance to tetrahedral geometry. Indeed, we do find a clear connection!
Believe it or not, the northern peak of the Great Bend precisely pinpoints the tetrahedral/stargate latitude, 19.5°N.!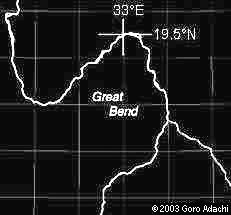 What's even more incredible is the fact that the same Bend peak also pinpoints 33°E longitude. As those familiar with Hoagland's work would surely know, '33' and '19.5' are considered the two key numbers in the 'hyperdimensional code'! (Hoagland is just not yet aware of this Nile connection.)

In 1997, the esoteric importance of those numbers was overtly demonstrated as NASA landed a tetrahedron-shaped Mars Pathfinder lander on the Red Planet at 19.5 N and 33 W.! (That's pretty in your face, isn't it?)
ORION – The Key To The Kingdom Of Heaven
TEXT TO FOLLOW
EL RIO NILO ES UN REFLEJO ESTELAR ADONDE OBSERVAMOS QUE LA CURVA DEL NILO A 33 ESTE Y 19.47 NORTE ESTA DISEÑADA EN FUNCION A LA SEÑAL DE JONAS. ¿QUE LE QUIERO DECIR CON ESTO? QUE LA POSICION DEL SOL EN LA VIA LACTEA, EN EL CONTEXTO AL RIO NILO, ESTA UBICADA EN FUNCION A LAS PROFECIAS DE CRISTO CON REFERENCIA AL GRIAL. EL ARCA PERDIDA ESPIRITUAL PERDIDO EN ETIOPIA QUE SABEMOS ES JUAN MARCOS. LA VERDADERA ARCA ESPIRITUAL PERDIDA ES EL HIJO DE MARIA LA MAGDALENA Y DE NUESTRO SEÑOR, QUE DESGRACIADAMENTE LA TRADICION PASO POR ALTO YA SEA POR ACCION O POR OMISION.
| | |
| --- | --- |
| Reply | Message 11 of 14 on the subject |
| | |
| --- | --- |
| Reply | Message 12 of 14 on the subject |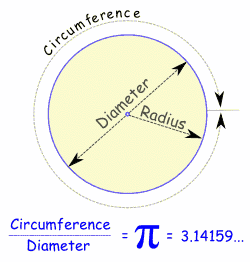 La razon de la circunferencia y el diametro es obvio que es el numero PI.
22/7=DIA DE MARIA LA MAGDALENA=3.14 =PI
| | |
| --- | --- |
| Reply | Message 61 of 63 on the subject |
| | |
| --- | --- |
| Reply | Message 62 of 63 on the subject |
| | |
| --- | --- |
| Reply | Message 63 of 63 on the subject |
S

ABIDURIA=

S

ABADO=LETRA

S

=

$
y la Omega,

principio y fin

, dice el Señor, el que es y que era y que ha de venir, el Todopoderoso.
16. Apocalipsis 1:11 que decía: Yo soy el ALFA y la Omega, el primero y el último. Escribe en un libro lo que ves, y envíalo a las siete iglesias que están en Asia: a Efeso, Esmirna, Pérgamo, Tiatira, Sardis,

Filadelfia

y Laodicea.
17. Apocalipsis

2:27

y las regirá con vara de hierro, y serán quebradas como vaso de ALFArero; como yo también la he recibido de mi Padre;
18. Apocalipsis 21:6 Y me dijo: Hecho está. Yo soy el ALFA y la Omega,

el principio y el fin

. Al que tuviere sed, yo le daré gratuitamente de la fuente del agua de la vida.
19. Apocalipsis 22:13 Yo soy el ALFA y la Omega,

el principio y el fin

, el primero y el último.
| | |
| --- | --- |
| Reply | Message 13 of 14 on the subject |
1. Génesis 28:12 Y soñó: y he aquí una ESCALERA que estaba apoyada en tierra, y su extremo tocaba en el cielo; y he aquí ángeles de Dios que subían y descendían por ella.
2. 1 Reyes 6:8 La puerta del aposento de en medio estaba al lado derecho de la casa; y se subía por una ESCALERA de caracol al de en medio, y del aposento de en medio al tercero.
3. Ezequiel 41:7 Y había mayor anchura en las cámaras de más arriba; la ESCALERA de caracol de la casa subía muy alto alrededor por dentro de la casa; por tanto, la casa tenía más anchura arriba. Del piso inferior se podía subir al de en medio, y de éste al superior.
| | |
| --- | --- |
| Reply | Message 89 of 90 on the subject |
| | |
| --- | --- |
| Reply | Message 90 of 90 on the subject |
| | |
| --- | --- |
| Reply | Message 14 of 14 on the subject |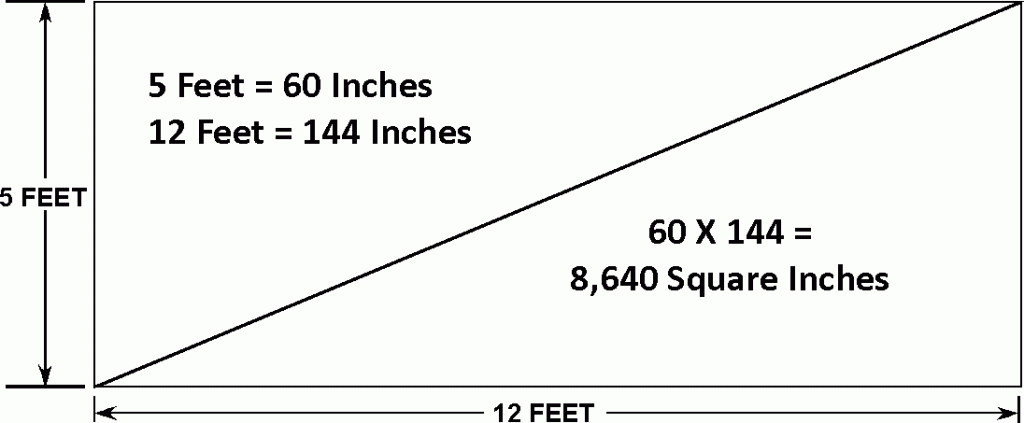 Aqui tenemos a Pi - la circunferencia del toro y la vesica piscis 256/153 equivalente a la raiz cuadrada de 3
En el hipercubo las coordinadas binarias de Piscis son decimal 3 y binario 11
153 los pescados de Jesus en la biblia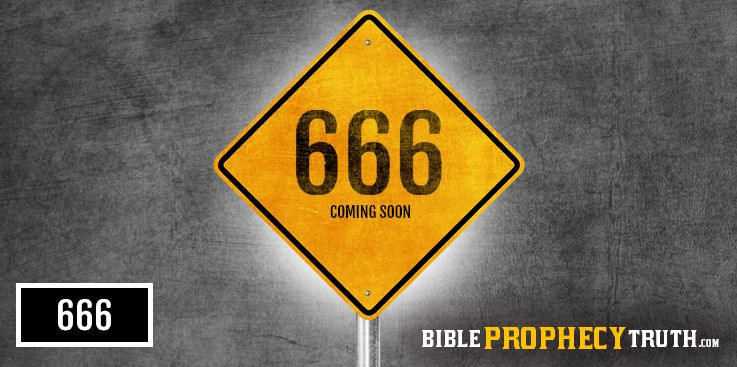 First
Previous
2 a 14 de 14
Next
Last
©2022 - Gabitos - All rights reserved