Atlas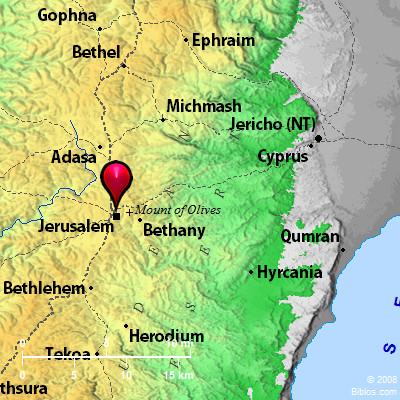 ---
Maps Created using Biblemapper 3.0
Additional data from OpenBible.info
---
You are free to use up to 50 Biblos coprighted maps (small or large) for your website or presentation. Please credit Biblos.com.
Occurrences
Jeremiah 20:2
Then Pashhur struck Jeremiah the prophet, and put him in the stocks that were in the upper gate of Benjamin, which was in the house of Yahweh.
Jeremiah 37:13 When he was in the gate of Benjamin, a captain of the guard was there, whose name was Irijah, the son of Shelemiah, the son of Hananiah; and he laid hold on Jeremiah the prophet, saying, You are falling away to the Chaldeans.
Jeremiah 38:7 Now when Ebedmelech the Ethiopian, a eunuch, who was in the king's house, heard that they had put Jeremiah in the dungeon (the king then sitting in the gate of Benjamin),
Encyclopedia
JERUSALEM
je-roo'-sa-lem:

I. THE NAME

1. In Cuneiform

2. In Hebrew

3. In Greek and Latin

4. The Meaning of Jerusalem

5. Other Names

II. GEOLOGY, CLIMATE AND SPRINGS

1. Geology

2. Climate and Rainfall

3. The Natural Springs

III. THE NATURAL SITE

1. The Mountains Around

2. The Valleys

3. The Hills

IV. GENERAL TOPOGRAPHY OF JERUSALEM

1. Description of Josephus

2. Summary of the Names of the Five Hills

3. The Akra

4. The Lower City

5. City of David and Zion

V. EXCAVATIONS AND ANTIQUITIES

1. Robinson

2. Wilson, and the Palestine Exploration Fund (1865)

3. Warren and Conder

4. Maudslay

5. Schick

6. Clermont-Ganneau

7. Bliss and Dickie

8. Jerusalem Archaeological Societies

VI. THE CITY'S WALLS AND GATES

1. The Existing Walls

2. Wilson's Theory

3. The Existing Gates

4. Buried Remains of Earlier Walls

5. The Great Dam of the Tyropoeon

6. Ruins of Ancient Gates

7. Josephus' Description of the Walls

8. First Wall

9. Second Wall

10. Third Wall

11. Date of Second Wall

12. Nehemiah's Account of the Walls

13. Valley Gate

14. Dung Gate

15. Fountain Gate

16. Water Gate

17. Horse Gate

18. Sheep Gate

19. Fish Gate

20. The "Old Gate"

21. Gate of Ephraim

22. Tower of the Furnaces

23. The Gate of Benjamin

24. Upper Gate of the Temple

25. The Earlier Walls

VII. ANTIQUARIAN REMAINS CONNECTED WITH THE WATER SUPPLY

1. Gihon: The Natural Spring

2. The Aqueduct of the Canaanites

3. Warren's Shaft

4. Hezekiah's "Siloam" Aqueduct

5. Other Aqueducts at Gihon