ESCALERA DE JACOB (ALQUIMIA)=GRIAL: CUARTO DIA DE LA CREACION=CUARTO DIA SEMANA=MIERCOLES=MERCURIO=ISHTAR=ORION
Choose another message board
| | |
| --- | --- |
| Reply | Message 1 of 30 on the subject |
CUARTO DIA DE LA CREACION ES LA CLAVE ISHTAR -ULTRA SECRETO DEL PORQUE ESTHER Y MARDOQUEO ERAN DE LA TRIBU DE BENJAMIN
EL CUARTO DIA DE LA CREACION, EN EL CUAL FUERON CREADOS EL SOL, LA LUNA Y LAS ESTRELLAS, ES UNA REFERENCIA AL CUARTO DIA DE LA SEMANA, OSEA MIERCOLES/MERCURIO. GENESIS 1:19
TEOLOGIA
QUIMICA
MUSICA
ASTRONOMIA/ORION-MERCURIO/ALDEBARAN (19.47)=OJO DE TAURO (VESICA PISCIS)
ALQUIMIA
MASONERIA
ECONOMIA
MERCURIO/MERCANTILISMO/MERCANCIA/MERCADERIA (GENESIS 1:19=119=911)
MITOLOGIA/EGIPTOLOGIA
MERCURIO=ANUBIS (HOMBRE-PERRO)= HERMES - BENJAMIN/PERRO/LOBO/CHACAL
| | |
| --- | --- |
| Reply | Message 16 of 30 on the subject |
Visit the gallery.
http://www.dcpages.c...itol-Hill-Star/
Mateo 8:28-34
Nueva Biblia Latinoamericana de Hoy (NBLH)
Los Endemoniados Gadarenos
28 Al llegar Jesús al otro lado, a la tierra de los Gadarenos, fueron a Su encuentro dos endemoniados que salían de los sepulcros, violentos en extremo, de manera que nadie podía pasar por aquel camino. 29 Y gritaron: "¿Qué hay entre Tú y nosotros, Hijo de Dios? ¿Has venido aquí para atormentarnos antes del tiempo (designado para el juicio)?"
30 A cierta distancia de ellos estaba paciendo una manada de muchos cerdos; 31 y los demonios Le rogaban: "Si vas a echarnos fuera, mándanos a la manada de cerdos." 32 "¡Vayan!" les dijo Jesús. Y ellos salieron y entraron en los cerdos; y la manada entera se precipitó por un despeñadero al mar, y perecieron en las aguas.
33 Los que cuidaban la manada huyeron; y fueron a la ciudad y lo contaron todo, incluso lo de los endemoniados. 34 Y toda la ciudad salió al encuentro de Jesús; y cuando Lo vieron, Le rogaron que se fuera de su región.
| | |
| --- | --- |
| Reply | Message 17 of 30 on the subject |
Related to Mykah's post, focusing on the pyramid symbology and the two faces.
http://www.davidicke.com/forum/showp...&postcount=166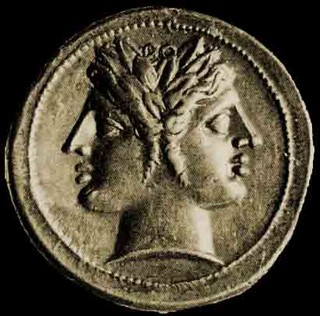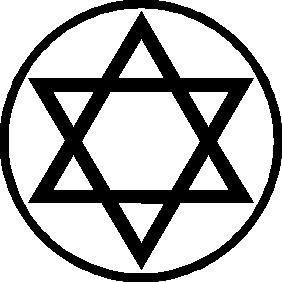 I began to think of the celtic notions of above and below.
Think of a large tree, we only see half of the tree. We look in amazement and wonderment at the life that is harboured in its branches and the incredible atmospheric processing factory the tree is. We forget that below us is the other half of the tree, its roots providing a harbour for an entire ecosystem, and the roots are an enormous chemical processing plant.
Duir - Double-ended oak treeThis picture comes from an ancient druid grove in Derby and shows an oak tree (Duir) with its branches and roots entwined to make the circle of life. In the 90s an ancient oak tree was uncovered as the sea went very far out on the Norfolk coast. It had been
buried upside-down within a circle of posts
, a woodhenge. Time Team built a replica of it that was most impressive and gave you a strong sense of what the place must have been about.
The concept of burying the tree upside-down, so its branches were in the earth and its roots in the heavens has lots of esoteric symbolism.
http://elensentier.wordpress.com/201...gham-duir-oak/
Two faces of the same coin.
I think of the pyramids coming in pairs. The depiction of the Star of David on the Israeli national flag is for me an indication of a double pyramid, one facing up, the other, subterranean facing down,
The pyramids true power was not just the enormous energies it sends up into the atmosphere, image those same huge energies also being transmitted downwards, or perhaps the underside pyramid focuses the subterranean energies into the above ground pyramid?
I have often wondered what is beneath Silbury Hill, not just what is in it.
The Nile as Tree of Life:
but which is the root and which is the branch? What is up and what is down? For the Ancients, The Med was the bottom of Egypt, South was at the top. The Delta is the roots.
Black is white. Above is below. Top is down.
---
Last edited by white horse; 28-07-2013 at

07:54 AM

.
| | |
| --- | --- |
| Reply | Message 18 of 30 on the subject |
Quantum theory, modern math, must take into account 'probabilities'.
Conspiracy theories are far more probable than modern science wankers trying to time travel by building a time tunnel or a worm hole.
Beam me up stevepenny?
Don't ya think a land based terrestrial conspiracy probably exists?
More than a celestial one based on aliens, ufos or messiahs?
Quote:
What is the mathematical construct of a swastika, i.e. how is it described mathematically. Can it also be described on a 'fractal' basis using Chaos theory?
chaos theory?
is it connected to fractals in any way?
Yes I can find the

swastika inside the Mandelbrot Set

.
Shall we take a psychedelic trip with the SWASTIKA, herr Mandelbrot, LSD, DMT and the 4 Evangelists?
go here:
http://2012forum.com/forum/viewtopic.php?f=9&t=11002
Can we also connect the

swastika to the world's largest megalithic stones

ever quarried in a place called Baalbek?
And to the magnificent Roman Temple of Jupiter?
Go here:
http://www.davidicke.com/forum/showp...postcount=2271
So what did I just do Steve?
Did you notice what I just accomplished?
Why I believe the swastika symbol is the MISSING LINK, the real Lost Symbol, that Dan Brown never even found?
Any potential
theory of everything
, to be considered must accomplish what I just did...show profound connections between the MACROCOSM and the MICROCOSM.
please note:
I just linked the swastika to the first 4 lines of the

Emerald

Tablet.
Quote:
Sir Isaac Newton's interpretation of the

Emerald

Tablet.

1. Tis true without lying, certain most true.
2. That which is below is like that which is above that which is above is like that which is below to do the miracles of one only thing.
3. And as all things have been arose from one by the mediation of one: so all things have their birth from this one thing by adaptation.
4. The Sun is its father, the moon its mother...
http://en.wikipedia.org/wiki/Emerald_Tablet
Tis true without lying, certain most true
, I have just linked the two versions of the swastika to
that which is below is like that which is above that which is above is like that which is below to do the miracles of one only thing
.
Have I not illustrated that the biggest MACROCOSMIC stones ever quarried by man can be linked to the same
processes, meditations and adaptions of this one thing given birth
by the infinitesimal small MICROCOSMIC fractal?
The Sun is its father

and it rotates clockwise or sunwise,

and the Moon its mother

, rotating counter-clockwise or ANTI.

And archetypes can be translated as you move from one dimension to another.
We can use the same definition for the two interlaced helices of DNA that are rotating in opposite directions.
Could the Holy Grail have something to do with our DNA?
http://kachina2012.wordpress.com/200...ecibo-message/
Thus the SWASTIKA continues to prove itself the
KEY to Universal Movement
(spinning vortex) being veiled by both biblical and scientific scholars.
Any connection between the Emerald Tablet, LSD, 4 leaf clovers and little green men is
souly
by design.
Maybe one of the Freemasons can offer why the barbershop spiral is
RED
and
WHITE
?
Any connection to Satan, err I mean the red and white coca cola promotion depicting Santa?
Is there a connection to red and white flags?
Red crosses on White backgrounds or is it White crosses on Red backgrounds?
namaste
---
Last edited by raphael; 14-11-2009 at

04:18 PM

.
| | |
| --- | --- |
| Reply | Message 19 of 30 on the subject |
Maia, eldest of the seven Pleiades, was mother of Hermes by Zeus.
Electra was mother of Dardanus and Iasion by Zeus.
Taygete was mother of Lacedaemon, also by Zeus.
Alcyone was mother of Hyrieus by Poseidon.
Celaeno was mother of Lycus and Eurypylus by Poseidon.
Sterope (also Asterope) was mother of Oenomaus by Ares.
Merope, youngest of the seven Pleiades, was wooed by Orion. In other
mythic contexts she married Sisyphus and, becoming mortal, faded away. She bore to Sisyphus several sons.
http://en.wikipedia.org/wiki/Pleiade..._Seven_Sisters
| | |
| --- | --- |
| Reply | Message 20 of 30 on the subject |
Love 2 the 9s
---
Love 2 the 9s
Quote:
God said to Haggai (2:18, 2the9)

"From this day on – from this

twenty fourth

day of

the ninth

month, give careful thought:


Is there yet any seed left in the barn? Until this day the vine (bride of Christ) and


the fig tree (Israel – bride of God) the pomgranate and the olive tree have not borne fruit.


From this day on I will bless you."
Quote:
In verse 12 God says to Israel:

"Return, faithless Israel, declares the Lord.
I will frown on you no longer, for I am merciful, declares the Lord.


I will not be angry forever.


Only acknowledge your guilt – you have rebelled against the Lord your God,


you have scattered your favors to foreign gods under every spreading tree,


and have not obeyed me."
The Dawn of Earth's Great Millennium
Magnificent Evidences that the New Day is Dawning!
http://www.sonstoglory.com/millenniumgematria.htm
"Come, let us return to the Lord. He has injured us but he will bind up our wounds.


After two days he will revive us; on the third day he will restore us, that we may live in his presence.


Let us acknowledge the Lord; let us press on to acknowledge him.


As surely as the sun rises, (the dawn of the Millennium) he will appear;


he will come to us like the winter rains, like the spring rains that water the earth."
"I was pushed back and about to fall, but the Lord helped me.


The Lord is my strength and my song; he has become my salvation....


The Lord has chastened me severely, but he has not given me over to death.


Open for me the gates of righteousness; I will enter and give thanks to the Lord...


I will give thanks for you answered me; you have become my salvation....


This is the day that the Lord has made; let us rejoice and be glad in it.


O Lord, save us;


O Lord grant us success.


Blessed is he who comes in the name of the Lord."
"The fruit of righteousness will be peace;


the effect of righteousness will be quietness and confidence forever."
21 12 (20+1) 12
onOFFonOFF
http://en.wikipedia.org/wiki/Crucifix_(Michelangelo
)
3.6.
9
= 1 + 8
__________________
CR
IS
T
IS
---
Last edited by science2art; 29-07-2012 at

07:00 PM

.
| | |
| --- | --- |
| Reply | Message 51 of 51 on the subject |
| | |
| --- | --- |
| Reply | Message 21 of 30 on the subject |
Éxodo 25
1. Jehová habló a Moisés, diciendo:
2. Di a los hijos de Israel que tomen para mí ofrenda; de todo varón que la diere de su voluntad, de corazón, tomaréis mi ofrenda.
3. Esta es la ofrenda que tomaréis de ellos: oro, plata, cobre,
4. azul, púrpura, carmesí, lino fino, pelo de cabras,
5. pieles de carneros teñidas de rojo, pieles de tejones, madera de acacia,
6. aceite para el alumbrado, especias para el aceite de la unción y para el incienso aromático,
7. piedras de ónice, y piedras de engaste para el efod y para el pectoral.
8. Y harán un santuario para mí, y habitaré en medio de ellos.
9. Conforme a todo lo que yo te muestre, el diseño del tabernáculo, y el diseño de todos sus utensilios, así lo haréis.
10. Harán también un arca de madera de acacia, cuya longitud será de dos codos y medio, su anchura de codo y medio, y su altura de codo y medio.
11. Y la cubrirás de oro puro por dentro y por fuera, y harás sobre ella una cornisa de oro alrededor.
12. Fundirás para ella cuatro anillos de oro, que pondrás en sus cuatro esquinas; dos anillos a un lado de ella, y dos anillos al otro lado.
13. Harás unas varas de madera de acacia, las cuales cubrirás de oro.
14. Y meterás las varas por los anillos a los lados del arca, para llevar el arca con ellas.
15. Las varas quedarán en los anillos del arca; no se quitarán de ella.
16. Y pondrás en el arca el testimonio que yo te daré.
17. Y harás un propiciatorio de oro fino, cuya longitud será de dos codos y medio, y su anchura de codo y medio.
18. Harás también dos querubines de oro; labrados a martillo los harás en los dos extremos del propiciatorio.
19. Harás, pues, un querubín en un extremo, y un querubín en el otro extremo; de una pieza con el propiciatorio harás los querubines en sus dos extremos.
20. Y los querubines extenderán por encima las alas, cubriendo con sus alas el propiciatorio; sus rostros el uno enfrente del otro, mirando al propiciatorio los rostros de los querubines.

(25.20)
21. Y pondrás el propiciatorio encima del arca, y en el arca pondrás el testimonio que yo te daré.
22. Y de allí me declararé a ti, y hablaré contigo de sobre el propiciatorio, de entre los dos querubines que están sobre el arca del testimonio, todo lo que yo te mandare para los hijos de Israel.
23. Harás asimismo una mesa de madera de acacia; su longitud será de dos codos, y de un codo su anchura, y su altura de codo y medio.
24. Y la cubrirás de oro puro, y le harás una cornisa de oro alrededor.
25. Le harás también una moldura alrededor, de un palmo menor de anchura, y harás a la moldura una cornisa de oro alrededor.
26. Y le harás

cuatro anillos de oro, los cuales pondrás en las cuatro esquinas que corresponden a sus cuatro patas

.

(EL NUMERO CUATRO ES UNA REFERENCIA AL ESTE-OESTE-NORTE-SUR O A LAS A CUATRO FASES DE LA LUNA O AL MISMO NUMERO PI QUE DEPENDE DE DICHO NUMERO)
27. Los anillos estarán debajo de la moldura, para lugares de las varas para llevar la mesa.
28. Harás las varas de madera de acacia, y las cubrirás de oro, y con ellas será llevada la mesa.
29. Harás también sus platos, sus cucharas, sus cubiertas y sus tazones, con que se libará; de oro fino los harás.
30. Y pondrás sobre la mesa el pan de la proposición delante de mí continuamente.
31. Harás además un candelero de oro puro; labrado a martillo se hará el candelero; su pie, su caña, sus copas, sus manzanas y sus flores, serán de lo mismo.
32. Y saldrán seis brazos de sus lados;

tres brazos

del candelero a un lado, y

tres brazos

al otro lado.

(TREINTA Y TRES)
33.

Tres copas

en forma de flor de almendro en un brazo, una manzana y una flor; y

tres copas

en forma de flor de almendro en otro brazo, una manzana y una flor; así en los

seis brazos que salen del candelero

;

(EXODO 25:33=TREINTA Y TRES=MENORAH= "MAQUINA DEL TIEMPO")
34. y en la caña central del candelero cuatro copas en forma de flor de almendro, sus manzanas y sus flores.
35. Habrá una manzana debajo de dos brazos del mismo, otra manzana debajo de otros dos brazos del mismo, y otra manzana debajo de los otros dos brazos del mismo, así para los seis brazos que salen del candelero.
36. Sus manzanas y sus brazos serán de una pieza, todo ello una pieza labrada a martillo, de oro puro.
37. Y le harás siete lamparillas, las cuales encenderás para que alumbren hacia adelante.
38. También sus despabiladeras y sus platillos, de oro puro.
39. De un talento de oro fino lo harás, con todos estos utensilios.
40. Mira y hazlos conforme al modelo que te ha sido mostrado en el

mon

te.
ES OBVIO EL NEXO CON EL REPOSO EN FUNCION A LAS FASES DE LA LUNA.
| | |
| --- | --- |
| Reply | Message 22 of 30 on the subject |
| | |
| --- | --- |
| Reply | Message 23 of 30 on the subject |
| | |
| --- | --- |
| Reply | Message 24 of 30 on the subject |
LA LETRA S (SABIDURIA/SABADO/DRACO/$) EN EL ALFABETO INGLES ES LA LETRA NUMERO 19-IMPRESIONANTE CLAVE MASONICA CON REFERENCIA AL SABADO SEGUN LAS FASES DE LA LUNA
EL 9 DE JULIO, DIA DE LA INDEPENDENCIA ARGENTINA, ES EL DIA NUMERO 190 DEL CALENDARIO GREGORIANO, EN LOS AÑOS NO BISIESTOS. 2016, AÑO DEL BICENTENARIO DE LA INDEPENDENCIA ARGENTINA. LO CURIOSO ES QUE EL 15 DE AGOSTO, EN LOS AÑOS BISIESTOS, ES EL DIA NUMERO 228=19X12 Y EN LOS AÑOS NO BISIESTO, EL DIA NUMERO 227 DEL CALENDARIO GREGORIANO.
CABE ACLARAR QUE EL DIA DE LA ASUNCION DE LA VIRGEN, INSISTO, ESTA EN LA SEMANA 33 DEL CALENDARIO.
231=7X33
| | |
| --- | --- |
| Reply | Message 25 of 30 on the subject |
| | |
| --- | --- |
| Reply | Message 26 of 30 on the subject |
| | |
| --- | --- |
| Reply | Message 27 of 30 on the subject |
Apollo
Mankind set foot

on the Moon

for the first time on July 20th, 1969 as NASA's Apollo 11 mission successfully landed in the Sea of Tranquility, allowing the first astronaut Neil Armstrong to take his,
"one small step for (a) man, giant leap for mankind".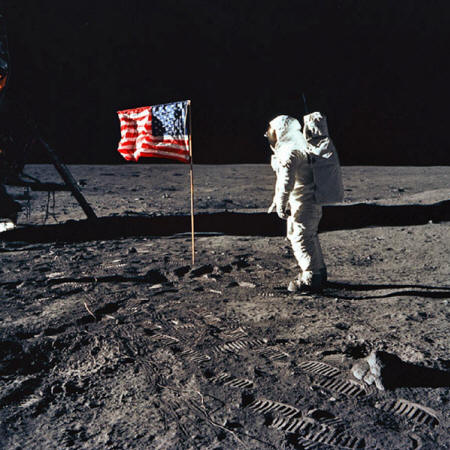 The Moon has been shown to be a major component of the LHC secret design and here it is confirmed further by the fact that the Apollo program also intelligently interacts with the LHC…
The Apollo Earth-Moon connection echoes the LHC-SPS relationship (= Earth-Moon ratio)

CERN/LHC is partially situated in the French town Saint-Genus-Pouilly; the name "Pouilly" apparently comes from the Latin "Appolliacum"; in Roman times there was a temple dedicated to Apollo in the area (link 1, link 2)

"Apollo" is also said to mean "to destroy" or "the destroyer" (= Apollyon) and right at CERN/LHC infamously stands a statue of Shiva, a Hindu deity known as "the Destroyer"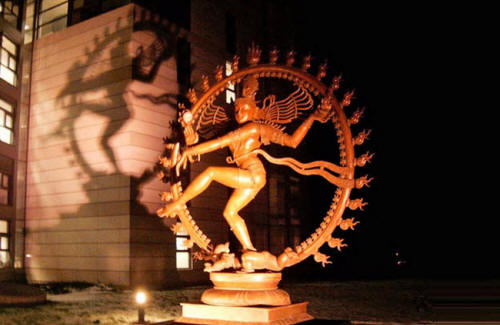 More here...


Now let's take a look at the Apollo program insignia…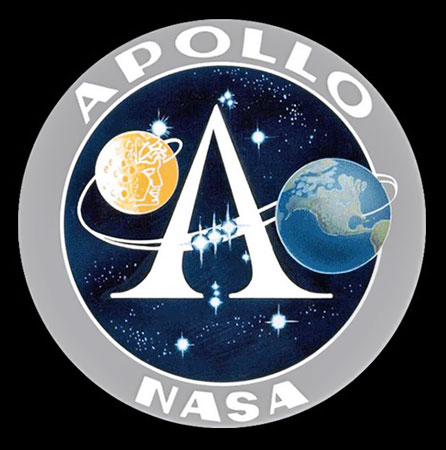 The Orion constellation is centrally depicted in the middle of the insignia, resonating with the LHC "Orion Stargate" code


Orion represents Osiris the god of the underworld; the name "Apollo" is associated with a "bottomless pit" (underworld) via Apollyon/Abaddon in the Book of Revelation 9:11

Revelation 9:11 And they had a king over them, which is the angel of the bottomless pit, whose name in the Hebrew tongue is Abaddon, but in the Greek tongue hath his name Apollyon.
After finding this many correlations, our next logical step is to check for any visual overlay interaction between the Apollo program insignia, which is circular, and the LHC/solar system/Orion Belt Stars diagram we've been working with.

For starters, here is a straightforward overlay arrangement: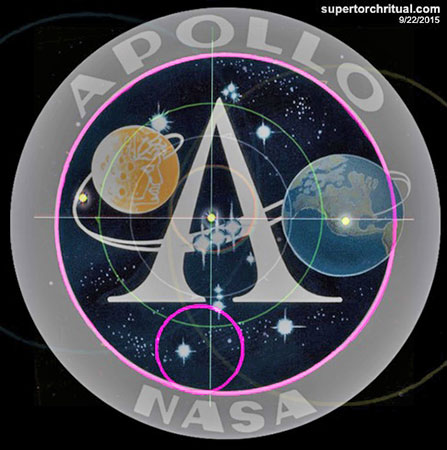 Not much happening… except the Moon and the SPS actually appear identical in size.
We can check this by putting the two together…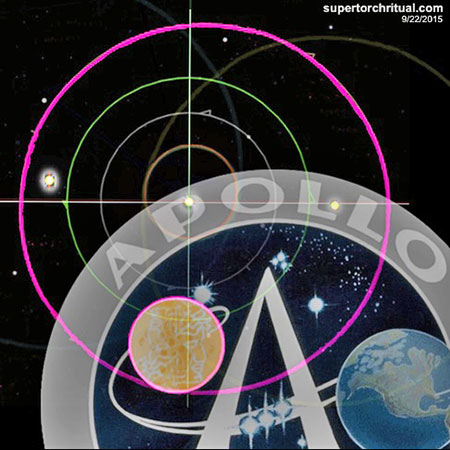 As you can see, they are the exact same size.
The SPS representing the Moon matching the size of the Moon… making perfect sense.

But why did we have to move the Apollo insignia for this? It's curious and seems a bit clumsy because the rearrangement didn't result in any other additional alignments. We need to investigate this a little further…

Keeping the Moon snugly inside the SPS, let us now rotate the insignia 180 degrees, i.e. we turn it upside down, like this: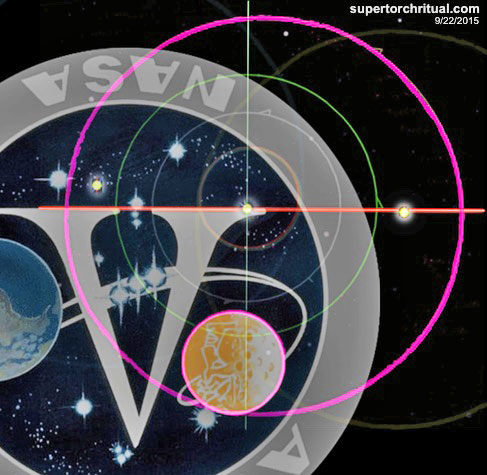 There it is, an unmistakable alignment!
The flat feet of the big letter "A" now rest precisely on the solar system's equinoctial axis (red)!

At this point we have little reason to doubt we are dealing with a real hidden design here and not some happy coincidence. The following further confirms the reality of what we are uncovering…

Apollo 11 had its own insignia…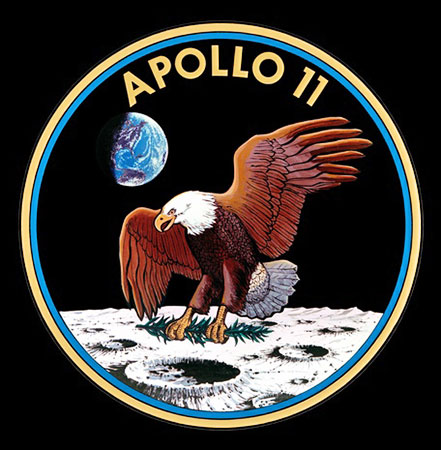 Let's bring together the two insignias (they are sized so that the inner edges of the circles match perfectly):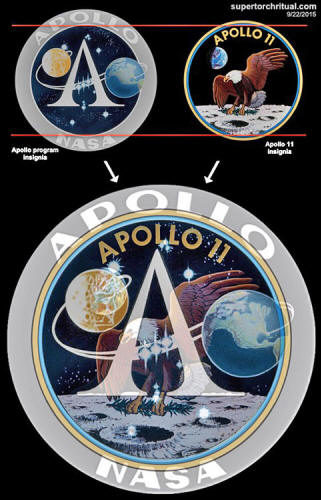 It's unmistakable:
The same letter "A" stands tall like a pyramid right on the surface of the Moon!
The "pyramid" allusion here is no accident either.

There is this…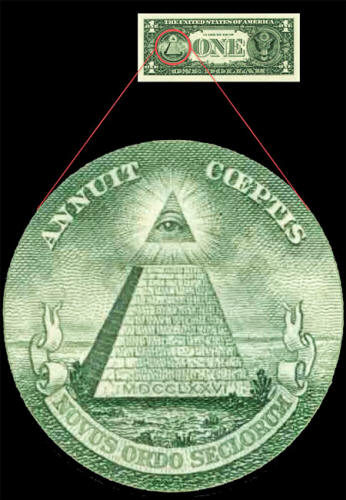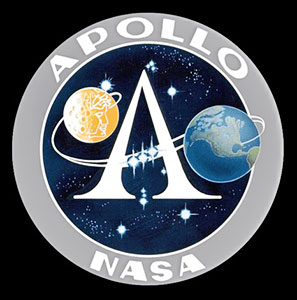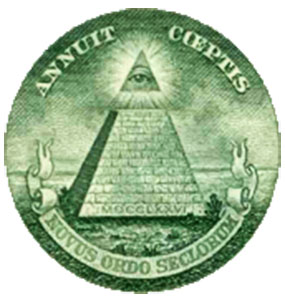 And there is also the Orion Correlation Theory: The Apollo insignia displays Orion, and the Correlation Theory, identifies Orion with the pyramids.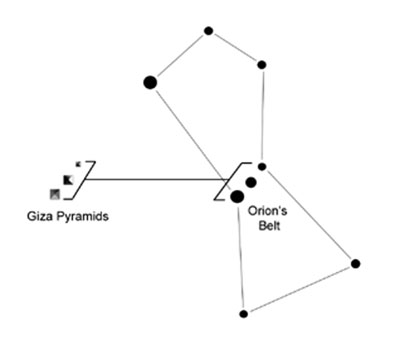 The Orion Correlation Theory emerged in the 1990s. The Apollo program was active back in the 1960s…

Somebody knew back then.

Both the Apollo program and CERN's LHC were enormous undertakings carried out by mankind to boldly go where no man has gone before. And we now see that they mysteriously interact with each other, whispering "Orion Stargate".


In Closing

So there you have it.
I am confident I have provided enough compelling evidence to establish that CERN's Large Hadron Collider has a secret side that appears to be fully celestial in nature, ultimately pointing its ethereal finger to the Moon and Orion, as well as Mars.
Is the LHC a "Gate of the God", a "Tower of Babel", symbolically or literally connecting "heaven and earth"?

Is it an "Orion Stargate" blueprint that can, if sufficiently decode, help us become a more inter-dimensional civilization?

And just who is behind the LHC secret design?
I don't have all the answers. It's all still very mysterious.
The new revelations in this article, however, should serve as a major breakthrough paving the way for further investigation that will leads us to more stunning discoveries and more concrete answers to the big questions.
http://www.bibliotecapleyades.net/ciencia/ciencia_colisionadorhadrones42.htm
| | |
| --- | --- |
| Reply | Message 28 of 30 on the subject |
VERSICULO BIBLICO QUE "ANTICIPO" INFERNO, ESCRITO POR DAN BROWN
DAN BROWN= SERPIENTE= "AGUJERO DE GUSANO"
NOTEN EL NEXO DE DAN, CON LA SERPIENTE (VENECIA) Y EL CABALLO (PLAZA SAN MARCOS)
7. Génesis 49:17 Será Dan SERPIENTE junto al camino, Víbora junto a la senda, Que muerde los talones del caballo, Y hace caer hacia atrás al jinete.
7. Mateo 23:33 ¡Serpientes, generación de víboras! ¿Cómo escaparéis de la condenación del INFIERNO?
MON

TE HER

MON

(TRIBU DE DAN)
MON / MOON / LUNA / TRANSFIGURACION
EL VERDADERO VALOR DE PI, AL ESTAR RELACIONADO CON EL NUMERO PHI Y EL CUATRO EVIDENCIA EL NEXO CON EL SABADO LUNAR, EN EL CONTEXTO AL CUARTO MANDAMIENTO, CUATRO FASES E INCLUSO QUE LA LUNA FUE CREADA EN EL CUARTO DIA. LA CLAVE ES SU NEXO CON EL NUMERO CUATRO.
MEZQUITA DE SANTA SOFIA EN ESTAMBUL, TURQUIA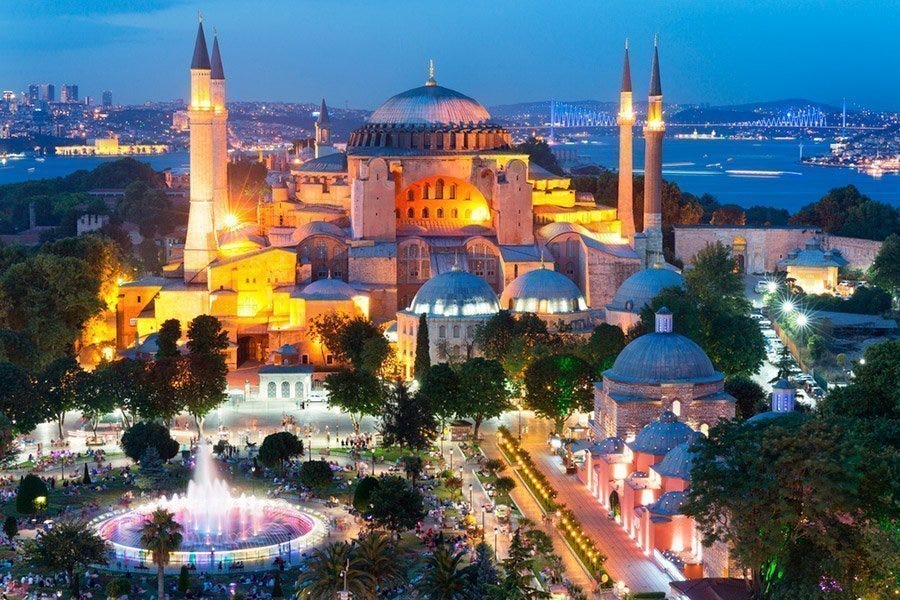 | | |
| --- | --- |
| Reply | Message 29 of 30 on the subject |
Ancient cultures knew about sacred geometry reflected in nature and derived their individual measures of length from it. Many ancient writings suggest that this knowledge was given to mankind by god(s). The 'Gods' of certain cultures could be early post-flood founders a few generations after Noah. In Egypt, building overseers required the Royal Egyptian Cubit to be calibrated against a precision standard at regular intervals. Failure to do so was punishable by death. This extreme respect for the royal cubit indicates an important legacy, like a standard handed down from the 'Gods'.
According to the "Secrets of the Great Pyramid" (by L. Stecchini) the Egyptian measures of length, originating from at least the 3rd millennium BC, were directly derived from the circumference of the earth with an amazing accuracy. On page 346, his claim is that the Egyptian measurement was equal to 40,075,000 meters, which compared to the International Spheroid of 40,076,596 meters gives an error of 0.004%. No consideration seems to be made to the question of, on purely technical and procedural grounds, how the early Egyptians, in defining their cubit, could have achieved a degree of accuracy that to our current knowledge can only be achieved with very sophisticated equipment and techniques.
Note: Egyptians calculated polar radius as 12,000,000 Royal Cubits (of 0.525 m per cubit) which is equivalent of 6300 km (modern value for the polar radius of the Earth is 6,357km)
The Sacred Cubit (aka Royal Cubit) was used in constructing buildings and monuments and in surveying in ancient Egypt. Royal Cubit consists of 28 units, digits ( 7 palms of 4 digits). The names of divisions of royal cubit may suggest anatomical origin, however the division numbers indicate astronomical origin of the cubit (7 days per week, 28 days lunar calendar, 4 weeks per lunar month)…
Note: Here is an interesting connection between modern and ancient units of length with astronomy and geodesy: 1 foot = 12 inches, 1 mile = 5280 feet = 63,360 inches = 4800 Sumerian Feet = 3200 Sumerian Cubits.

There is great confusion today concerning metrology, the history of measurement systems around the world. Beyond the child's tales of the "foot" deriving from some king's foot, measurement was actually part of a sacred system of knowledge established in prehistory and based on timeless truths seen in the harmony of the cosmos. Standards of measure were everywhere framed upon never-changing principles of number, in particular, the interplay of natural tension between ten and twelve, and the dimensions of the turning Earth. Except for the survival of the English system in the U.S., most other traditional systems of measurement worldwide have succumbed to the "easy" and modern, but inferior "metric" system, which uses only ten, is divorced from nature and the human scale, and requires its users to conform to the measuring tools themselves, not to the nature of the objects measured, as was traditionally done.
The Cosmological Diagram (The New Jerusalem Diagram)
The Sacred Geometric Community has fallen short of the grand prize, the New Jerusalem and her fullness of purpose, they have at least seen, especially through the apostolic efforts of John Michell, the suburbs of the Holy City and from this afar view have come imminently close to her profound and universal meaning; and certainly by framing their quests for universal understanding and sustainable social systems in terms of the Celestial City (or as in Plato's case, Magnesia). Their approach to the City Whose Builder and Maker is God (even though that "god" is NOT the One of revelation and authority held by their antagonists amongst the aforesaid monotheists), as we all, is seen through a glass darkly but, nevertheless, they are searching to unlock the mystery of the New Jerusalem and to confirm their findings through geodetic discovery.
Another version of the NJ Diagram is Magical Seal of Solomon.
In Medieval Jewish, Christian and Islamic legends, the Seal of Solomon was a magical signet ring said to have been possessed by King Solomon, which variously gave him the power to command demons, genies (or jinni), or to speak with animals. In some versions the seal was made of brass and iron, carved with the Name of God, and set with four jewels. In later versions the ring simply bore the symbol now called the Star of David (hexagram), often within a circle, usually with the two triangles interlaced rather than intersecting.
To them the "geometric construction" of the New Jerusalem presents cosmological realities which govern the universe – a universe numerically understood far more by the "ancients" who have left us a testament in their objects and writings to these realities whereby John's vision of the Holy City is the culmination of all their most vivid aspirations; to wit, the elaborate geometric configurations from the New Jerusalem Diagram to intriguing planetary measurements of circles, squares, triangles, polygons of all sorts which provide immediate connectivity between earth and heaven's realms – as well as those earthly objects of antiquity which replicate the heavenly dimensions of Paradise, and all within the context, preservation and accuracies of antiquity:
"Another relic of the archaic tradition that produced these divisions of time is our present system of measurement by units of feet, furlongs, and miles, with the acre as the unit of land measuring. Those measures, which are still found the most convenient today, were canonized and held sacred, because not only do they relate both to the human and to the astronomical scales, expressing the unity between macrocosm and microcosm, but they bring out the same numbers in the dimensions of the solar system as were given to the units of time." — Dimensions of Paradise, Michell, p. 117.
One of the foremost metrologists of Teotihuacán is, without equivocation, Dr. Hugh Harleston Jr., who during the late 1960s and 1970s measured this "ritual city" from a "…unified geometrical composition whose intervals are clearly defined, and Harleston was soon able to establish the basic unit of measure in its dimensions. This proved to be a unit of 1.0594 meters, which Harleston called the Standard Teotihuacán Unit (STU) or Hunab after the Mayan word, adopted by the Aztecs, for Measure. He also recognized the geodetic significance of that unit: 1.0594063 meters is equivalent to the 'Jewish rod' of 3.4757485 ft., the same unit which represents the width of the Stonehenge lintels, a six-millionth part of the earth's polar radius and one part in 37,800,000 of its mean circumference." (Ref. The New View Over Atlantis, Dr. John Michell, 1995, p. 131).
Also: "Harleston says of Teotihuacan's builders: 'When they draw a line, they're telling you an area. When they draw an area, they're telling you a volume. When they put volume, they're telling you time."
Geodesy and geodetic placement of "sacred sites" of ancient origins has long been affirmatively suspect – especially, the Great Pyramid of Giza. Geodesy involves a fundamental understanding of plane or solid geometry, astronomy relative to latitude and longitude with latitude of more recent vintage since ships-clock (cir. 1540) came into vogue. These geodetic or geometric relationships both on earth and in the heavens are a frequent haunt of pagans and occultists and of novel interest to science – though science with its unfortunate proliferation of skeptic is apt to go off into "metric tangents" and miss out on all the "fun!"
"For quite some time researchers have been documenting the astronomical alignments of ancient archaeological and megalithic stone sites all over the world. But discovery of their geodesic alignment has been more recent. Geodesy refers to the theory and practice of surveying to determine the position of specific points on Earth's surface. It is distinguished from plane surveying in that it deals with areas whose dimensions are so great that the curvature of the Earth must be taken into account. Geometric geodesy involves the creation of a mathematical model of Earth, while physical geodesy studies Earth's gravity field. The discovery of the precise alignment of Mayan sites along the 90th parallel is significant because it demonstrates that the Maya were aware of Earth's curvature and knew the advanced formulas used in geodesy.
Note: Carl Munck, archaeocryptographer, introduces an ancient Pyramid Matrix, in which ancient monuments – across the globe – encode their exact positions with respect to latitude and longitude. The science of decoding these monuments is called archaeocryptography. For latitude, ancient monuments were referenced to the same (modern) equator. For longitude, these monuments were referenced to a former Giza, Egypt Prime Meridian – discovered by Munck – that ran from pole to pole across the Great Pyramid.
PS1 The Forgotten Harmonical Science of the Bible
Note: The following segment is from "The forgotten harmonical science of the Bible" by Ernest G. McClain
"…but thou hast ordered all things in measure and number and weight" — Wisdom of Solomon 11:20 (1611 King James Bible)
Biblical creation "by measure, number and weight" required God to possess a fluency in arithmetic not always shared by the faithful. And so Bible arithmetic of the first millennium BC eventually became incomprehensible.
Today much of the astronomy, arithmetic, and music attributed to Classical Greece is documented to Semitic Babylon in the second millennium B.C. Mesopotamian fluency in calculation–in the age of Abraham, Isaac, and Jacob–already was 3000 years ahead of 16th century AD Europe. Babylonian exile in the sixth century BC made accessible to the Jews anything not already known.
With help of Philo of Alexandria I am reading Divine prescience as pre-scientific musical insight encoded in tribal mythology. Biblical emphasis on twelve sons as eponymous ancestors of twelve tribes who build an altar of twelve stones concerns twelve idealized "boundary markers" in a cyclic octave needed for Davidic musicology. The pattern was long symbolized in the concentric circles of the Babylonian astrolabe, adjusted monthly to correlate the watches with the varying lengths of day and night. Figure 2 strips all star data from van der Waerden's reconstruction, and converts his base-60 water-clock weights (for full watches in the outer circle, and half and quarter watches in the inner circles) to base 10 arithmetic.
The astrolabe's naked geometry and simple arithmetical doubling expose the idealist mind set which guided the evolution of Chaldaean sciences — converted to priestly ritual by Jewish ingenuity. Twelve ideal months of 30 fictitious days were superimposed on the heavens, and the ratio of longest night to shortest day, known to be about 3:2, was computed as 2:1, so that only music offered a "manipulable" example which conformed to these rounded measures.
Concentric circles anticipate Ezekiel's "wheel in a wheel" as the throne of heaven. Within each circle maxima and minima water clock weights of 2:1 anticipate the ratio of cyclic octaves. But equal weight differences between successive months (reversing at the solstices in months III and IX) had to give way to proportional differences between successive semitones when this geometry was applied to music. Rational tonal arithmetic, cleverly mimed by Ezekiel, could anticipate this conceptual equality only via a slight but cumulative excess or deficiency, for in a cyclic octave of ratio 1:2 all equal divisions are defined by irrationals. Thus the Holy Land of a spiritual Israel had to be conquered conceptually in intricate warfare between the excess of primordial "giants" (products of 3) and the deficiency of human "weaklings" (products of 5) among rational numbers, and "weaklings" won only with Divine help in circumventing the lack of real number. Bible narrative brilliantly allegorizes every aspect of Diophantine approximation to modern Equal Temperament, and it does so with exhausting respect for numerical detail–making the Bible a priceless repository of tuning lore and its elementary number theory. The "unhewn" stones of Jewish altars are integers, meaning the natural or counting numbers to which harmonical theory normally was restricted, although its calculation demanded great fluency with reciprocal fractions. From the perspective of any reference pitch all integers except 2n necessarily "sinned" by "missing the mark" to some degree because octave doubling imposed, a priori, a universal matrix ("womb") tied to integral powers of 2. Problems arose immediately with division into 2 equal parts (requiring the square root of 2) and 3 parts (requiring the cube root of 2).
Sensory intuition always fails at some level of arithmetical subtlety where least noticeable differences create a Platonic "no man's land" of uncertainty. Greek, Jewish, and Chinese cultures are unanimous in accepting the comma of 80:81 as its convenient normative value. It is the difference between a "giant" wholetone of 8:9 (worth 204 cents in modern logarithmic measure) and a "human weakling" of 9:10 (worth only 190). They are approximations to the sixth root of 2 worth 200 cents, the value necessary to divide an octave 1:2 into six equal parts. How Davidic tuning theory reconciles this conflict becomes the central focus of Bible allegory And in the sixth century BC only God could have solved this problem numerically–although any geometer could map results to his own satisfaction for the astrolabe pointed the way.
For musician/philosophers of Philo's temperament, tuning theory may always have been a contest in the soul between the potential tyranny of masculine intellection, considered mankind's very highest power, and the relative benevolence of our feminine sensorium, where least noticeable differences create some measure of perceptual tolerance. Wisdom required a congenial mating between our own masculine concepts and feminine percepts, and sometimes rewarded it with the experience of transcendent beauty in "out of the body" adventures like Philo enjoyed when listening to the antiphonal singing of segregated sexes in his Alexandrine synagogue. I am trying here to articulate Bible harmonics in Philo's spirit while paying closer attention to its computational logic.
http://blog.world-mysteries.com/science/the-language-of-god/
| | |
| --- | --- |
| Reply | Message 30 of 30 on the subject |
First
Previous
16 a 30 de 30
Next
Last
©2021 - Gabitos - All rights reserved