GIZE, STONEHENGE, CHICHEN ITZA, ETC,ETC: THE CYGNUS MYSTERY
Choose another message board
| | |
| --- | --- |
| Reply | Message 1 of 17 on the subject |
| | |
| --- | --- |
| Contents | |











i. Oldest Temple in the World

Covering an area the size of three tennis courts, the archaeological site known as Göbekli Tepe in South-east Turkey is known as the oldest temple in the world. Consisting of a series of sub-surface cult buildings, it is to be found on the top of a ridge overlooking a fertile agricultural landscape, north-east of the modern city of Saniurfa.
According to the German archaeologists who have been excavating here since 1995, Göbekli Tepe, as much as 11,500 years old, was constructed by faceless individuals (+/- 500 years) belonging to an epoch known as the Pre-Pottery Neolithic.
This was a transitional stage between the hunter gatherers of the still present Ice Age, and the more settled agricultural communities that emerged on the banks of the Euphrates river shortly after the ice sheets receded, causing a gradual change in temperature and environment.

Why exactly Göbekli Tepe was built even before this took place remains a mystery. All that makes sense is that the various linear structures with roofs supported by carved T-shaped pillars, displaying a wide range of animals, birds, serpents, spiders and anthropomorphs of a quality unequalled thereafter until the emergence of the Sumerian and Akkadian civilizations down in the fertile plains of Iraq thousands of years later. What was the purpose of these incredible prehistoric structures?
Might they be aligned to the stars like megalithic monuments worldwide?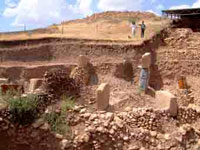 Gobekli Tepe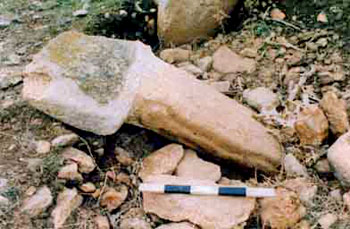 Stone with serpent carving from Karahan Tepe ( photo: Harran University )

Nearby is another Pre-Pottery Neolithic site called Karahan Tepe, which dates to a similar age as Göbekli Tepe. Stone rows, T-shaped stone pillars, and other standing stones cover an area the size of a soccer field. One day it will, I believe, prove to be even more important than Göbekli Tepe.
Exactly what the mindset was behind those who created Early Neolithic sites such as Göbekli Tepe and Karahan Tepe is a complete mystery.
Who were these faceless individuals, and what inspired them to construct such incredible monuments at the end of the Last Ice Age?

Note similarity of the structure of the sperm to the carving on the stone above


ii. The Direction of Heaven

The stone rows at Karahan Tepe are directed towards the north, and the temple structures at Göbekli Tepe are likewise roughly north-south.
Other stone structures in South-east Turkey from a slightly later age, such as Çayonu north of the city of Diyarbakir and the now submerged site of Nevali Çori in Hilvan province, between Diyabakir and Sanliurfa, also have their ritual areas at the northern ends. This preference for the north is found among the Sabians, a pagan race who thrived for thousands of years at the nearby city of Harran.
They envisaged the Primal Cause, God himself, as a divine force that resided in the north. This was their kiblah, or direction of prayer, while Sabian feasts honouring the Mystery of the North regularly took place.
Was it possible that the Sabian form of worship was a leftover from a much earlier epoch, when the earliest Neolithic temples were built in the same region?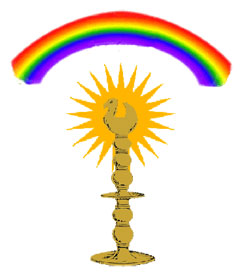 Yezidi sanjak depicting cosmic bird atop the sky-pole.
Several other early cultures, religions and civilizations connected the north not only with the direction of the celestial abode, but also with the transmigration of the soul.
Among them were the Mandaeans of Iraq and Iran (first encountered by European travellers during the Middle Ages and erroneously termed 'St John's Christians'), the angel-worshipping Yezidi from Northern Iraq and Syria, and the Shiite sect known as the Brethren of Purity, all of which are descended from the Sabians of Harran.
Most usually it is the Pole Star, also known as the North Star, that is the object of their veneration, even though originally this could not have been Polaris, the current Pole Star, due to the process of precession.

Did the priestly elite of the Early Neolithic world also venerate the Pole Star during their own epoch, c. 9500-5500 BC? Like the Mandaeans, they practiced a cult of the dead, focused around the process of excarnation, whereby vultures were allowed to pick clean the flesh of human carcasses.
It is depicted on the walls of Çatal Huyuk, the oldest known city in the world, built on the Konya plain in Southern Turkey, c. 6500 BC, by the descendants of those responsible for sites such as Göbekli Tepe and Karahan Tepe in Southeast Turkey. At Çatal Huyuk we see the vulture carrying, or accompanying, the soul of the deceased, shown as a head, into the afterlife.

Once again, the north, along with the east, end of cult buildings that are associated with cosmic life and death. In addition to this, walls at Çatal Huyuk show scenes of shamans adopting the guise of the vulture to make otherworldly journeys. More evidence of the veneration of the vulture is to be found at the Early Neolithic sites of Southeast Turkey, including in one instance a bird emerging from a totem pole of human heads found at Nevali Çori and dated, c. 8000 BC.

Curiously, there was no Pole Star in 9500 BC. Indeed, one has to turn back the clocks to 11,000 BC in order to find one. This was Vega, the brightest star in Lyra, identified in the past as an eagle or vulture. It had held this role between 13,000-11,000 BC, before precession caused it to move too far away from the celestial pole to act as the North Star.
Had this been a celestial object of veneration among the Early Neolithic peoples of South-east Turkey, even after it ceased being Pole Star?
Although an attractive proposition it made no sense of alignments at the Neolithic sites examined, so another explanation was sought using a computer generated map of the night sky.

Back to Contents




iii. The Circle of Cygnus

Unable to determine whether the star Vega had been an object of veneration in the Early Neolithic world, we turn our attentions to Deneb, the brightest star in Cygnus, which until around 9300 BC was circumpolar (i.e. it never set) at the latitude of Göbekli Tepe and Karahan Tepe.
Moreover, on its lower transit of the meridian - the north-south zenith line that bisects the night sky - it crossed from left to right just above the northern horizon.
Were these early temples orientated towards this star as it crossed the meridian each night?

Had Deneb and the stars of Cygnus been important among the Early Neolithic peoples?

If so, then why?
Cygnus was identified as a celestial bird on the Euphrates as early as c. 2000 BC.
Although most obviously a swan in Europe, Cygnus had, like Lyra, once been seen as a vulture, making it an obvious destination for those human souls being accompanied into the afterlife by a psychopomp (Greek for 'soul carrier') in the guise of the celestial vulture.
In pre-Islamic Arabic tradition, Cygnus was the Eagle of the Arabs, a mythical bird known also as the roc, or rukh. This was venerated by the Yezidi, the angel-worshipping descendants of the Sabians of Harran, as a form of Khuda (Kurdish for 'God '), associated with the Mysteries of the North.

The Yezidi depicted Khuda as a bird called anfar, which was seen perched on top of a pole used in private services and called a sanjak. Since the anfar is identified as a dove, it can be equated with the pigeon bird idols venerated prior to the age of Mohammed at Mecca, originally a Sabian shrine.
These idols have been identified variously with Allah and/or al-Lat, al-Uzza and Manat, three pre-Islamic goddesses associated with the swan, or crane. Their avian associations link them directly with Cygnus, which as the celestial swan came under the influence of Near Eastern love goddesses, who in Classical tradition were identified as Aphrodite and Venus.

In Christian tradition, Cygnus was seen as the Cross of Calvary as early as the sixth century, and arguably as far back as Roman times, where the crucifixion scene was associated more with the pagan god Orpheus, whom Jesus was portrayed as in a number of early Christian statues and murals found in Rome. In Classical tradition the swan of Cygnus was originally said to have been Orpheus, god of the underworld.

Cygnus was occasionally shown in Christian planispheres as Christ on the Cross, his wounds perhaps corresponding to its principal stars.
Moreover, the dove as a Christian symbol of the Holy Spirit (Greek pneuma), derives from the Hebrew concept of the Spirit or Breath of God (ruach), and stems from the same cosmological root as the Yezidi concept of the anfar, the form of Khuda (God ) as a bird that brought the universe into manifestation. In the first chapter of Genesis the Spirit of God (ruach) hovers over the primordial waters moments before God's Creation of the universe. The dove or pigeon was equated with Cygnus in Arabic tradition.

Cygnus can be found in the centre of the Milky Way, universally seen in past ages as a road or river of stars used by the dead, or the shaman in a state of trance. In ancient cosmology the Milky Way was equated with the World Tree, around which curled a serpent and on top was a celestial bird.
In shamanic tradition worldwide, this World Tree had to be ascended to reach the celestial abode, or sky-world, either via the Milky Way or the north-south meridian line. It was a realm accessed via a hole, door or gate at its most northerly point, and often this was seen as being located someone in the proximity of the cosmic axis, marked by the bird at the top of the tree, which we can safely identify as the Cygnus constellation.

This realization is expressed in the Mandaean concept of entry into the afterlife, which is gained via the Pole Star. Mandaean tradition speaks of no less than 360 melki, or divine beings. Among them is Abathur-Muzania (or Awather-Muzania), whose 'throne' is located 'behind the North star', known as the 'House of Abathur'. It is he,
"who judges the souls of men after they have passed through Purgatory, seeing whether they are purged enough to pass on into Paradise".
If deemed pure enough, the soul then makes its onward journey by boat over a celestial 'river', arguably the Milky Way, to one of the countless 'worlds of light', inhabited by their dead kinsmen. In these unimaginable realms, governed by 'great spirits of light', they meet other purified souls as well as their own 'dmutha or over-soul '.

It also makes sense of Karahan Tepe's secondary alignment towards sunrise on the summer solstice.
From here in 9500-9000 BC, the Milky Way emerged from the horizon and rose almost horizontally until it reached the stars of Cygnus which would have hung just above the northern horizon.
Did the Early Neolithic world associate Deneb and the stars of Cygnus with cosmic life and death, as their descendants, the Sabians, Mandaeans and Yezidi would seem to have done?

If correct, how did Deneb and the stars of Cygnus become so important to our earliest Neolithic ancestors?
The answer appears to lie in the fact that between c. 16,000-15,000 BC Deneb was Pole Star.
At the same time, the Milky Way would have risen up from the eastern horizon to where Cygnus occupied pole position, whilst the stars of Scorpio, anciently seen as a serpent, were placed at the base of the Milky Way expressed as the World Tree.

Did a veneration of Deneb and Cygnus linger over from the Late Palaeolithic era, c. 15,000 BC, through until Early Neolithic times, even after a dimmer star, delta Cygni (also in Cygnus), took over as Pole Star in c. 15,000 BC, retaining this role until 13,000 BC, when pole position was finally claimed by Vega?
The Early Neolithic sites in South-east Turkey as well as ancient cosmologies worldwide suggest that this was indeed the case. Yet how universal were these concepts, really? Only by tracing the roots of this apparently Palaeolithic ideology could the theory really be proved.

To achieve this aim, we turn our attentions to the ancient cosmology of the Native American peoples.
They, having arrived on the continent from Asia in Late Palaeolithic times and, in theory, having remained in isolation through until the time of the conquest, might well have preserved some semblance of knowledge regarding the former significance of Cygnus to the prehistoric mindset, imported on to the continent by nomadic peoples using the Bering land bridge between Siberia and Alaska, which emerged as the ice sheets withdrew at the end of the last Ice Age, c. 10,500-9500 BC.

Back to Contents

http://www.bibliotecapleyades.net/ciencia/ciencia_cygnus02.htm
| | |
| --- | --- |
| Reply | Message 3 of 17 on the subject |
x. Swan Knights and Swan Maidens


The gigantic passage grave encircled by a massive stone circle to be seen at Newgrange in Ireland's Boyne Valley is famous for its alignment towards the midwinter solstice. Each year the first sunlight penetrates a narrow corridor and enters a womb-like chamber at the heart of the monument, built c. 3000 BC.
In it's an enchanting spectacle that befits its former identity as a sidhe, a house or palace, of the Tuatha de Danaan, the mythical first inhabitants of Ireland. In this guise it features in the old Irish tale known as 'The Dream of Angus', concerning a chieftain named Angus Mac Og, whose story relates how he fell in love with a swan-maiden after she visited him in a dream.
After she agreed to marry him, they fly off to Newgrange in the form of swans, where they lived happily ever after. In Scottish folklore, Angus was married to the goddess Bride, who was herself a swan-maiden.

All this was knowledge known to two Irish earth mysteries researchers, Anthony Murphy and Richard Moore, who linked it with the fact that each winter flocks of migrating swans settle for the winter in the water-logged meadows of the Boyne Valley.
Sensing that this annual spectacle might have influenced the mythology and practices of those who built the Newgrange monument, they wondered whether the passage grave reflected the influence not just of the sun, but also that of Cygnus, the celestial swan.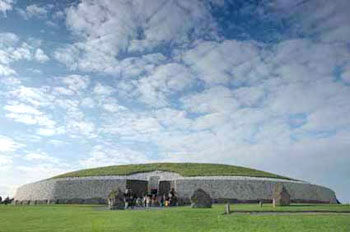 Newgrange passage grave.
Overlaying the stars on a map of Newgrange, they determined that the monument's interior echoes the arrangement of Cygnus's principal stars (see their site mythicalireland.com). Moreover, if the midwinter sunrise line is extended backwards some 15 kilometers (9 miles), it targets a smaller passage grave known as Fourknocks.
This they found to be aligned perfectly to the rising of Deneb in c. 3000 BC. Thus the solsticial sun has to pass through a Deneb aligned site before reaching Newgrange, which is itself a terrestrial form of the swan, reflected in 'The Dream of Angus'.

Similar tales of shape-shifting swan-maidens can be found across Northern and Central Europe. In these one of their number is usually caught and made to marry a mortal man, after he steals her cloak of feathers as she bathes with other swan-maidens.
Such stories are linked also with the European tradition of 'Le Chevalier du Cygne ('Knight of the Swan'), descended of a swan-maiden M, creating the archaic belief that certain families and individuals were descended from a mythical swan-knight.
These includes the Cleves family, from whom came Annes of Cleves, wife and queen of the English king Henry VIII, and Godfrei de Bouillon, the leader of the First Crusade.

Traditions of this sort hark back to an age when magical flight was thought to be attained by the male or female shaman through wearing either a cloak of swan feathers or other swan paraphernalia, evidence of which occurs in these same countries, and also in many parts of Asia and the Indian sub-continent, where swan veneration was prominent in the past. Moreover, in Denmark archaeologists have discovered a unique burial in a cemetery dating to the Mesolithic age, c. 4800 BC.
A young woman was found beneath a small knoll, next to her dead child, who had been laid to rest on a swan's wing. Its striking presence has been seen by some archaeologists as evidence of a link between the swan and the transmigration of the soul. If correct it shows the antiquity of this cult, which preceded even the spread of Europe's megalithic culture, of which both Avebury and Newgrange are prime examples.

Yet the connection between swan-maidens and prehistoric tombs is not confined to Newgrange, for at the Wayland Smithy long barrow situated some 40 kilometers (25 miles) from Avebury, a legend connects the founder Wayland, or Weland, the Germanic and Norse divine smith, with the cult of the swan. It was written that he escaped from the labours imposed on him by the wicked king Niðuð by wearing a swan coat, enabling him to achieve magical flight. In some versions of the tale, this was given to him by his wife, who was a Valkyrie.
They were female spirits, shape-shifting swan-maidens, who carried the souls of the dead to Valhalla, the Hall of the Heroes in Norse myth.
Although Wayland's link with the monument that bears his name post-dates its construction by some 4,000 years, it cannot be coincidence that, quite separately, prehistorian Professor John North determined that Wayland Smithy is aligned to Deneb, suggesting that a swan cult existed here as early as c. 3700 BC, its accepted date of construction.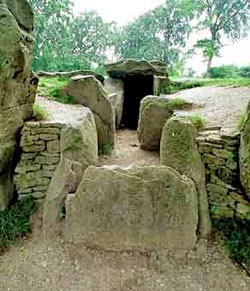 Wayland Smithy long barrow.

From Wayland Smithy we travel to the Scottish Outer Hebrides, where at Callanish on the Isle of Lewis, we find one of the most impressive stone circles in Britain.
Legends speak of it being built by a black-skinned people who arrived in the company of a white priest-king dressed in a coat of mallard feathers, which along with swan feathers was the traditional garment of a Gaelic bard.

Callanish's northern avenue of stones points towards a distant hill in the NNE, and it can be shown that this alignment targets the point in the sky where in 3000 BC Sadr (gamma Cygni), the star at the centre of Cygnus's cross-like design, would climb high enough to return to life after having faded out as it crossed the meridian from left to right.
This would have been a magical sight to anyone present, and so makes sense of why the stone avenue was built to mark this remarkable phenomenon.
Aubrey Burl argues that Callanish's foundation story associates it with a rebirth cult linked with water and waterfowl. It is a conclusion that adds weight to Callanish's proposed Cygnus alignment, which must now be seen as part of a more widespread religion that embraced the megalithic world with its own unique religious practices associated with cosmic life and death.
Yet having established the reality of the cult in megalithic Britain, we now go in search of the Cygnus mystery to Egypt, where we come a little closer to understanding the constellation's greater purpose in the minds of our most distant ancestors.

Back to Contents




xi. The Key to Ascension

The Great Pyramid is one of the seven wonders of the ancient world. Constructed in c. 2600 BC as a funerary monument for the Old Kingdom pharaoh Khufu (or Cheops), it is the triumph of 500 years of evolution in funerary architecture, beginning with simple burials in underground tombs and culminating with the perfect pyramid.
Invariably, Egyptian funerary monuments were aligned north-south, a ritual act achieved with precision in the Pyramid Age. Finding true north was ceremonially determined during a ritual known as 'Stretching of the Cord', which involved the use of a specific star, or stars, in the northern night sky.

Following the pioneering work of English Egyptologist Gerald Wainwright during the 1930s, Czech Egyptologist Zbynek Zába wrote in 1953 that true north was found by the ancient Egyptians of the Pyramid Age using an alignment of stars in constellations found either side of the northern celestial pole.
These were Cygnus and Ursa Major, which he identified as asterisms known in Ancient Egyptian astronomy as, respectively, dwn-'nwy, a falcon-headed god, and mšhtyw the bull, or ox thigh, additionally seen as the old foes Horus and Set, ever sparring around each other in the night sky.
Zába's findings were subsequently verified by Livio Catullus Stecchini (1913-1979), the brilliant Italian mathematician and metrologist.

The north-south meridian line was the key to ascension in Ancient Egyptian religion. It is a concept found in the Pyramid Texts, to be seen on the walls of pyramids from the Fifth to the Eighth Dynasties, with the sky-rope, or ladder.
This linked the axis mundi, 'axis of the earth', with the cosmic axis, i.e. the northern celestial pole, providing us with a purpose for the northerly orientation of almost all pyramids and many more simple, so-called 'mastaba' tombs as well.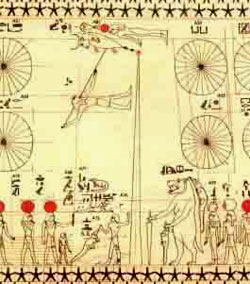 The Northern Group of constellations
including the falcon-headed god dwn-'nwy identified as Cygnus.

Even though Thuban in Ursa Minor was Pole Star at the beginning of the Pyramid Age, after it had shifted too far to be classified under this title, the stars of Cygnus and Ursa Major would seem to have been used to mark out the line of cosmic ascension.
This concept was also displayed on the ground. Some 17 kilometers (10.5 miles) due north of Giza is Ausim, the site of the ancient city of Letopolis. This was once the home of the priest of the sacred adze, used in the Opening of the Mouth ritual, which enabled the pharaoh to speak in the next world.

The celestial adze was equated primarily with the stars of Ursa Major, linking the constellation with Letopolis, an assumption confirmed in the knowledge that the symbol of its nome, or district, was the ox thigh.
Yet if this was so, was there somewhere on this meridian line that represented the falcon-headed god identified with the stars of Cygnus?

Back to Contents



| | |
| --- | --- |
| Reply | Message 4 of 17 on the subject |
xii. In Search of Sokar


Aside from

Horus

, there was another falcon god called

Sokar

, Egypt's oldest god of the death.
The pharaoh's final journey into the afterlife was periodically enacted during a fabulous festival of Sokar, which included his symbolic death and rebirth in the afterlife. Sokar presided over the Memphite necropolis, which included Giza, ancient Rostau, and since he can be equated with the falcon-headed god of the Northern Group of constellations, which can be identified as Cygnus, then Sokar's role in Egypt sky-religion is vital.

Evidence for the cult of Sokar in and around Giza goes back to the beginning of dynastic Egypt, c. 3100 BC.
Moreover, the presence there of intact jars from the even older Maadi-Buto culture argues for the presence here of a funerary cult as early as 3900-3200 BC, while the discovery to the south of the plateau of even earlier chert tools from the Neolithic age is tentative evidence that Giza was active from at least 5000-4000 BC.

Sokar from the tomb of Thutmose III.

As ancient Rostau (which translates as 'mouth of the passages'), Giza was associated with the most secret part of the perceived underworld through which the soul of the deceased was expected to pass in order to achieve ascension under the guardianship of Sokar.
Rostau was intrinsically linked with the Mound of Creation in ancient texts, signifying that the Ancient Egyptians saw Giza as an axis mundi of the physical world.

Rival ideas did exist in Egypt coming mostly from the south, and involving other gods, other cult centers, and other stars such as Sirius, Orion and Canopus.
All vied for superiority as early Old Kingdom times, and yet there can be little question that the funerary cult most associated with Giza at the beginning of the Pyramid Age revolved saw ascension as accessible via the north-south meridian line marked, as in Olmec tradition, by the stars of Cygnus and Ursa Major.

Back to Contents




xiii. The Road to Rostau

Technical engineer Rodney Hale, working along side me with my research into the Cygnus mystery, decided to see what might happen if he overlay the principal stars of Cygnus over the Pyramids of Giza.
The connection was precise, even more so that if one were to do the same with the stars of Orion, previously linked with the ancient astronomy of the Pyramid Age.

A closer examination of the geometry of the Giza plateau showed that during the Pyramid age Deneb rose exactly in line with the ancient cult centre of Heliopolis, once linked to ancient Giza via a sacred road. This was also the approximate orientation of the Giza pyramids, which are also known to target Heliopolis.
In addition to this, the orientation of the three pyramids matches the setting of Cygnus on the north-western alignment during the same epoch.

Thus we can see that during the Pyramid Age the stars of Cygnus, Deneb in particular, would seem to have played an active role in the rise of this famed necropolis of the ancient world.
What is more, Deneb, we find, might easily have been employed, symbolically at least, in the Stretching of the Cord foundation ceremony, known to have been used to orient buildings including pyramids such as the ones at Giza.

Back to Contents




xiv. The Well of Souls

Ancient Egyptian cosmology talks about a bird known as the Great Cackler, a cosmic goose, who brings the universe into manifestation by letting out a divine honk or call.
It lays the sun-egg from which the creator god emerges, his name altering depending on which cult centre the myth is attached.

On the famous round zodiac of Denderah, created as late as c. 50 BC, there appears a cosmic goose, and careful analysis of its position in the night sky shows that it formed part of a constellation composed of the stars of Cygnus and the bright star Altair in Aquila, the celestial eagle, an area of the Milky Way dominated by the dark nebulous region known as the Great Rift.
This indicates that the Ancient Egyptians saw the point of creation as located in the vicinity of Cygnus. In addition to this, the Great Cackler was a totem of Geb, the earth god, whose wife/lover was Nut, the sky-goddess. Occasionally, the Great Cackler is shown at the feet of Nut as she is prised apart from Geb in order to form the sky and earth.

American astronomer and Egyptologist Dr Ronald Wells has put forward a unique theory. He has determined that Nut was most probably a personification of the Milky Way, with her vulva and birth canal corresponding to the stars of Cygnus. This would make the Great Rift, which extends from Cygnus down to Sagittarius, the place of emergence of the sun-god, reborn at dawn on the winter solstice, as he was also in Maya cosmology.

Wells further determined that the Fifth Dynasty pharaoh Userkaf aligned his sun-temple at Abusir, built within sight of the Giza pyramid field, to Deneb, when it rose heliacally, i.e. with the sun. Wells believed that Userkaf chose this particular star as it held some special importance to him. Beyond this is the fact that here was firm evidence of Deneb and Cygnus's importance to an Old Kingdom pharaoh who lived within just three generations of Khufu, and took the throne only a few years after the death of Menkaure, the builder of Giza's Third Pyramid.

An obscure local legend asserts the entrance to an underground 'palace' beneath Nazlet-el-Samman, the village east of the Sphinx, was once guarded by a holy man named Hammad el-Samman. He lived in a 'hole', or well, shaded by a sacred sycamore fig, a direct descendant of one known to have existed in dynastic times.
Yet this legend is most certainly a corruption of a far older belief in sacred texts found on the walls of the Graeco-Egyptian temple at Edfu in Southern Egypt, and brought to the world in 1969 with the publication of Egyptologist Eve A E Reymond's wonderful book THE MYTHICAL ORIGIN OF THE EGYPTIAN TEMPLE.
They speak of a subterranean domain, called the Underworld of the Soul, accessed via a well-shaft, which once existed in the vicinity of Giza. Mythical beings, known as the Primeval Ones, led by an individual called the Falcon conducted entered this chthonic realm to embrace its divine radiance known variously as the Embryo, Seed , Lotus, or Sound Eye.

The Underworld of the Soul of the Edfu Building Texts, as they are known, is synonymous with the hidden domain of Sokar at Rostau. Even though this subterranean realm has long been thought to be mythical, new evidence uncovered during my research into THE CYGNUS MYSTERY clearly indicates that the gateway to this complex, the Place of the Well as it was known in the Edfu Texts, lay in the vicinity of a hill to the south of the Gebel Ghibli, once seen as a physical representation of the Mound of Creation.

The existence of this pre-dynastic structure, associated in legend with the god Sokar, and thus Cygnus, unquestionably inspired the modern-day search for the so-called Hall of Records, alluded to in the prophetic life readings of American psychic Edgar Cayce (1877-1945).
On the aforementioned Giza-Cygnus overlay this rocky outcrop is marked by Albireo, the star signifying the mouth or beak of the cosmic bird in Arabian star lore, recalling Giza's name of Rostau, meaning 'mouth of the passages'.

Ancient Egyptian funerary texts speak of a Well of Souls located beneath a sacred sycamore, a symbol of the goddess Nut, or Hathor, the latter being a female patron of the plateau. It enabled the soul of the deceased to ascend via the underworld to the sky-world.
According to prehistorian and philosopher Mircea Eliade, this was a magico-religious belief of shamanic origin that pre-dated Dynastic Egypt. Arguably, it went back beyond the Neolithic era to the Palaeolithic epoch when Deneb and the stars of Cygnus occupied pole position. Yet where else could this same shamanic root be traced?
We journey next to India in search of further clues.

Back to Contents




xv. The Swan-Goose of Eternity

Each year pilgrims descend on Pushkar in Rajasthan, one of Northern India's greatest centers of pilgrimage.
The main temple is dedicated to Brahma, the creator god. He is said to have emerged from a cosmic egg laid by Hamsa, the swan-goose, responsible, like Ancient Egypt's Great Cackler, for creating the divine sound that brought the universe into being.
Brahma rides on a sky-car pulled by seven swans, while the swan-goose is also the avatar of his wife Saraswati, the goddess of music, writing and divine inspiration. She is the personification of what was once India's most sacred river, the Saraswati, which rose in the foothills of the Himalayas in southwest Tibet. Just like the Ganges today, it was seen as a terrestrial representation of the Milky Way, linking Saraswati with Egypt's sky-goddess, Nut.

Saraswati was goddess also of the Rig Veda, the oldest body of literature in the Orient, which can be traced to a mysterious civilization that inhabited the Saraswati Valley in West India c. 3300-1900 BC. They are known to have been a shamanic based society, which almost certainly used trance states, and Soma, the drug of enlightenment, to obtain otherworldly information. This might have included the writing of the Vedas, as well as knowledge of Kalahamsa, the Swan-Goose of Eternity, the form of Brahma who brought the universe into manifestation.

In ancient Vedic astronomy Hamsa, the swan-goose, was associated with the stars of Cygnus, demonstrating once more that shamanic based cultures throughout the world saw this constellation, located on the Milky Way, as the point of creation in the universe.
Yet exactly how old was this belief?
To help answer this question, we move now to China where we discover an ancient astronomy 17,000 years old.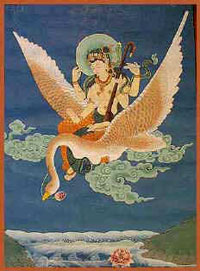 Saraswati on her swan vehicle.


xvi. The First Astronomers

Following a lengthy examination of Chinese astronomy for his French language book Uranographie Chinoise ('Chinese Star Charts'), published in 1875, noted Dutch Orientalist, philologist and ethnologist Gustave Schlegel (1840-1903) came to a quite astonishing conclusion. According to him, their stellar calendar reflected the night sky of the Northern Hemisphere between 16,000-15,000 BC, when Deneb, the brightest star of Cygnus, was Pole Star. His findings were verified by the US astronomer Julius Staal in a scholarly book entitled Stars of Jade (1984).

One of Chinese astronomy's most familiar tales concerns the Weaver Princess, or Spinning Damsel (the star Vega), who neglected her duties after falling in love with the king's herdsman (the star Altair).
Thereafter the lovers were allowed to come together just once a year, at which time every magpie in the land would fly to heaven in order to create the so-called Magpie Bridge, formed across the Milky Way by the stars of Cygnus. Both Schlegel and Staal felt this story dated back to the time when Vega took over as Pole Star from delta Cygni in Cygnus around 15,000 years ago.

Was this really evidence of specific astronomical knowledge during Late Palaeolithic times, which might well have been passed down to those responsible for the oldest temple in the world, built in Southeast Turkey around 11,500 years ago? Dr Michael Rappenglück of Munich University has researched the Upper Palaeolithic cave art in the famous Lascaux cave, near Montignac in France's Dordogne region, and concluded that it was a symbolic representation of the night sky c. 15,000 BC.

Rappenglück's interest focuses on a scene in a deep well shaft showing a falling birdman with a bison to his right and a bird on a stick below him. Rappenglück proposed that this Well Scene, as it is known, shows the stars of Cygnus, which if correct proves that this asterism was seen as a bird as early as 15,000 BC, and that shamans transformed themselves into bird-men to make this otherworldly journey in a death-like trance state.
The bird on a stick is the most interesting feature, for it is very likely a symbol of the sky-pole, or cosmic axis, with Cygnus as the bird on top. Furthermore, it demonstrates that this universal concept dates back to this age, and might easily have influenced the development of magico-religious ideals through until the beginning of the Neolithic age and beyond.

The Palaeolithic cave art at Lascaux was confirmation also that ancient astronomy and cosmology might indeed date back 17,000 years, a view confirmed again and again by evidence found in every part of the world.
For instance, my own studies into the religious beliefs and practices of the Dogon tribe of Mali in West Africa show that it was not Sirius that they saw as the source of life, as some modern writers have speculated, but Cygnus, and more significantly Cygnus in the manner that it appeared in the night sky some 17,000 years ago.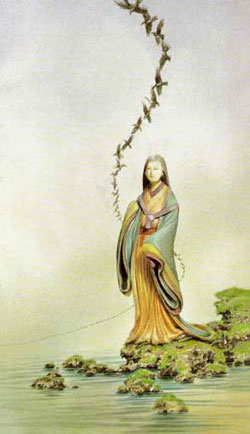 The Weaver Princess standing on the edge of the Milky Way with the Bridge of Magpies (Cygnus) behind her.

Yet how did Palaeolithic peoples some 17,000 years ago come to believe that Cygnus was the point of creation, and the destination of the soul in death?

Back to Contents




xvii. The Point of Creation

There is now overwhelming anthropological, epigraphical and scientific evidence to demonstrate that a high percentage of Upper Palaeolithic cave art in Western Europe depicts shamans in altered states of consciousness.
It shows also expressions of their hallucinatory visions, which include everything from abstract geometric forms to chimeras (purely animal hybrids), therianthropes (human-animal hybrids), and other types of perceived spirit intelligences. What is more, there is every reason to suppose that these encounters were initiated by the oral ingestion of psychedelic plants and/or mycetes, i.e. psychoactive mushrooms.

Indeed, the drug of choice for the Palaeolithic shaman in Europe was most probably a mushroom from the Psilocybe genus, which contains high dosages of Psilocybin, an active ingredient that induces vivid psychedelic experiences. The early use of mushrooms for this purpose is evident from prehistoric rock art in the Tassili mountains of Algeria, which dates to 7000-5000 BC.
It is from this region of the Sahara that the Dogon tribe are thought to have come prior to their southerly migration to more fertile regions on the River Niger in what is today Mali.

Further examples of rock art from Siberia, dating to c. 4000 BC, show spirits or shamans with mushrooms on their heads. These are likely to be the species Amanita muscaria, which was used extensively by Tungus Reindeer shamans to induce trance states.

The overwhelming evidence of mushroom use in prehistoric times indicates that the Well Scene at Lascaux might indeed depict a shaman in a trance state induced by psychedelic substances.
Could this be the origin of some sort of death cult, whereby the initiate was brought very close to physical death in order that they might experience the otherworld, the place of the afterlife?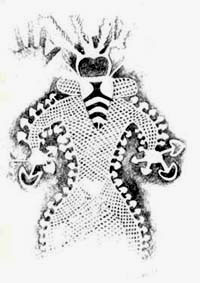 Rock art from the Tassili mountains of Algeria
showing a therianthorpe with mushrooms in his hands and around his body.

As already shown, the Early Neolithic peoples of South-east Turkey practiced their own death cult, symbolized by the vulture, seen most likely as a personification of Cygnus as the celestial bird atop the cosmic axis.
Thus it is no surprise to find that there are various examples of symbolic art showing mushrooms in association with key shamanic symbols such as the vulture, serpent and egg at the Pre-Pottery Neolithic sites of Southeast Turkey.

Quite separate to this hard evidence of mushroom consumption during the Early Neolithic era, is the work of celebrated Semitic language scholar and Dead Sea Scrolls expert John Allegro.
He put his career on the line in 1970 when he published details of widespread philological evidence of a mushroom-based cult of creation encoded within the Sumerian and Akkadian languages.
Their joint civilization, arguably the oldest anywhere in the world, sprang from the Early Neolithic culture responsible for sites such as Göbekli Tepe and Karahan Tepe. Allegro associated this mushroom cult directly with the symbol of the swan (and the stork), which he saw as a representation of the female reproductive parts.
Even though he only recognized the origins of this cult as going back to 4000 BC, it can be traced back to Palaeolithic times, with the most common themes cosmic life and death.

Cygnus was the original destination of the shamanic journey, as well as the deemed place of cosmic creation.
Yet why was Cygnus seen in this role, long after the end of the Palaeolithic age, which coincided with the cessation of the last Ice Age, c. 9500-8500 BC?

Did later Neolithic priest-shamans merely continue to venerate Deneb and the stars of Cygnus since they wished to follow well-established astronomical beliefs held true by their ancestors, or was there something more profound behind their knowledge of these crucially important stars?
| | |
| --- | --- |
| Reply | Message 5 of 17 on the subject |
xviii. The Secret of Life


In 1985, Swiss anthropologist Jeremy Narby spent time with the Ashaninka Indians of the Peruvian Amazon studying their lifestyle. He became intrigued as to how they came about their vast pharmaceutical knowledge, which included the properties of thousands of plants.
They told him it was given directly to the ayahuasqueros, the drinkers of ayahuasca (a powerful psychedelic brew, with the active ingredient DMT) by the spirits of the plants. He did not believe a word of it until he was cured of severe backache simply by ingesting a prescribed natural brew.
So he agreed, finally, to try ayahuasca for himself. This resulted in a psychedelic experience in which he saw twin snakes, giant boas, which he felt were objectively real and very important for some reason.

After many months of intense research, Narby felt that the twin serpents signified DNA's double helix, encountered by shamans in trances, along with other DNA motifs such as the sky-rope, vine and ladder. He concluded that the DNA of all life forms shares a collective consciousness that enables cross communication.
Such ideas are made possible through an understanding of signal nonlocality on a quantum level, and since compelling evidence now exists for life having evolved in interstellar clouds - the concept of panspermia - might Narby's theory be extended to include biological life elsewhere in the galaxy?
Could this provide some answers as to why Cygnus was seen as important by our most ancient ancestors?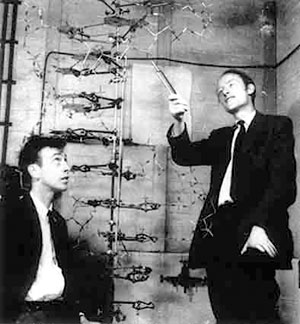 Francis Crick (right) with his model of the DNA double helix.
Francis Crick, the Nobel-prize winning discoverer of the structure of DNA, heavily supported the concept of what he called Direct Panspermia, in which he proposed that life on earth was deliberately seeded by an advanced civilization, a concept first intimated in the writings of Anaxagoras, a Greek philosopher who thrived c. 450 BC, and now being confirmed for the first time by science.
Thus it is interesting to note that Crick admitted secretly not only to taking small quantities of LSD, but also to first seeing the famous DNA double helix structure when high on the drug. If so, then were shamanic journeys during Palaeolithic times, where the initiate would journey to the stars using the sky-rope, vine or ladder, reflective in some way of his belief that life originated elsewhere, and that after death we would return from whence we came?

All over the world there was once a belief that life came from deep space.
Earlier we saw how the Mandaeans of Iraq and Iran believed that the human soul passed beyond the North Star, identified here as Deneb in Cygnus, where it would join a sky-boat that would take it across the celestial river, arguably the Milky Way, to one of the countless 'worlds of light', home to their dead kinsmen. In these blissful realms, governed by 'great spirits of light', they would encounter their purified souls as well as their own 'dmutha or over-soul'.

Then there is the work of cultural historian William Sullivan, who highlighted the Andean belief that:
'In this world we are exiled from our homeland in the world above [hanaq pacha]', which is 'up there', in the northern night sky, once again in the direction of Cygnus (even though Peru is in the Southern Hemisphere).
He compared this native concept with those of the seminomadic Naskapi of Labrador in Canada, who 'speak of the possibility of contact between worlds along the Milky Way, which they call "ghost trail," or "dead person's path."'

Sullivan pointed out that for these indigenous peoples,
'the souls of the living originated in the sky, where they "rest in the firmament until they become reincarnated."'
Similar ideas on the transmigration of the soul lay at the heart of almost all ancient religions, such as that of Dynastic Egypt, inspiring the belief in a celestial heaven, somewhere that was accessible not just to spirits or souls of the dead, but also shamans who, as we have seen, believed that they could enter the sky-world via a 'hole', door or gate beyond the northerly placed cosmic axis.

In the Indonesian archipelago, several island cultures are said to be directly descended from sky-beings. The Posso-Todjo Toradja, for example, say that they are the children of Lasaeo, the 'sun-lord', who married a Toradja woman. Eventually, he 'returned to the sky', and his people departed from Pamona and founded a line of chiefs at Waibinta Luwu.
In Formasa (modern Taiwan), the Tsalisen say that their ancestors came out of the moon, while the Kayan and Kenyah say that sky-beings made the first man and woman in the form of stone images. The Totemboan say that To'ar, a 'sun-lord', married their daughter Lintjambene, while her son Si Marendor was said to have been half sky-born and half made of stone.

Chinese mythology records now some of the earliest kings of China were said to have been sons of star-gods, while the kings of Sumer and Akkad in ancient Iraq bore a star symbol after their names indicating that they were the product of a divine union with sky-beings.
Beyond this is the view shared by ancient peoples all over the world that even though we might have been born on earth, and are the descendants of the first human couple, our true self, our soul, originates elsewhere, and upon its release at death it will be free to return from whence it came. This recalls the magico-religious beliefs of the shamanic-based societies of Asia who considered that the souls of children sat in the upper branches of the World Tree where they await a shaman to draw them into incarnation, or even the European folk belief in storks, or swans, bringing new born babies into the world.

These examples are given simply to demonstrate how across the world indigenous cultures have believed that their entire existence is as a result of life on earth having been seeded from elsewhere whatever way their creation myths might have interpreted such information.
Many other examples might be cited, such as the Native American peoples who point towards a star and say it is their original homeland, or the African tribes, including the Dogon of Mali that likewise claim to be descendants of sky-beings.

Not all of them say that life and death was associated with the direction of Cygnus, but some certainly do, and this belief would appear to stem back to Palaeolithic times.
So did these people come to learn something significant about Cygnus deep underground, where they performed their innermost ceremonies and painted their most sacred art, perhaps under the influence of psychedelic substances?

Back to Contents


xix. Cosmic Swansong

Was there something special about the quality of deep caves which might have enabled supernatural communication to occur, and, if so, did this provide our Palaeolithic ancestors with a deeper understanding of the Cygnus constellation?
Certainly, there is direct evidence from mythology to link the use of psychedelic substances inside caves with supernatural communications.
This is found in the Bwiti religion of Gabon in West Africa, whose founder was led to find and use the iboga root inside caves. It is present also in the classical account of Somnus, the god of sleep, who lived inside a cave surrounded by opium poppies.

In the story of Somnus, his son Morpheus, the god of dreams, stood by ensuring that no noise entered the cave. Drugs and quite possibly silence was seemingly an important factor in the use of deep caves during Palaeolithic times. Yet how might this be linked with the stars of Cygnus, something exemplified by the site of Britain's best known example of cave art?

At Creswell Crags, on the borders between Derbyshire and Nottinghamshire in Northern England, we see in a cave called Church Hole swan-like birds in its deepest section, as well as an ibis head and egg close to the entrance.
Coincidentally, a person standing in the mouth of the cave in 10,500 BC, when the rock art was created, would have been able to see the stars of Cygnus framed above a south-facing cliff on the opposite side of the valley. It is very likely that as Dr Paul Pettit, lecturer on human origins at Sheffield University, has intimated, the north-facing side of the valley where Church Hole is situated was reserved for cultic practices associated with the realm of the dead.

Church Hole becomes a perfect example of the relationship during Palaeolithic times between caves, birds of creation, cosmic life and death and the stars of Cygnus. Yet how did this link come about?
Was it related in some way to something experienced deep inside the caves which might have been directly attributed to the influence of Cygnus?

Back to Contents




xx. Children of the Swan

In the 1980s deep underground particle decay detectors in Europe and the United States, as well as ground-based air shower detectors, registered anomalous incoming cosmic rays unlike any others registered before.
They bore a 'fingerprint' periodicity of 4.8 hours, previously recorded in connection with X-rays and infrared radiation coming from a binary star system named Cygnus X-3, located some 30,000 lights years away on the other side of our galaxy.
Known to astrophysicists as a high mass X-ray binary, it consists of a tiny compact object, either a neutron star or black hole, that accretes, that is steals, mass from its huge companion, known as a Wolf-Rayet star. Visually speaking, Cygnus X-3 is located at the very centre of Cygnus's cross design, next to the star Sadr, even though dust and gas in the galactic plane obscure its presence in the optical range of frequencies.

The exact nature of the cosmic rays from Cygnus X-3 are extraordinary.
They are tens of thousands of times stronger than anything produced by particle accelerators, and since they are neutral (in that they have no charge) and arrive directly from Cygnus (as opposed to their route being distorted by the galactic gravitational field), it indicates that they travel here very close to the speed of light.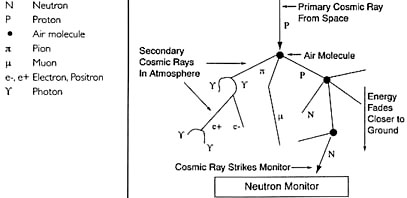 In addition to the qualities outlined so far, the strange particles from Cygnus X-3 are uniquely able to penetrate hundreds of meters of solid rock before finally crashing into atomic nuclei to form secondary particles, detected by deep underground facilities around the world.
No other point source cosmic ray, besides neutrinos - which are caused by nuclear fusion reactions in the sun and supernovae and pass through matter with almost no interaction - are known to do this.
This has led to speculation that cygnets are produced by exotic strange quark matter inside Cygnus X-3's suspected neutron star. Despite claims from many particle physicists that this data has to be erroneous, Cygnus X-3's cosmic rays keep coming, being last reported again in 2000.

Could it be possible that these same particles from Cygnus X-3 were being experienced deep underground as far back as Palaeolithic times, and did they in some way affect the ancient mindset to look towards Cygnus as the source of cosmic life and death?
The announcement in 2000 that Cygnus X-3 is quite possibly the first confirmed microblazar in the galaxy, with a one-side particle jet, or beam, pointing towards the Earth, has thrown considerable light on the nature of cygnets, and the importance of this binary star system.
Galactic blazars produce jets with relativistic, i.e. light speed, acceleration, easily creating the means for cygnets to reach the earth in the manner that they do.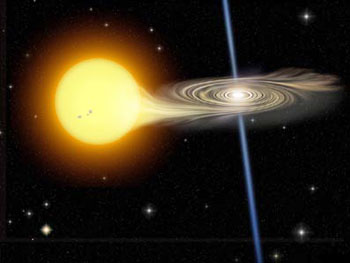 Neutron star/black hole drawing gas from its companion star.
Note the production of relativistic jets.
Relativistic jets have been noted in connection with other stellar bodies in the galaxy, usually either black holes or neutron stars, but none of these have are aimed at the Earth, which is what singles Cygnus X-3 out as a microblazar as it has been termed so as not to confuse it with galactic blazar, associated with supermassive black holes at the centre of AGNs (Active Galactic Nuclei), millions if not billion of light years away from Earth.
Marking Cygnus X-3 out as even more unique is that only its cosmic rays are known to penetrate deep underground, something that might easily have been occurring since Palaeolithic times, simply because astrophysicists know that Cygnus X-3 has been in its current phase of evolution for up to 700,000 years.
Did our most ancient ancestors somehow become subtly aware of the existence of Cygnus X-3, most obviously during psychedelic experiences in deep cave settings?

Did they come to associate its proximity, i.e. the stars of Cygnus - Sadr and Deneb in particular - with cosmic creation and the transmigration of the soul?
Cosmic radiation might easily have contributed to changes in human behaviour, or even sudden accelerations in human evolution, especially during the Palaeolithic age, when cave art, cosmology, astronomy, intellect and possibly even transatlantic travel emerged for the first time.
However, this would have been a subtle process that took place over countless generations, and away from the harsher influence of indiscriminate cosmic rays bombarding the planet's surface from a host of different point sources.
More likely is that low level radiation, like that experienced by health seekers in radon mines today, was actually beneficial to the human body and mind, especially hundreds of meters underground where we know cosmic rays from Cygnus X-3 are able to penetrate.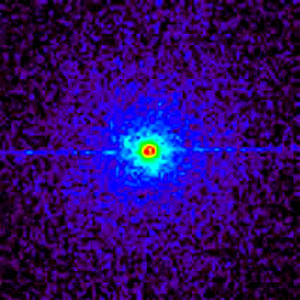 Cygnus X-3 taken by the Chandra X-ray Observatory in 2001.

Ice cores from Summit, Greenland, and Vostok, Antarctica, at the other end of the earth, show that levels of Beryllium-10, a radioactive substance created as a by product of cosmic ray interaction in the upper atmosphere, were more than double towards the end of the Last Ice Age, with massive peaks of activity around firstly c.40,000-37,000 BP and then again c.17,000-14,000 years ago.
Was at least a percentage of these cosmic rays derived from Cygnus X-3?

Did Cygnus X-3 help accelerate human evolution, c. 17,000-15,000 years ago, and arguably even earlier?

xxi. The True God Star

In December 2005, an American scientific think tank called the Meinel Institute of Las Vegas, founded by former consultants to the NASA-linked JPL (Jet Propulsion Laboratory), came forward and announced that it now believed that cosmic rays from a galactic binary system producing relativistic jets was responsible for a rapid acceleration in animal and human evolution around 40,000 years ago.
It was at this time that great changes occurred in human advancement, most obviously the appearance of anatomically modern human beings in Europe and Asia and the emergence of cave art.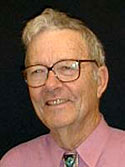 Aden Meinel

The Meinels used the Beryllium-10 data produced by the Greenland ice cores to achieve a point source for the cosmic rays that reached Earth during this distant epoch, and although this led them initially to Cygnus, where they searched in vain for a possible microblazar, they eventually concluded that the only realistic source was the Cat's Eye nebula in neighbouring Draco, the dragon.

This, they believe, fits the data obtained from their detailed examination of the Greenland ice core data, which enabled them to deduce a suitable search area in the northern night sky.
However, top theorists on planetary nebulae are unable to accept the Meinel's candidate for the production of such powerful cosmic rays, since the Cat's Eye is deemed too weak, and no evidence exists to show that it produces high energy radiation that might ever have reached the earth.

More likely is that cosmic rays from Cygnus X-3 were able to more subtly influence human evolution during the Palaeolithic age, allowing our most ancient ancestors to become dimly aware of this point source of activity through prolonged shamanic experiences deep underground.

In addition to this, it becomes clear that the memory of this cosmic influence, seen as divine, was behind the emergence of religion, art and intellect.
This was abstractly recognized and preserved, eventually becoming the basis for the ancient cosmology behind the symbolism found even today among various world religions, including Christianity, Islam, Judaism and Hinduism.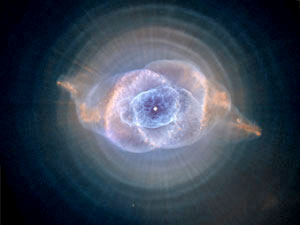 The Cat's Eye nebula taken by the Hubble Space Telescope.
This knowledge, added to Cygnus's omnipotent presence as the cosmic axis during the Palaeolithic epoch, must have had a profound affect on the ancient mindset.
Cygnus quite literally became the gateway to the realm of heaven, which brought forth cosmic life and death.

Back to Contents




Postscript - Montgomery's 'Cygnus Event'

The March 2006 issue of ASTRONOMY NOW cites the findings of British anthropological writer Denis Montgomery.
In 1995 he proposed that high levels of Beryllium-10 in the Antarctic and Greenland ice cores for a period of 2,000 years, c. 35,000 BP, argue that sudden transitions in human behavior patterns around this time show that the two events are not exclusive to each other.
Most obviously, the flowering of cave art in Western Europe, c. 32,500-30,000 BP, is a clear sign that something quite extraordinary was taking place (and, of course, c. 17,000-14,000 BP, when further high levels of Be-10 are present in the same ice cores).

Based on suggestions made by American and Russian scientists working on the Greenland and Antarctica ice cores at the beginning of the 1990s, Montgomery proposed that the source of the cosmic rays was a close supernova, most likely the one that caused the beautiful stellar debris caught on camera by the Hubble space telescope and known to astronomers as the Cygnus Veil, or Cygnus Loop.
Located in the right wing of the celestial swan, the shock waves of this cosmic event were believed to have ripped open the Earth's protective layer of ozone, causing cosmic rays and ultraviolet radiation from the sun to rain down on the unsuspecting world beneath. For many years the exploding star would have been brighter than the full moon, making it a blinding light source that turned night into day.

Premature deaths, cancer and mutations would have resulted in both animals and humans on a massive scale.
Yet very gradually the supernova would have burnt out, and an immunity achieved by the human survivors, our own Homo sapien ancestors, who were the successors of the less adaptable Neanderthal peoples.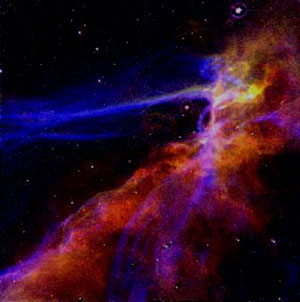 Cygnus Loop supernova blast wave.

Even though the 35,000 BP cosmic event highlighted by the Be-10 levels in the ice cores alluded to Montgomery is the same as the one proposed by the Meinel Institute, said by them to have taken place c. 40,000 years ago, the suspected source of the cosmic rays is unlikely to have been the Cygnus Veil, or Loop.
This is now known to have been created when a dying super giant in this suspected binary system exploded into a supernova just 5,000 to 8,000 years ago.
Moreover, at worst this spectacular event, which would have temporarily made it one of the brightest sources in the night sky, was far too distant to have affected life on Earth.

This reassessment of the Cygnus Veil comes from revised data regarding its distance, now thought to be around 1,400 light years away, instead of the presupposed 150 light years banded around in the early 1990s.
Moreover, no other similar event is known to have occurred around 35,000-40,000 years ago, even though close supernovae cannot be ruled out as the cause of mass extinctions on Earth, either in the past or in the future.

Having now spoken at length with Denis Montgomery on his proposed 'Cygnus event', and explained to him the latest data regarding the Cygnus Veil, he has now revised his two electronic books (www.sondela.co.uk/Aqua/Books/AquaApeA4.pdf, and faculty.mdc.edu/jmcnair/EveA4.pdf) to include other possible sources of cosmic rays that might have irradiated the Earth in Palaeolithic times, including Cygnus X-3.

The Meinels, although now acknowledging Cygnus X-3 as a proposed source of cosmic rays reaching the earth, have dismissed my claims in favour of the Cat's Eye nebula.
However, these criticisms are fully addressed in a paper I have written entitled 'Cygnus X-3 and The Cosmic Ray Question'.

Despite some questions arising from his overall theory, Denis Montgomery must be credited for having pioneered the idea of cosmic rays influencing human evolution, and for concluding that its point source was in the Cygnus region, a road which he admits has been a long and often solitary one.

| | |
| --- | --- |
| Reply | Message 6 of 17 on the subject |
Is the Supposed Correspondence Between Orion's Belt and the Three Pyramids of Giza Genuine?

By Dr. Greg Little
Is the Supposed Correspondence Between Orion's Belt and the Three Pyramids of Giza Genuine?

By Dr. Greg Little

Last issue of Alternate Perceptions, I wrote a brief article on one of Andrew Collins' stunning new ideas put forth in his latest book The Cygnus Mystery. The article's long title, "Has Andrew Collins Found the Entrance to the Hall of Records at Giza? Are The Three Pyramids at Giza Aligned to Orion or Cygnus?" expressed the jist of what is actually one of the less important aspects of The Cygnus Mystery. With a more-than-casual interest in Edgar Cayce's many pronouncements about ancient Egypt, I found the well entrance Andrew found at Giza intriguing and even more-so when I understood how the main stars of Cygnus corresponded with the three large pyramids and the well.

The more critical aspects of The Cygnus Mystery include alignments of the constellation of Cygnus to a vast multitude of other important ancient sites including Newark's Great Circle earthwork (Ohio), Cuzco, LaVenta and Maya sites, Avebury, Newgrange, sites in India, and many, many others. Not only is the astronomical alignment to Cygnus present at countless ancient sites, but evidence of a cult of the dead that viewed a northern celestial bird as the carrier of souls is present across cultures. Cygnus was venerated by the ancients as the place of prime importance—the primal cause. In addition, The Cygnus Mystery shows conclusive scientific evidence that powerful cosmic rays from Cygnus have been showering the earth for hundreds of thousands of years. Collins asserts that these cosmic rays served as a pivotal force that created several leaps in human evolution before 70,000 BC, 45,000 BC, and 17,000 BC. Collins' idea is that the cosmic rays altered human DNA by mutating several parts of the links comprising the genetic code. Mainstream physics and genetics completely accept that cosmic rays alter DNA (they are radiation) and even Carl Sagan stated such in 1973. Of course, there are many more details in the overall idea, and the fact that Cygnus fits over the three main pyramids at Giza, even better than Orion's Belt has been alleged to fit, is a minor point of interest in the totality of the theory.

I was surprised to learn that as a result of my article a lengthy dialogue was taking place on two message boards, the most relevant of which was on Graham Hancock's site. I first noted that Andrew was being attacked on Hancock's board partly because an illustration of Giza that I had produced to depict Cygnus was supposedly slightly inaccurate. Plus, many people were attacking the idea from several positions that had already been completely explained and addressed in the book. For example, several people mentioned that Cygnus wasn't discussed in ancient Egyptian texts and that Egyptian astronomy didn't have a swan as a constellation. But Cygnus was in Egyptian astronomy—they didn't call it "Cygnus" and it wasn't described as a swan—it was depicted as another prominent Egyptian figure. (The Native Americans didn't call Cygnus Cygnus, either, but it was an important constellation of stars to them nonetheless.)

Andrew Collins began participation on the Hancock message board trying to answer all the questions and criticisms, but it seemed to me that he would have to reprint the entire 350-page book on the board to answer the sometimes quibbling questions. None of the individuals slinging criticism at the book had read it. Another individual wrote that he had been to Giza and hadn't seen a well, so he questioned if it even existed. He wanted to see a picture of it. Of course, a color photo of the well is in the book and it is described as being in a closed and secured Muslim cemetery. It isn't open to the public.

I immediately noticed a prominent link to a "review" of The Cygnus Mystery in one of the first messages on Hancock's message board. The review was by an individual who likes to call himself "Marduk" (Marduk had been banned by the Hancock message board). Yet there was a link to a nasty and totally inaccurate "review" by Marduk.

I responded on Hancock's board taking full responsibility for any inaccuracies of the Giza illustration with Cygnus depicted on it. I also addressed three specific things in the Marduk review of The Cygnus Mystery because the link to it featured so prominently on Hancock's message board. Marduk's review stated that Collins goes "on and on about the Sumerian Annukai being aliens," the "idea that cygnus (sic) particles were responsible for human evolution at a set point in our history is just laughable," and "Mr Collins was recently hired by the Edgar Cayce foundation (sic) to assist them in their search for Atlantis in the bahamas (sic)."

First, there is no mention whatsoever of aliens in The Cygnus Mystery. An equivalent would be reviewing Hancock's Underworld book and saying that "Hancock's proposal that aliens from Saturn built all the archaeological sites on earth is laughable." (Of course, nothing of the sort is in Underworld, which is a great book.) Secondly, the assertion that cosmic rays alter DNA is totally accepted in science and many prominent scientists now assert that cosmic rays from Cygnus probably did alter DNA. Third, while the assertion that Collins was "hired by the Edgar Cayce" group has nothing whatsoever to do with his book, it is an out-and-out fabrication by Marduk. (And I, more than anyone, know precisely what happened since I was the key individual involved in Collins' trip to the US.) It was apparent Marduk had not actually read any of the book.

Curiously, as soon as I posted my brief comments on Hancock's board, another message agreeing with me appeared. But suddenly, my message and the positive reply simply disappeared and I received an official email from Hancock's board mamager stating that it had been removed essentially because Marduk couldn't defend himself. (He had been banned from posting there.) Yet the link to the fabricated negative review of The Cygnus Mystery by a banned person was interesting.

The Giza Pyramid Alignment: Orion, Cygnus, or coincidence?

There is no doubt that the constellation of Orion, in particular Orion's Belt, has a connection to the three pyramids of Giza. One of the stars of the Belt is targeted by an "air" shaft of the Great Pyramid. The major issue, however, is whether the three main pyramids at Giza were built to reflect the three stars of Orion's Belt?

In Robert Bauval and Adrian Gilbert's 1994 book, The Orion Mystery, the story is told how in 1983 Bauval was awake on a sand dune in Saudi Arabia when a friend explained to him how the three stars of Orion's Belt weren't "perfectly aligned" in a straight line. This lead to the instant realization by Bauval that the three pyramids at Giza were built to reflect Orion's Belt. It was supposedly heaven on earth. This "Eureka!" experience is the basis for a host of books, lectures, and documentaries.

I recall seeing Hancock and Bauval at the (Cayce organization) ARE's Ancient Egypt Conferences (renamed Annual Ancient Mysteries Conference) using the supposedly highly accurate Skyglobe computer program and showing how the three pyramids were perfectly aligned to reflect Orion's Belt. The Edgar Cayce readings stated that astronomical alignments were present at Giza and since the important date that was being put forth by the British authors touting Orion was 10,450 BC—virtually the same date given in Cayce readings as the construction of the Atlantean Hall of Records and the Great Pyramid—it caused a great deal of excitement. In short, the idea has been about as completely accepted as fact in the ARE as it could be. But Cayce, of course, did not state that Orion's Belt was the key. In an Appendix in The Orion Mystery, Bauval wrote that the Skyglobe program was "quite accurate for the work described in The Orion Mystery." (p. 247) But that has turned out to not actually be the case, at least in the sense of a "perfect match."

As the proposal about Giza and Orion became known in scientific circles, attacks were soon mounted on the idea. One of the arguments was that the "perfect placement" of the three stars of Orion onto the three pyramids was far from perfect. This argument had little effect on the multitude of people who immediately accepted the Bauval proposal. Significantly, it never took hold within the scientific community, but that hasn't deterred believers—myself included.

Bauval now admits that Skyglobe "does not take into account the proper motion of the stars (nor any other factor such as nutation, aberration, refraction) but merely accounts for the circular motion of precession." In short, what this means is that the Orion Skyglobe shows in 10,500 BC is based on the Orion seen in the present—only the precession (the Earth's wobble) is adjusted for. In fact, Bauval has stated that the key Orion's Belt measurement in 10,500 BC from his Skyglobe program is 11.5 degrees. But the actual measurement is almost 9 degrees. It might not seem like much, but his original 11.5 degrees is 28% higher than it should have been. In terms of a "perfect fit" of Orion's Belt on top of the three pyramids at Giza, the net result is that there really isn't a good fit. It might be close, but it couldn't be described as perfect, near perfect, or perhaps even good. This seems to have been first pointed out by astronomers examining the Orion claims. For example, in a 1999 article in the Journal of the Royal Astronomical Society, astronomer Tony Fairall wrote:
| | |
| --- | --- |
| Reply | Message 7 of 17 on the subject |
| | |
| --- | --- |
| Reply | Message 8 of 17 on the subject |
| | |
| --- | --- |
| Reply | Message 9 of 17 on the subject |
| | |
| --- | --- |
| Reply | Message 10 of 17 on the subject |
phi

in Simple Gematria Equals: 33
(
p

---

16
h

---

8
i

---

9
)
ophir

in Simple Gematria Equals: 66
(
o

---

15
p

---

16
h

---

8
i

---

9
r

---

18
)
The time of the clock on back of the $100 dollar bill, As you can clearly see the time reads 2:22.
19.47 x

12

.

12

yrs = 235.9764 yrs = 235 yrs and 356 days
December 31, 1776 + 235 yrs and 356 days = December 21, 2012
19.47 x 12 yrs = 233.64 yrs = 233 yrs and 233 days
July 4, 1776 + 233 yrs and 233 days = February 22, 2010
2:22 EN LA EPOCA DE LA INDEPENDENCIA EQUIVALE ACTUALMENTE A LAS 3:22
En este contexto la RESURRECCION DEL SEÑOR, SEGUN MI CRITERIO, ES MUY PROBABLE QUE FUE EL 22/23 DE MARZO DEL AÑO 30 D.C, justamente en el mismo EQUINOCCIO CUANDO ES QUE "RESUCITA" LA LUZ SOLAR. LA BANDERA DE EEUU, AL ESTAR DISEÑADA EN FUNCION AL NUMERO 322 TENDRIA ESE MENSAJE ESOTERICO CON FUERTE CONNOTACION CON LA RESURRECCION DEL SEÑOR (22/3). EL 18 DE NISSAN O DEL PRIMER MES HEBREO, JUSTAMENTE CAE EL 22/23 DE MARZO/MARTE. EL NUMERO 3:22, TAMBIEN ES UNA REFERENCIA A GENESIS 3:22. BAHOMET/MACHO CABRIO ES UNA REFERENCIA AL 911 QUE FUE EN EL DIA DEL JUICIO/YOM KIPUR QUE TIENE FUERTE NEXO CON EL CHIVO EXPIATORIO SEGUN LEVITICO 16.
322 has 7 proper divisors: 1, 2, 7, 14, 23, 46, 161
The sum of the proper divisors is 254
EL 11 DE SEPTIEMBRE ES EL DIA NUMERO

254

DEL AÑO. ES OBVIO EL NEXO, EN EL CONTEXTO A LAS DOS TORRES/COLUMNAS CON EL LUGAR SANTISIMO DEL TABERNACULO Y DEL TEMPLO DE SALOMON QUE TENIA FORMA CUBICA. ESE ES EL SECRETO DE SU INTERRELACION CON EL NUMERO 322, EN EL CONTEXTO A SUS DIVISORES, ENTRE ELLOS, EL MISMO NUMERO 161, INTERRELACIONADO CON EL NUMERO DE ORO PHI=1.618033. EL DISEÑO DE DICHO COMPARTIMENTO EN FORMA CUBICA ES UN OBVIO NEXO CON EL VERDADERO CALENDARIO LUNI-SOLAR HEBREO QUE ES LUNAR, CUYO SHABBAT ES SEPTIMO Y TAMBIEN OCTAVO DIA.
La pregunta es del porque el fuerte nexo del 3:22 en el contexto al TABERNACULO Y AL TEMPLO DE SALOMON. ES OBVIO SU INTERRELACION CON EL SANTO GRIAL. EL 21/22 DE DICIEMBRE DEL 2012, TAMBIEN TIENE INTERRELACION CON EL 3:22 EN EL CONTEXTO A QUE LA SUMA DE LAS CIFRAS DE 12 (DOCEAVO MES), ES TRES. ES increible el nexo del TROPICO DE CAPRICORNIO, con la concepcion de un niño codificado en la VIRGEN DE LOURDES, EN EL MISMO BILLETE DOLAR, RIO DE JANEIRO/SAN PABLO, EN EL CODIGO DA VINCI CUANDO ROBERT LANGDON Y SOPHIE ENCUENTRAN LA LLAVE/FLEUR DE LIS/SCORPION EN EL CUADRO DE VIRGEN DE LA ROCA E INCLUSO EN LA PIRAMIDE MAYA ENTRE OTROS. EN LA MISMA BANDERA DE LOS ESTADOS UNIDOS HAY UNA OBVIA REFERENCIA AL NUMERO 322. JUSTAMENTE EN EL 22 DE DICIEMBRE, HAY UNA REFERENCIA A CYGNUS (CRUZ DEL NORTE) EN EL CONTEXTO AL AGUILA Y A LA SERPIENTE (FIN DE OPHIUCO) CODIFICADA EN EL MISMO SIGNO $ Y EN EL BILLETE DE UN DOLAR EN EL CONTEXTO A LA PIRAMIDE TRUNCADA. DESDE EL 11 DE FEBRERO (VIRGEN DE LOURDES) HASTA EL 22 DE DICIEMBRE TENEMOS 314 DIAS (NUMERO PI). ESTA TODO CODIFICADO PORQUE HAY UN DIOS TODOPODEROSO QUE MANEJA LOS HILOS DEL MUNGO QUE MERECE NUESTRA ADORACION.
En Hechos 12:12 (1+2,1+2:3,3 o 33) es PEDRO el que aparece con Maria la madre de Juan Marcos.
Hechos 12:12: Y habiendo considerado esto, llegó a

casa

de

María la madre de Juan

, el que tenía por sobrenombre MARCOS, donde muchos estaban reunidos

orando

.
HOMBRE DE VITRUBIO-CUADRATURA DEL CIRCULO
MAGDALENE TIENE LAS LETRAS DE EAGLE/DAN/M
MARY M

A

G

D

A

L

E

N

E
E

A

G

L

E

/

D

A

N

/M
G

=GOD/GNOSIS/GALAXY/GRIAL
| | | | | |
| --- | --- | --- | --- | --- |
| Sign Type | Zodiac | Celestial Position | Tribe | Living Creature |
| Fire | Leo | Fall Equinox | Judah | Lion |
| Air | Aquarius | Spring Equinox | Reuben | Man |
| Water | Scorpio | Winter Solstice | Dan | Eagle |
| Earth | Taurus | Summer Solstice | Ephraim | Ox |
7:22

Por cierto, Moisés os dio

la circuncisión

(no porque sea de Moisés, sino de los padres); y en el

día de reposo circuncidáis al hombre

.

(22/7=3.14 (Numero PI).)
PIRAMIDE TRUNCADA DEL BILLETE DOLAR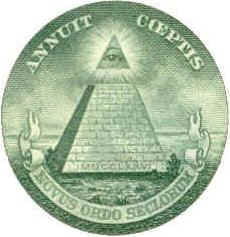 7:23 Si recibe el hombre la circuncisión

en el día de reposo, para que la ley de Moisés no sea quebrantada, ¿os enojáis conmigo porque en el día de reposo sané completamente a un hombre?

(EL SHABBAT TAMBIEN ES OCTAVO DIA SEGUN JUAN 7:23 EN EL CONTEXTO A QUE LA CIRCUNCISION ERA JUSTAMENTE EN DICHO DIA)
7:24 No juzguéis según las apariencias,

sino juzgad con justo juicio

.

(AQUI NUESTRO SEÑOR JESUCRISTO INTERRELACIONA LA PIRAMIDE NUEVAMENTE CON DAN/JUICIO. OBVIAMENTE QUE NUESTRO SEÑOR ESTA HABLANDO AQUI DE SU ESPOSA Y DEL SANTO GRIAL CODIFICADO EN EL BILLETE DE UN DOLAR. )
MARY M

A

G

D

A

L

E

N

E
E

A

G

L

E

/

D

A

N

/M
| | |
| --- | --- |
| Reply | Message 11 of 17 on the subject |
171. Salmos 45:9: Hijas de reyes están entre tus ilustres;
Está la REINA a tu diestra con oro de

Ofi

r.
SO-FI-A/

SABI

DURIA/S-

OFI

-A/FI-LOS-

OFI

-A
REINA VESTIDA CON ORO DE

O-FI

-R
BETH-

SABE

(CASA DE

SABA

) (MADRE DEL REY SALOMON)
SABA

DO/

SABI

DURIA/REINA DE

SABA
Serpentes
De Wikipedia, la enciclopedia libre
Las serpientes (Serpentes) u ofidios (Ophidia)/ETIOPIA/REINA DE SABA/ SABIDURIA / SOPHIA/ SABADO / SHABBAT son un suborden de saurópsidos (reptiles) diápsidos pertenecientes al orden Squamata, superorden de los Lepidosaurios, caracterizado por la ausencia de patas (la pitón mantiene diminutas extremidades fruto de su proceso evolutivo)[1] y el cuerpo muy alargado. Se originaron en el período Cretácico.
Las serpientes se caracterizan por la ausencia de extremidades y cuerpo alargado. Algunas poseen mordeduras venenosas, como las cobras y las víboras, que utilizan para matar a sus presas antes de ingerirlas. Otras serpientes, como las boas y pitones, matan a sus presas por constricción.
Se reconocen más de 450 géneros y de 3400 especies.[2] [3] Evidentemente, las serpientes derivan de algún tipo de lagarto, pero los detalles concretos de su origen no están claros.[4]
La piel de la serpiente está recubierta por escamas. La mayoría de las serpientes utilizan escamas de la parte ventral para desplazarse, aferrándose con ellas a las superficies. Sus párpados se encuentran permanentemente cerrados, pero son en realidad escamas transparentes. Las serpientes cambian de piel periódicamente. A diferencia de otros reptiles, el cambio de piel es realizado en una pieza, como si tirara de una media. Esto se hace a medida que el animal crece y además para reparar heridas y librarse de parásitos externos. La renovación periódica ha convertido a la serpiente en un símbolo de salud y medicina, como se muestra en la vara de Esculapio
La locomoción se realiza mediante ondulaciones laterales del cuerpo; las escamas ventrales ensanchadas de muchas serpientes impiden el deslizamiento en dirección contraria a la marcha. Algunas serpientes, como ciertas boas y las víboras pueden desplazarse también mediante movimientos musculares de las escamas ventrales con su cuerpo extendido casi en línea recta.
El esqueleto tiene muchas vértebras, 200 en las víboras y 400 en las pitones.
El cráneo está muy modificado respecto al modelo básico diápsido. Los huesos de la mandíbula superior están débilmente unidos al resto del cráneo y el cuadrado puede moverse libremente y posee potentes músculos refractores, lo que permite una enorme abertura de las mandíbulas y la deglución de grandes presas enteras. Los dientes son agudos y curvados hacia atrás y se implantan tanto en el paladar como en el maxilar y el dentario.
Las boas y las pitones poseen rudimentos de las extremidades posteriores y de sus cinturas; en estas serpientes pueden verse unas garras en la parte externa y a cada lado de la cloaca que desempeñan un cierto papel en el coito.
Existen varios tipos de dientes, según el hueso sobre el que se implanten: maxilares, pterigoideos, palatinos, dentarios y premaxilares. Los dientes maxilares son los más variados y los únicos que pueden estar asociados a glándulas venenosas; se pueden distinguir cuatro tipos principales:
Son dientes macizos, prensiles, curvados hacia atrás para sujetar la presa y no están diseñados para inocular veneno. Es el caso de muchos colúbridos, boidos y pitónidos. En general son serpientes inofensivas para el hombre, con excepción de las grandes constrictoras (pitones, anacondas).
Son dientes acanalados situados en la parte posterior de la mandíbula y conectados con glándulas de veneno, constituyendo un sistema de inoculación primitivo. Dado que para inyectar el veneno debe morder con la parte posterior de la boca, normalmente son poco peligrosas para el hombre. Este es el caso de la culebra bastarda (Malpolon monspessulanus). No obstante, las especies de gran tamaño pueden producir graves mordeduras e incluso la muerte, como Dispholidus typus, del África subsahariana.
Son dientes pequeños y fijos situados en la parte delantera de la boca, con un canal más o menos cerrado. Las cobras y las mambas poseen estos dientes. Algunas especies, como la cobra escupidora (Naja nigricollis), los tienen modificados para escupir el veneno a más de cuatro metros de distancia.[5]
Se trata de dos largos colmillos móviles en parte anterior de la mandíbula; son huecos con un canal interior cerrado y conectado con glándulas venenosas. Los colmillos se pliegan sobre el paladar superior cuando el animal cierra la boca y se enderezan rápidamente cuando la abre. Es el sistema de inoculación más eficaz. Este tipo de dentición es característico de los vipéridos.
| | |
| --- | --- |
| Reply | Message 12 of 17 on the subject |
| | |
| --- | --- |
| Reply | Message 78 of 84 on the subject |
| | |
| --- | --- |
| Reply | Message 79 of 84 on the subject |
| | |
| --- | --- |
| Reply | Message 80 of 84 on the subject |
| | |
| --- | --- |
| Reply | Message 81 of 84 on the subject |
PASO / PESAJ / PASCUA / PASO DE MOISES EN EL MAR ROJO / GUSANO
PEQUEÑO / PABLO / PABLO VI (EL PAPA DE LA LLEGADA A LA LUNA) / PERRO / LOBO / CHACAL
ES OBVIA LA RELACION DE SAULO, EN EL MARCO A SU CONVERSION A CRISTO EN DAMASCO, SIRIA, PARALELO 33 (HECHOS 9:11)
VIRGEN DE GUADALUPE (12:12=HECHOS 12:12= TREINTA Y TRES= JUAN MARCOS)
| | |
| --- | --- |
| Reply | Message 82 of 84 on the subject |
| | |
| --- | --- |
| Reply | Message 83 of 84 on the subject |
| | |
| --- | --- |
| Reply | Message 84 of 84 on the subject |
Orion sobre la pirámide Maya Chichén Itzá
Image Credit & Copyright: Stéphane Guisard (Los Cielos de America, TWAN)
Credits: D. Flores and B. Pichardo (Inst. Astronomia UNAM), P. Sánchez and R. Nafate (INAH).
Explicación: Bienvenidos al solsticio de diciembre, un día en que el mundo no se acaba … ni siquiera según el calendario maya. El día del solsticio de diciembre es la noche más larga del año en el hemisferio Norte y la más corta en el hemisferio Sur.
Para celebrarlo, mira esta espectacular fotografía de Orion elevándose sobre la pirámide central de Chichén Itzá, uno de los grandes centros mayas de la península de Yucatán. Conocida también como el Templo de Kukulkán, tiene 30 metros de altura y 55 metros de ancho en la base. Está construida mediante una serie de terrazas cuadradas por la civilización precolombina entre los siglos IX y XII.
La estructura se puede utilizar como un calendario y se caracteriza por las alineaciones astronómicas . De hecho, los mayas eran unos consumados astrónomos y matemáticos. Usaban con precisión los movimientos cíclicos de las estrellas, del Sol, de la Luna y los planetas para medir el tiempo y elaborar calendarios.

Brillan a través de las nubes en esta escena nocturna, las estrellas de la constelación de Orión, El Cazador, representaban una tortuga en el cielo maya. Tak sáamal.
| | |
| --- | --- |
| Reply | Message 13 of 17 on the subject |
| | |
| --- | --- |
| Reply | Message 14 of 17 on the subject |
| | |
| --- | --- |
| Reply | Message 15 of 17 on the subject |
Vulpecula
De Wikipedia, la enciclopedia libre
Vulpecula, La zorra o La Raposilla, es una pequeña constelación del norte ubicada en medio del Triángulo de verano, al norte de Sagitta y Delphinus. No contiene ninguna estrella brillante.
[editar]
Características destacables
Pese a carecer de estrellas brillantes —α Vulpeculae, la más brillante, apenas alcanza magnitud 4,4— en esta constelación han tenido lugar algunos de los hitos clave de la astronomía. PSR B1919+21, el primer púlsar descubierto (en el año 1967), está situado en Vulpecula, así como la nebulosa planetaria M27 o Nebulosa Dumbbell, la primera nebulosa de este tipo en ser descubierta (1764).
[editar]
Estrellas principales
[editar]
Objetos notables de cielo profundo
Ambos pueden ser vistos con prismáticos, aunque sólo a través de un telescopio aparecen en toda su belleza.
Esta constelación, ideada por Johannes Hevelius en 1690, no se encuentra asociada a ninguna leyenda interesante ni a referencia mitológica alguna. Inicialmente se la llamó Vulpecula Cum Anser, la Zorra con el Ganso, pero actualmente se conoce simplemente como Vulpecula (la Zorra).
First
Previous
2 to 2 of 2
Next
Last
| | |
| --- | --- |
| Reply | Message 2 of 2 on the subject |
| | |
| --- | --- |
| From: Cajeli (Original message) | Sent: 30/11/2014 01:57 |
Y si vosotros sois del Cristo, ciertamente la Simiente de Abraham sois, y conforme a la promesa, los herederos."
Pablo resaltó que la familia de Abraham protagonizó un drama ilustrativo, y conformaron un cuadro profético, en relación con el cumplimiento de la estrategia de Dios para la conclusión de los tiempos (Gálatas 4.22-31).



ABRAHÁM:

Cuando Jehová cambió su nombre de Abram por Abraham ya le asignaba un papel fundamental que desempeñaría como patriarca y como "padre exaltado", según las primeras letras "Ab" "padre", de multitudes o de pueblos como lo indica "am" al final de su nombre; así también le fue dicho "tu nombre Abraham, porque te he puesto por padre de muchedumbre de gentes".
Como cabeza de familia, representó a Jehová. Su intención de sacrificar a su hijo Isaac en cumplimiento de lo que debía hacerse, prefiguró la futura disposición del Dios de Israel para aceptar el sacrificio a su Hijo amado, y salvar de la muerte y del pecado a la humanidad.
También Abraham representó al Santo de Israel en el sentido que se le consideró "la roca" desde la cual fueron cortados, o sacados, quienes serían la descendencia santa.
51:1 Oídme, los que seguís la justicia, los que buscáis a Jehová. Mirad a la piedra de donde fuisteis cortados, y al hueco de la cantera de donde fuisteis arrancados.
51:2 Mirad a Abraham vuestro padre, y a Sara que os dio a luz; porque cuando no era más que uno solo lo llamé, y lo bendije y lo multipliqué.



SARA:

Su nombre original

"Sarai" significa princesa, o "mi princesa"

; cambiado por Sara, noble que persevera y hace conexión con un remanente. Fue inicialmente la esposa de Abraham que era estéril; representó a la congregación del Santo en el sentido de ser su esposa, quien estaría alerta para aplastar la cabeza de la serpiente (Gé 3.15) mediante su descendencia manifestada en Jesús; la descendencia santa que finalmente resplandecerá desde la Jerusalén celestial, por esto Sara también representó a la ciudad de Dios.


4:26 Mas la Jerusalén de arriba, la cual es madre de todos nosotros, es libre.


4:27 Porque está escrito:
Regocíjate, oh estéril, tú que no das a luz;
Prorrumpe en júbilo y clama, tú que no tienes dolores de parto;
Porque más son los hijos de las desolada, que de la que tiene marido.
4:28 Así que, hermanos, nosotros, como Isaac, somos hijos de la promesa



ISAAC:

(Risa) Prefiguró a la descendencia santa (espiritual) de la esposa del Santo, su congregación, cuyo principal integrante es Jesucristo Gál 3.16, quien incluyó también a todos sus hermanos que le sigan, como hijos de Dios que llegan a ser coherederos junto con Él.


Romanos 8:15 Porque no habéis recibido el espíritu de servidumbre para estar (otra vez) en temor; mas habéis recibido el Espíritu de adopción (de hijos), por el cual clamamos, ¡Abba, Padre!






AGAR:

Su nombre significa vuelo o forastera. La esposa secundaria o concubina de Abraham que era una esclava. Pablo dijo que Agar significa Sinaí, que es el monte en el que se estableció el pacto de la ley; por consiguiente simboliza a la Jerusalén terrenal, la ciudad que estaba sujeta a la ley de Moisés.


4:25 Porque Agar es el monte Sinaí en Arabia, y corresponde a la Jerusalén actual, pues ésta, junto con sus hijos, está en esclavitud.





ISMAEL:

(Dios escucha) El hijo de Agar. Aunque los árabes y musulmanes se consideran descendientes de él, Ismael representó a los hijos de la Jerusalén esclava de los preceptos mosaicos y las ordenanzas y costumbres que le fueron añadidas. Así como Ismael persiguió a Isaac, los judíos del primer siglo persiguieron a quienes abrazaron al Mesías y que fueron llamados cristianos, quienes a su vez eran hijos de la Jerusalén de arriba o de la Sara simbólica. Por esto, tal como Abraham hizo a un lado a Agar e Ismael, Jehová terminó por abandonar a la Jerusalén del primer siglo y a sus hijos rebeldes.
Mateo 23:37 ¡Jerusalén, Jerusalén, que matas a los profetas, y apedreas a los que son enviados a ti! ¡Cuántas veces quise juntar tus hijos,

como la gallina junta sus pollos debajo de las alas, y no quisiste

!
38 He aquí vuestra Casa os es dejada desierta.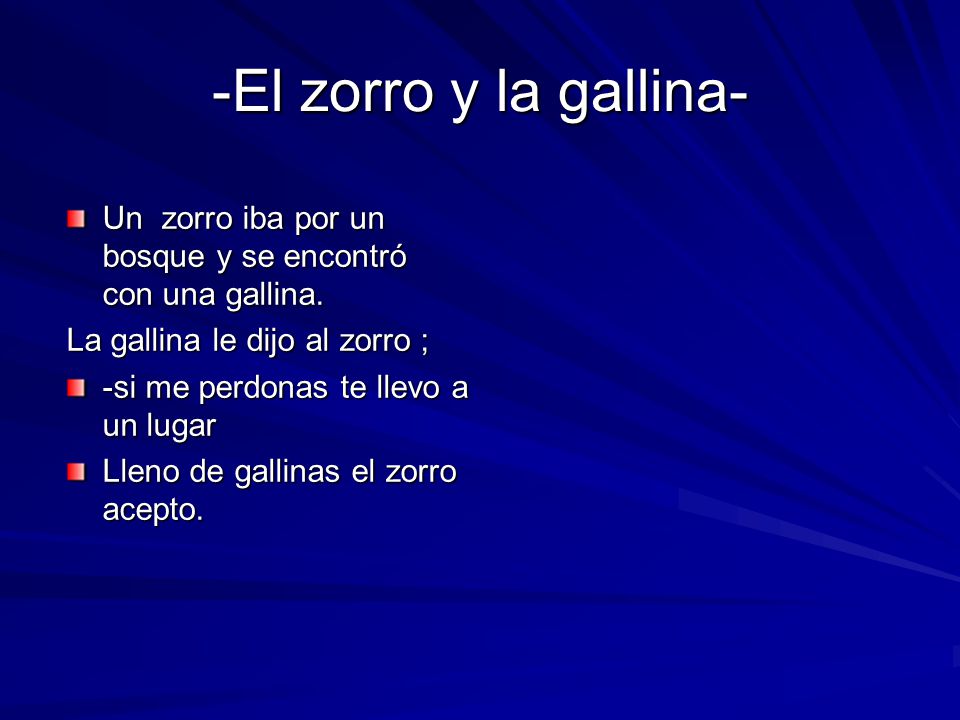 CE

SAREA

DE FILIPO /

SARA

(ESPOSA DE ABRAHAM)
| | |
| --- | --- |
| Reply | Message 16 of 17 on the subject |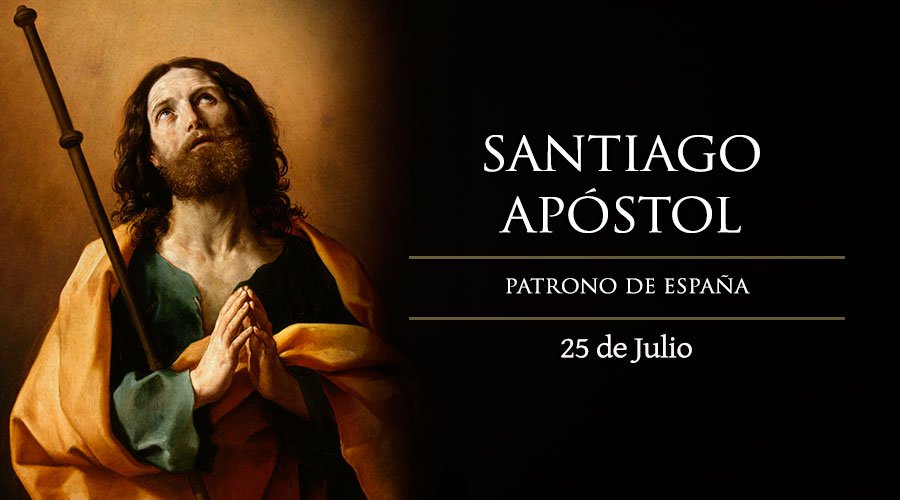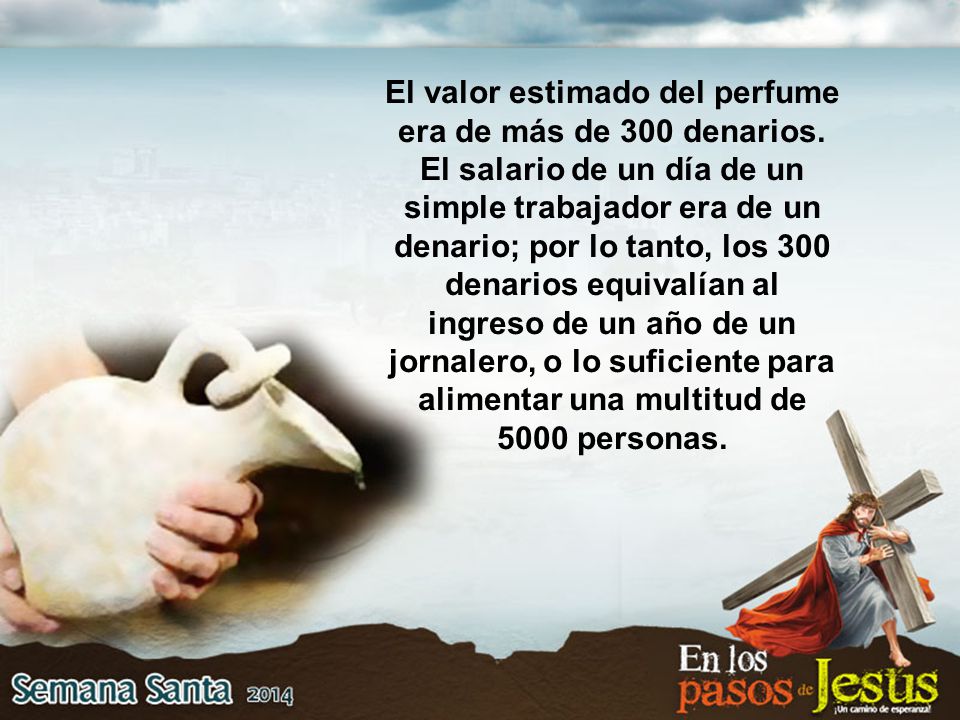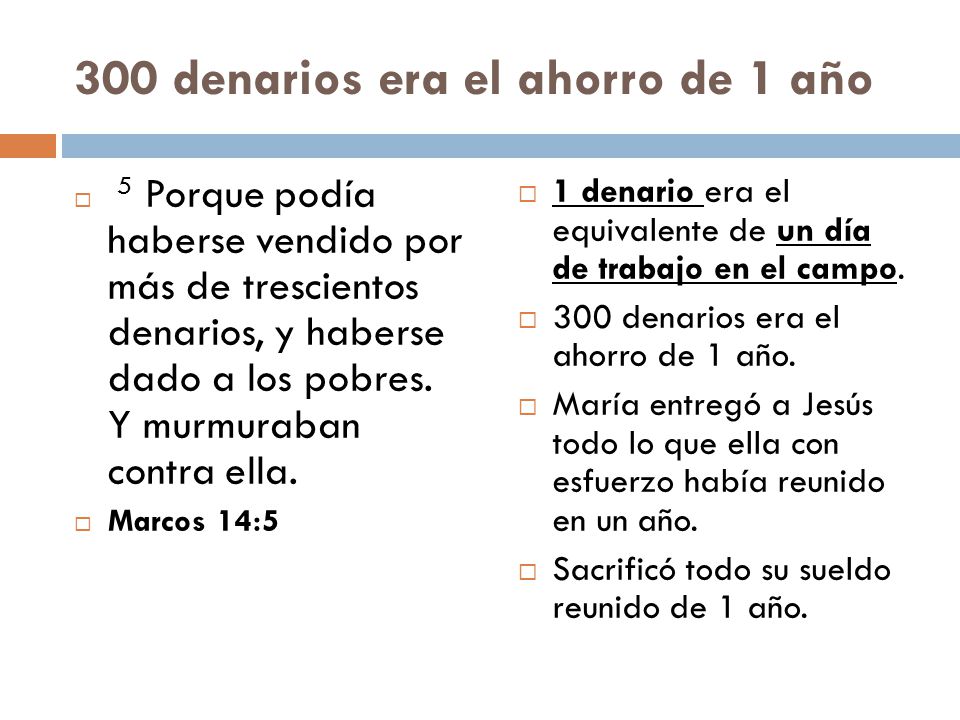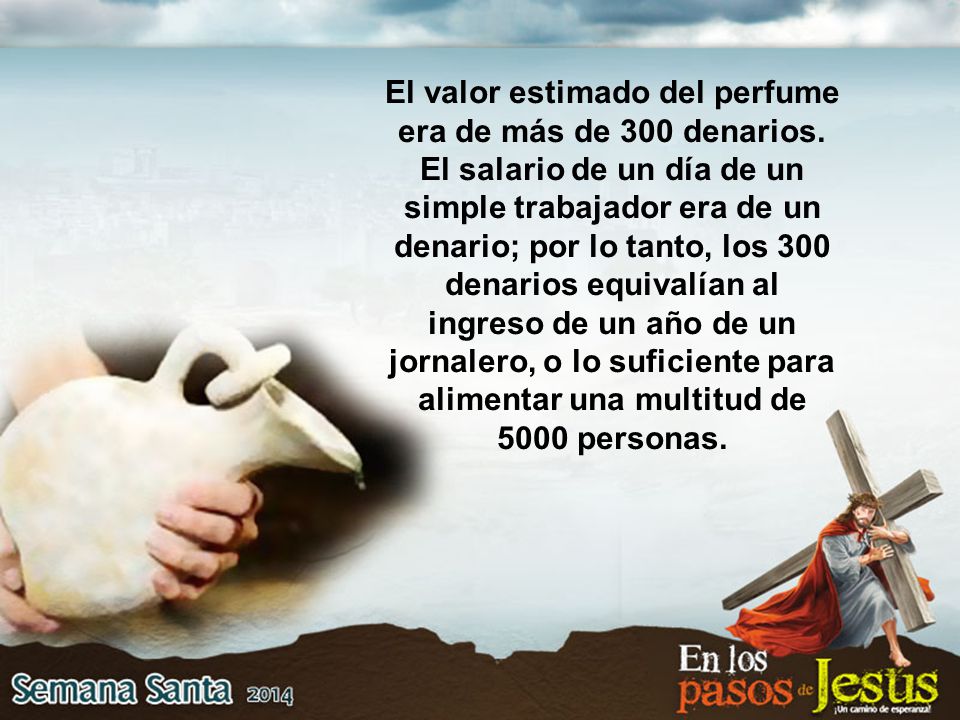 BABILONIA LA RAMERA ES UNA MUJER Y ES LA MISMA BESTIA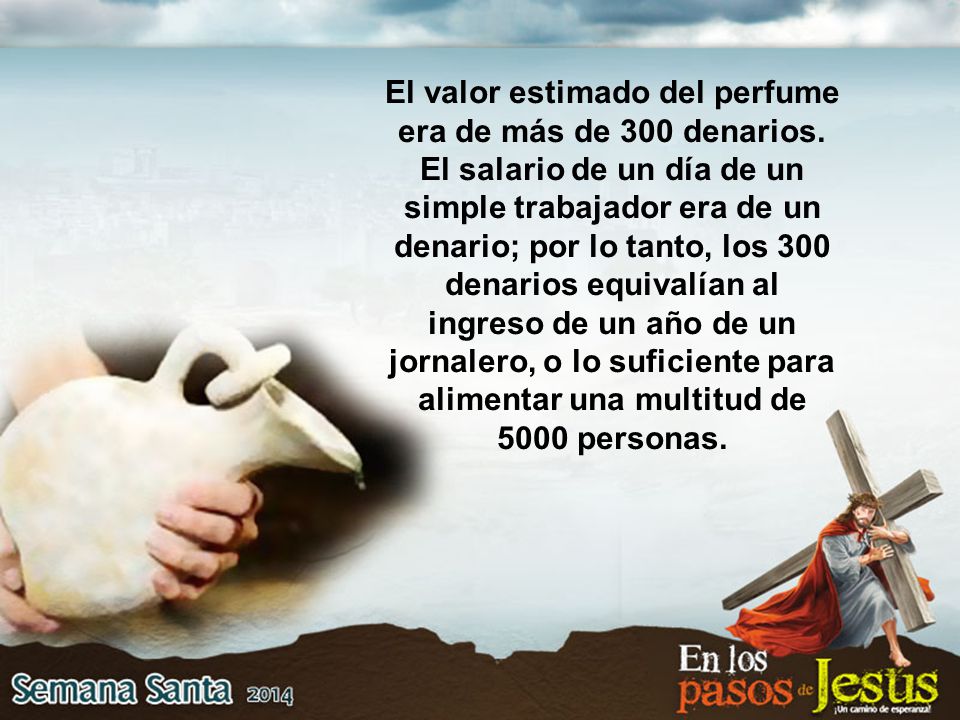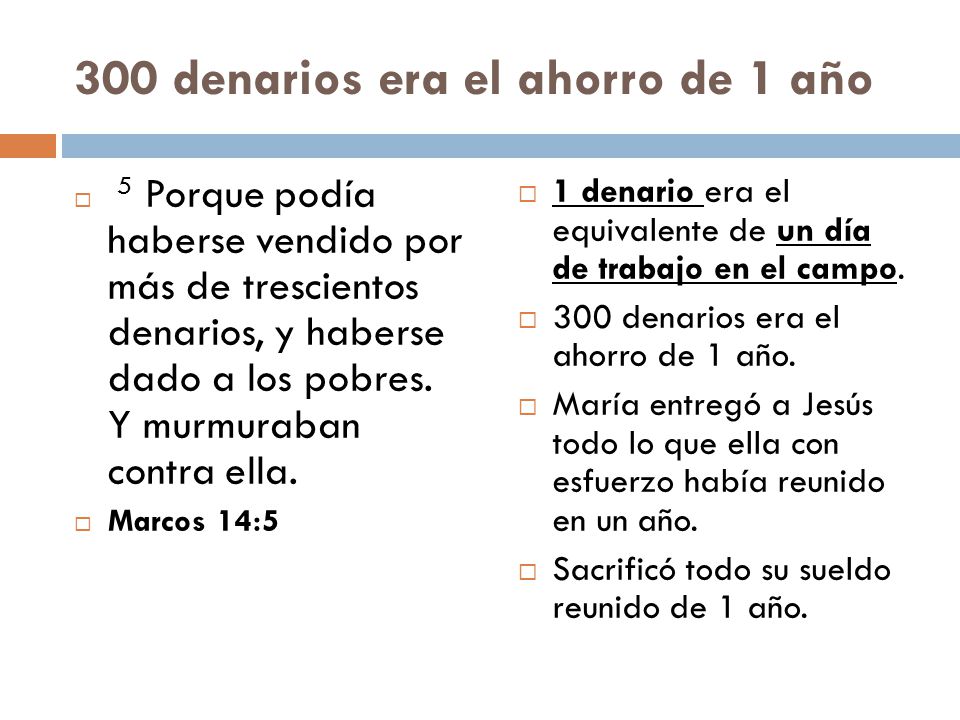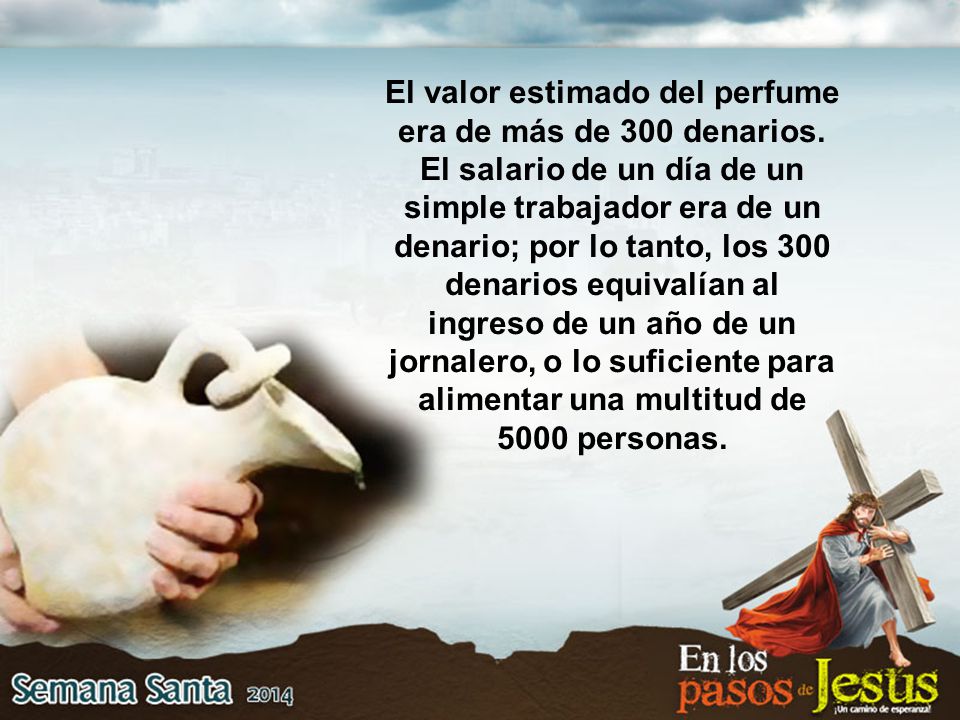 BABILONIA LA RAMERA ES UNA MUJER Y ES LA MISMA BESTIA
| | |
| --- | --- |
| Reply | Message 17 of 17 on the subject |
First
Previous
3 a 17 de 17
Next
Last
©2022 - Gabitos - All rights reserved