richard.webster wrote:
lovuian wrote:
Michael the Archangel plays a part


This prayer to Saint Michael the Archangel, originally composed in Latin, was written by Pope Leo XIII in 1886.

Prayer to Saint Michael the Archangel

Saint Michael the Archangel, defend us in battle, be our protection against the wickedness and snares of the devil. May God rebuke him we humbly pray; and do thou, O Prince of the Heavenly host, by the power of God, cast into hell Satan and all evil spirits who wander through the world seeking the ruin of souls. Amen.


John Paul II and Pope Benedict XVI has requested to say the prayer after mass
Speaking of St Michael, there is only one item of stained glass in the church, in the east window of the South (Templar) chapel; I don't know when it dates from. I presume this is St Michael, slaying a dragon.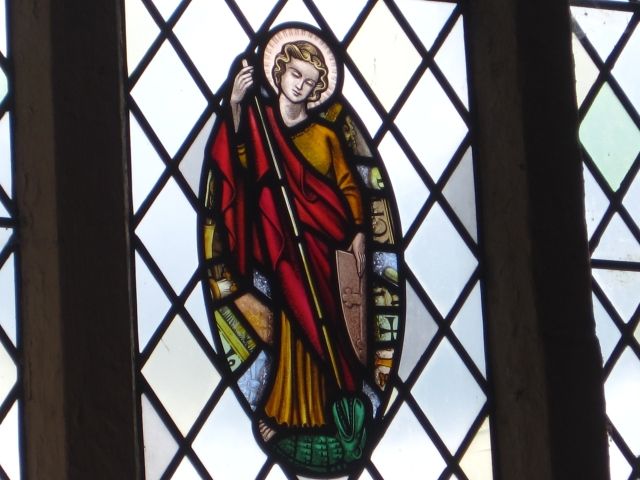 It could be St George, who also killed a dragon, but St Michael seems more likely, as he's the saint to whom the church is dedicated.
You know I LOVE the stained glass windows Richard
but now remember your in a Templar church...look at the TRiangle and diamond white glass around St George
its the diamond or triangles connected again like the water font and solomon seal
Here is Arque's symbol ...the diamond
the Templars were here too
http://perlbal.hi-pi.com/blog-images/17 ... Arques.jpg
The Rhombus
The rhombus is often called a diamond, after the diamonds suit in playing cards, or a lozenge, though the former sometimes refers specifically to a rhombus with a 60° angle (see Polyiamond), and the latter sometimes refers specifically to a rhombus with a 45° angle
It's the floor tile at Rennes Chateau