AGUJERO DE GUSANO=ALTA ALQUIMIA=GRIAL: VENUS=LLAVE MASONICA="EXPERIMENTO FILADELFIA"=PHI=CODIGO DA VINCI=APPLE
Choose another message board
| | |
| --- | --- |
| Reply | Message 1 of 98 on the subject |
Sauniere had a mon-key called Mela Latin apple
Venus/Mary blue apples and it's pentagonal cycle
| | |
| --- | --- |
| Reply | Message 2 of 98 on the subject |
Tanto el Tabernáculo y el Templo consistían de tres partes:
El Atrio
El Lugar Santo
El Lugar Santísimo

Con relación al Tabernáculo

El Lugar Santísimo era un cubo (10 pies x 10 pies x 10 pies)

Con relación al Templo:

El Lugar Santísimo era un cubo (20 pies x 20 pies x 20 pies)
El tabernáculo propiamente dicho era una tienda cuadrangular, de 30 codos* de
largo, 10 de ancho y 10 de alto. Las dimensiones del conjunto de la estructura
no figuran con exactitud en los registros del Exodo, pero se las puede calcular
sobre la base de los detalles que se dan de las cortinas y las tablas que se
usaron en las paredes del tabernáculo, y de las medidas proporcionales, pero
mayores, del templo de Salomón (1 R. 6:2). La tienda estaba dividida en 2
compartimentos: el 1º conocido como "lugar santo" (Ex. 28:29), y el 2º como
"lugar santísimo", literalmente "el Santo de los Santos" (26:33, BJ). Este
constituía un cubo de 10 codos por lado, mientras el lugar santo era de 10
codos por 20. El tabernáculo estaba rodeado por un atrio o patio de 50 codos
de ancho por 100 de largo, limitado por cortinas de lino de 5 codos de alto
(27:18). Esta pared de cortinas estaba suspendida por 60 columnas, quizá de
maderas de acacia* (por ser esta la madera usada para los muebles y otras
columnas; cf 26:37) revestidas de plata y sostenidas por pedestales de bronce.
En la parte central del extremo oriental del patio se hallaba la entrada, que
estaba constituida por una cortina especial de 20 codos de largo (27:9-17). En
la mitad oriental del patio, cerca de la entrada, estaba el altar de los
holocaustos (vs 1-8) y el lavacro o lavatorio (30:17-21).

Leer más: Diccionario Biblico Cristiano Online y Gratis en Español - Significado o definicion de Tabernaculo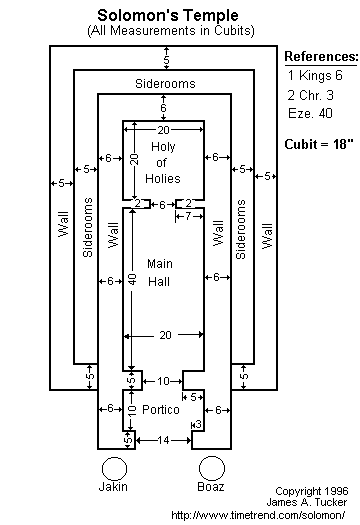 EL LUGAR SANTISIMO DEL TEMPLO DE SALOMON Y DEL TABERNACULO DE MOISES TENIA FORMA DE CUBO Y ESTABA ORIENTADO DE ESTE A OESTE. CONCRETAMENTE DICHO COMPARTIMENTO ESTABA HACIA ADONDE SALE LA LUNA CRECIENTE. ESTO EXPLICA SU FUERTE NEXO CIENTIFICO CON DICHA LUNA, INTERRELACIONADA CON EL NACIMIENTO DE UN NIÑO. LA LUNA CRECIENTE TIENE LA CUALIDAD DE QUE SALE Y SE PONE A LA PUESTA DEL SOL SIEMPRE EN EL OESTE. CONCRETAMENTE EL MENSAJE ESPIRITUAL DEL LUGAR SANTISIMO DEL TABERNACULO DE MOISES Y DEL TEMPLO DE SALOMON TIENE UN FUERTE NEXO, INSISTO CON EL NACIMIENTO DE UN NIÑO, Y MAXIME QUE EN EL CONTEXTO A LOS MESES DEL AÑO EL OESTE NOS CAE EN SEPTIEMBRE U OCTUBRE, OSEA EN LA FIESTA DE LOS TABERNACULOS. TABERNA/VINO/GRIAL
Si usted mira objetivamente el cubo vera que esta relacionado con el NUMERO 6 (6 SUPERFICIES), 12 (LINEAS PERIMETRALES/12 MESES LUNARES), NUMERO 8 (PUNTOS PERIMETRALES/RESURRECCION) E INCLUSO CON EL NUMERO 28 CONSIDERANDO LAS LINEAS DIAGONALES INCLUIDAS LAS INTERIORES. CONCRETAMENTE EL CUBO ESTA DISEÑADO EN FUNCION EL MES LUNAR CON LOS SABADOS LUNARES.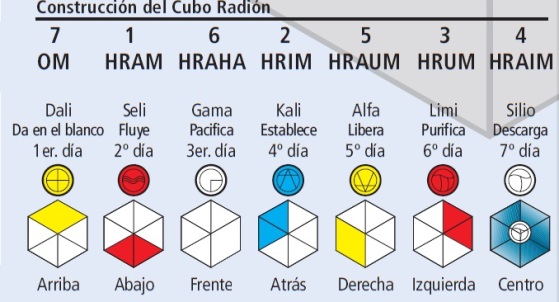 INCLUSO TAMBIEN LE VEMOS AL CUBO UN NEXO ZODIACAL Y GALACTICO EN EL CONTEXTO A LOS EXTREMOS DEL ZODIACO SEGUN APOCALIPSIS 4:7
HIPERCUBO
SI CONTAMOS LA CANTIDAD DE PARTES DEL CUBO MAGICO TENEMOS EL ASOMBROSO NUMERO 26 RELACIONADO CON LA GEMATRIA EN EL HEBREO DE YHWH E INCLUSO EN EL INGLES DE GOD/DIOS.
god

in Simple Gematria Equals: 26
(
g

---

7
o

---

15
d

---

4
)
APOCALIPSIS 21
15. El que hablaba conmigo tenía una caña de medir, de oro, para medir la ciudad, sus puertas y su muro.
16. La ciudad se halla establecida en cuadro, y su longitud es igual a su anchura; y él midió la ciudad con la caña, doce mil estadios; la longitud, la altura y la anchura de ella son iguales.
17. Y midió su muro, ciento cuarenta y cuatro codos, de medida de hombre, la cual es de ángel.
8 AÑOS SOLARES=13 PERIODOS SIDEREOS DE VENUS
16 AÑOS SOLARES=26 PERIODOS SIDEREOS DE VENUS
EN REALIDAD QUE LAS 12 HORAS DEL RELOJ, EN EL CONTEXTO A LA ESTRELLA DE DAVID (12 HORAS) Y EN EL CONTEXTO AL EXAGONO EN LA MISMA (NUMERO 13=SANTA CENA) TIENE ESTA CONNOTACION.
ESTE ES EL SECRETO DE LA RELACION DE LA GEMATRIA DE YHWH CON EL NUMERO 26.
| | |
| --- | --- |
| Reply | Message 3 of 98 on the subject |
DAN WINTER and everything GOLDEN:

Is the World as We Know it Coming to an End????

will it be an explosion or an implosion IF it was to end?



http://www.soulsofdistortion.nl/
The above text came from a website supporting a fella called Dan Winter.
Who is Dan Winter and what is his 'growing' claim to fame?
More info and a video of Dan Winter: http://www.soulsofdistortion.nl/

Dan Winter explains how the Golden Ratio (Phase Conjugate / Fractality) Causes Gravity
Now would that be a big deal?
Can we use CARD X to summarize what Dan Winter says?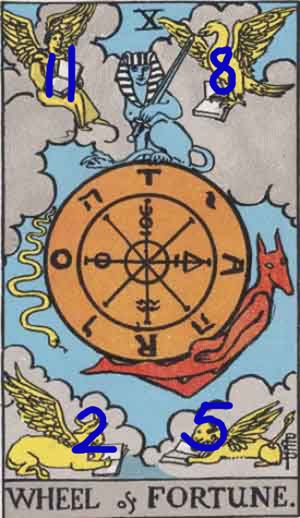 Many folks who study the tarot, feel this card is the KEY.
Is Gravity the KEY today?


To summarize what Dan Winter is suggesting:
An understanding of the Golden Ratio is necessary to understand Gravity

To summarize what I have been trying to illustrate using this CARD, which is directly connected to those Egyptian mysteries and sacred geometry:
Golden Ratio = phi / fibonacci = 1, 1, 2, 3, 5, 8, = CARD X and the 4 Gospels/Gnostic 5th Gospel/Tetragrammaton/Plato.

And of course all the other prove I have been parking here re: CODE 11258, on this thread, here on Fintan's website.

2010 should be an interesting year.

Once more folks understand the 'basics' it will be easier to get everybody to ride the same wavelength or frequency.

namaste

_________________
KEY 528=Swastika=ancient Spherical Standing Wave Theory
"A theory is more impressive the greater is the simplicity of its premise, the more different are the kinds of things it relates and the more extended its range of applicability…"
-Albert Einstein
http://breakfornews.com/forum/viewtopic.php?t=5228&postdays=0&postorder=asc&start=60
| | |
| --- | --- |
| Reply | Message 4 of 98 on the subject |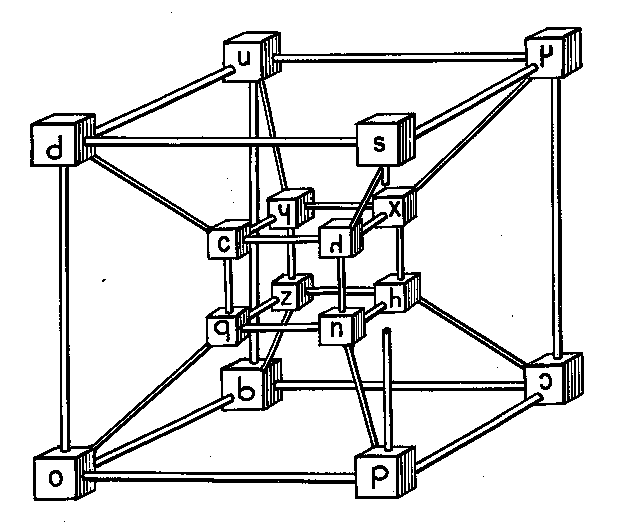 XLA

X-stem Logic Alphabet and the New Jerusalem (tesseract)
note: the

16

CUBES
note: keep in mind that St. Peter Square, is demarcated by 16 'winds'
note: keep in mind that the Tarot

KEY

I have recovered (

see below

) clearly indicates we should notice the first 15 letters have passed, and currently the stem indicates

MNO

.


Which I have suggested can be rotated/reflected into words like OWN, NWO, ONE, WON, NOW, hey MON!



Thus the 16th letter on the TAROT KEY is P or p.
Now the p used in this next link/article will make so much more sense.
>>> http://www.logic-alphabet.net/mirrors_title.htm

Let The Mirrors Do The Thinking

and

Let The People Do The Reflecting






LANGUAGE, LETTER, NUMBER AND FORM COLLIDE


Be sure to link on the interview at the end of this post.


Quote:
Introduction

Our story begins with a simple example. Suppose that someone asked you to keep a record of your thoughts, exactly, and in terms of the symbols given, when you are making an effort to multiply XVI times LXIV. Also suppose that, refusing to give up, you finally arrive at the right answer, which happens to be MXXIV. We are sure that you would have had a much easier time of it, to solve this problem, if you would have found that 16 times 64 equals 1024.

This example not only looks at what we think and what we write. It also looks at the mental tools, the signs and symbols, that we are using when that thinking and that writing is taking place. How we got these mental tools is a long story, one that now includes the presence of some new developments.

Our main idea comes from calling attention to a deep commonality that cuts across the parallel streams of development that in recent millennia have unfolded in the ways and byways of evolutionary notation. It took many centuries of collective search to devise a place-value notation for counting. Likewise to devise a sound-value notation for reading. Likewise to devise a note-value notation for singing. And so forth, for each neurologically specialized ability; in effect, a different specialized notation for each specialized ability. These observations, easily recognized in the history of evolutionary notation, strongly suggest that every kind of intelligence needs its own kind of notation.

In what follows, with emphasis on a fast-forward recapitulation, we will run a replay of what happened when Europe took several centuries to go from MXXIV to 1024. This replay in not for numbers. It is for another specialized ability. It is for logic, when it is recast in terms of a shape-value notation. Modern logic starts in the middle of the 1800s and, as is well recognized, with the work of George Boole. This means that we have had only about 150 years to think up and to grow into the symbols we now use for symbolic logic.
These symbols, and they are only symbols, leave a lot to be desired. We hope that we can draw you into taking a look at a lesson in lazy logic. If you follow us all the way, we hope to leave you with a new set of signs, signs that are much better than any you have seen yet. Not only will it be much easier for you to use them. Even mirrors will be able to use them.

X-stem Logic Alphabet:
http://www.logic-alphabet.net/

Background:
http://www.logic-alphabet.net/background.htm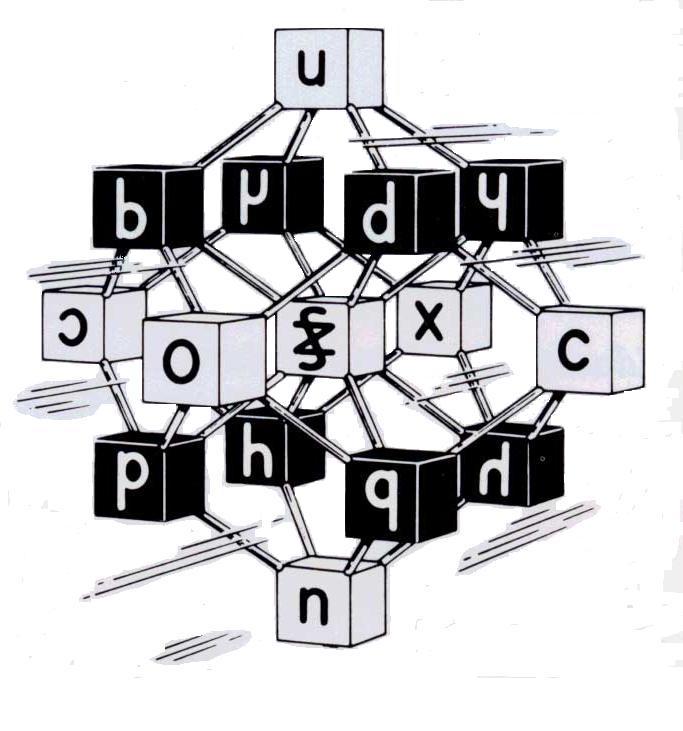 Why only

15

cubes in this version of XLA?
It appears two have been combined into one.
Take a look at the first image of the tesseract.
It is clear in this second image the S and Z have been combined into one center cube.
And I find that interesting, because the S is one of the 8 vertices of the outside cube, and the Z belongs to one of the 8 vertices of the inner cube.

AHA??

Who does not see two intersecting SHAPES resembling 'SZ' in the center of the image above or in the image below we see a ZZ in the center of the 7000 year old plate found in Samarra Iraq....from the SZ, the SueZ region?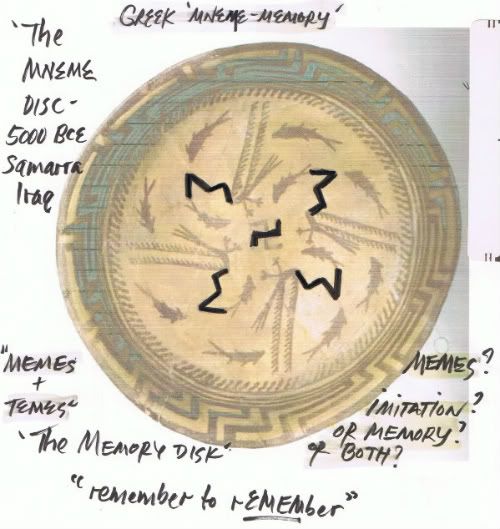 What does the geometric shape look like if we reflect one of the 'Z' in ZZ into a S?

The SHAPE resembling an '8' perhaps?
More research is necessary in this fIELd by (me?) because the pieces are fitting rather well.



WOW MOM

Interview with a kindred spirit:
http://www.cabinetmagazine.org/issues/18/crystal.php

I have found myself a new hero.


S

hea

Z

ellweger makes far more sense than that wanker

Z

echary

S

titchen, in fact proving ZS along with his planet Nibiru are flights of UFO fancy taking off in his head and coming out of his mouth like a swarm of locusts.

May ZSitchen Rest In PieceS and

some

of his music decompose along with him.



YAhoo YAHU






Which reminds me of another TRUE to LIFE real hero who used his imagination NOT to script science fiction and confuse the sheeple even more like that wanker ZS, but instead the imagination of ELI-

YAHU

RIPS will still pay dividends to humanity in the years to come.




D

O

T >>> 1D LINE >>> 2D SQUARE >>> 3D CUBE >>> 4D TESSERACT
important to know about the tesseract:
http://en.wikipedia.org/wiki/Tesseract


Quote:


The tetrahedron forms the convex hull of the tesseract's vertex-centered central projection. Four of 8 cubic cells are shown. The 16th vertex is projected to infinity and the four edges to it are not shown.

http://en.wikipedia.org/wiki/Tesseract



namaste

_________________
KEY 528=Swastika=ancient Spherical Standing Wave Theory
"A theory is more impressive the greater is the simplicity of its premise, the more different are the kinds of things it relates and the more extended its range of applicability…"
-Albert Einstein
| | |
| --- | --- |
| Reply | Message 5 of 98 on the subject |
| | |
| --- | --- |
| Reply | Message 6 of 98 on the subject |
| | |
| --- | --- |
| Reply | Message 7 of 98 on the subject |
666

Au cas où le spectateur n'aurait pas compris ce qu'il fallait décoder!

Un sexe pointant vers un orifice? non!
666

Se reporter à la Galerie dédiée
First
Previous
2 to 2 of 2
Next
Last
| | |
| --- | --- |
| Reply | Message 2 of 2 on the subject |
| | |
| --- | --- |
| Reply | Message 8 of 98 on the subject |
The Royal Secret of Freemasonry
Well again the most simple explanation for a complex theory is often the closest to the truth.
There are probably numerous different interpretations of the Masonic "Royal Secret" and it is a matter which is clouded by "obfuscation ("
concealment of intended meaning in communication, making communication confusing, intentionally ambiguous, and more difficult to understand
")" which you appear to be intent on adding to.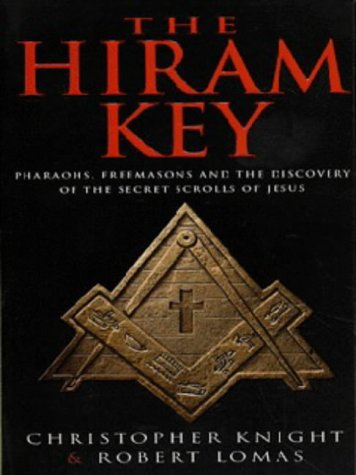 The matter is simplified in the work by two Masonic authors Knight and Lomas, "The Hiram Key," where the Royal Secret is made simple and clear.
The simple truth of the matter is that Masonry is a cult whose rituals are "based" upon ancient "King making" rituals, and the simple Royal Secret is that they are a Messianic cult with a secret "Royal (i.e., a secret king).
Of course I state such a simple explanation only for the benefit of others here, and not for your benefit "Raphael," since apparently the only explantions which mean anything to you are your own complex explanations for simple matters, and all others who would dispute your nonsense are obviously ignorant and unenlightened.
On the Holy Guardian Angel Raphael
I also utilise the angelic invocation of "Raphael (Hebrew: "God Heals;" more on: )" on other Internet profiles, particularly in the GLBT Internet world, and I have to point out to you that invocations of Holy Guradian Angels are very serious matters, which can also the destroy, corrupt and drive insane the "host" if they misuse the invocation and fail in the attempt.
Your "raphael" - prophet personification is one of the most apalling I have ever come accross.
I shall await the usual showering of ignorance and abuse which you seem to shower almost everyone with who fails to recognise your alleged divinity.
Lux
| | |
| --- | --- |
| Reply | Message 164 of 164 on the subject |
First
Previous
2 a 8 de 98
Next
Last
©2022 - Gabitos - All rights reserved