Optimist777 wrote:
There is another mysterious relation to be discovered in the sketch of the Vitruvian man by Leonardo Da Vinci. The Great Pyramid Khufu (Cheops in Greek), holds a perfect geometrical relation to the squaring of the circle and the Vitruvian man as depicted by Leonardo Da Vinci.


http://www.soulsofdistortion.nl/images/vitruvia3.jpg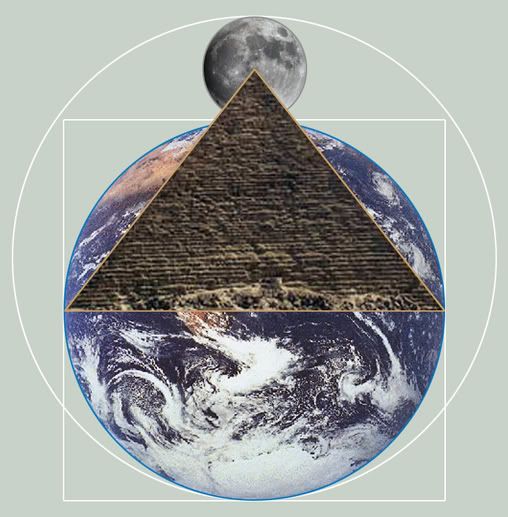 Quote:
The triangle in the picture is the exact geometrical proportion of the Great Pyramid at the Giza Plateau near Cairo, Egypt. The angles between the base and the apex (top) of the pyramid are exactly 51 degrees and 51 seconds. (51º 51').

Well, 51 degrees 51 minutes = 186,600 arc seconds which approximates our present measurement of the maximum speed of light in miles per second (186282.397) with a margin of error (who's error?) of 17 / 10,000th or

317

miles-per-second.

The volume of the Great Pyramid is 91,575,000 cubic feet at its capstone, its corner stone (not its missing apex of 11,616 cubic feet), is

1,037

cubic feet, and so a body of the Great Pyramid is 91,573,963 cubic feet.



The corner stone at 1,037 cubic feet x 9 is 9333.



http://www.templeofsolomon.org/pyramid.htg/Great.Pyramid.htm
Quote:
Each of the Egyptian Royal Cubits, beside coding equatorial circumference of the Earth measurements and methods according to three separate systems, also coded the speed at which the Earth rotates. To get the speed of rotation under each system, simply halve the inch value of the cubit under consideration and multiply by 100, then read the value acquired as MPH.

The true rotational speed is very close to

1037.583333 MPH (1037 & 7/12ths)

, so a reading of 1036.8 MPH is only off by .783333 MPH.


http://www.celticnz.co.nz/Nazca/Nazca6.htm


A G-force is generated by the speed at which the Earth rotates, the ground speed is greatest around the Equator at 1037.58 mph, slowing by 11.5379 mph per 1 degree of Latitude, as the circumference of the Latitudes decreases to zero at the Poles, and increases towards mountain peaks where the circumference of the rotation is spaced further out.

If the earth is 24902 miles in circumference and turns completely once every 24 hours , that's 1037.58 mph. You can see how the speed increases as one nears the equator in this graph.


http://www.thevlecks.net/rmj/earth.html
http://www.thegravitymyth.co.uk/

_________________
KEY 528=Swastika=ancient Spherical Standing Wave Theory
"A theory is more impressive the greater is the simplicity of its premise, the more different are the kinds of things it relates and the more extended its range of applicability…"
-Albert Einstein
http://breakfornews.com/forum/viewtopic.php?t=5916&postdays=0&postorder=asc&start=204
| | | |
| --- | --- | --- |
| | 161 | 27/10/2015 13:39 |
| | 183 | 27/10/2015 13:34 |
| | 114 | 27/10/2015 13:34 |
| | 75 | 27/10/2015 13:33 |
| | 39 | 27/10/2015 13:32 |
| | 3 | 27/10/2015 13:30 |
| | 33 | 27/10/2015 13:30 |
| | 13 | 27/10/2015 13:30 |
| | 45 | 27/10/2015 13:29 |
| | 53 | 27/10/2015 13:23 |
| | 27 | 27/10/2015 13:23 |
| | 97 | 27/10/2015 13:21 |
| | 42 | 27/10/2015 13:20 |
| | 28 | 27/10/2015 13:19 |
| | 278 | 27/10/2015 13:12 |
| | 26 | 27/10/2015 13:11 |
| | 64 | 27/10/2015 13:06 |
| | 65 | 27/10/2015 13:06 |
| | 19 | 27/10/2015 13:06 |
| | 17 | 27/10/2015 13:05 |
| | 179 | 27/10/2015 13:04 |
| | 10 | 27/10/2015 12:54 |
| | 30 | 27/10/2015 12:47 |
| | 388 | 27/10/2015 12:47 |
| | 68 | 27/10/2015 12:35 |
| | 1 | 27/10/2015 12:32 |
| | 2 | 27/10/2015 12:31 |
| | 20 | 27/10/2015 12:30 |
| | 33 | 27/10/2015 12:29 |
| | 58 | 27/10/2015 12:24 |
| | 198 | 27/10/2015 12:23 |
| | 4 | 27/10/2015 12:19 |
| | 9 | 27/10/2015 12:19 |
| | 3 | 27/10/2015 12:18 |
| | 5 | 27/10/2015 12:17 |
| | 13 | 27/10/2015 12:14 |
| | 79 | 27/10/2015 12:14 |