Quote:
One could say that 1 2 5 is a mathematical key. In the simple assumption that divide 1 with 2 (amount) you get 0.5 (size). Divide with size and you get the amount. It's the basis of base 10 system. Here 8 has also important role to play, because 1/8=0.125.
...Maybe I can learn a few new tricks
at 52 years of age, this ole dog is learning new tricks.
125 = math key
add an 8 you say?
ah
my fire-fighter badge was #1258.
>> A new number/badge that was iSSued to me in 2007, as I retired at age 50 to pursue EVERYTHING I share on these threads, today.
(my former badge had been #856)
but hey would the MATRIX encode this MATH KEY #1251 + 8 on CARD X of the Tarot?
The 'lord alchemist' verks in mysterious vays?
What is X?
Does X mark the spot?
Can we find a treasure under the X?
The word Nibiru means to cross-over or crossing.
ZS or

2

achery

5

itchen
is a plant to get into your sheeple brains?
WHAT IF?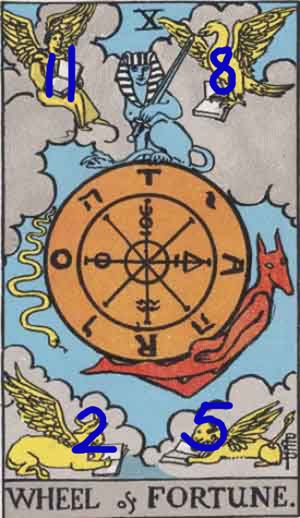 CARD X = 11 2 5 8
Folks don't
YA**
see the OBVIOUS?
Put a '3' in the center of the wheel of fortune.
join the dots with dashes of hope...it forms a
'W'
or an 'E or M or 3'
What you see, a W, E, M, or 3 all depends on which of the four directions you are seated at?
i.e. sitting a-ROUND the TABLE looking toward the epi-center or
Marko's cosmic blender re: 2 5
?
1, 1, 2, 3, 5, 8
>>>follow the FIBonacci trail, the yellow brick road, the golden spiral back to OZ or OS the operating SyStem?
...the FIBS help to remove the big LIES as this research I value illustrates....
http://breakfornews.com/forum/viewto...228&highlight=
The CODE to help unlock the 'gate' has been found.
Only IGNORANCE stands as gatekeeper...and there is plenty of evidence on this thread/forum.

And I was iSSued the badge 1258 for a purpose?
DAMN FOOKIN RIGHT!!!
YA, JA, JAH-Way, YHWH
, the herd of sheeple better believe it.
This I KNOW to be true blue.
I have found my purpose in these end of the daze....
** get your YA-YAs out in the end of daze?
MS WINDOWS is a clue to help find the DOOR?
>>>
http://kachina2012.wordpress.com/201...er-ya-yas-out/
namaste
p.s.
how archetypal and beautiful and poetic is the matrix.
here is a clue that I KNOW sadukan can use to apply his 'math' wisdom.
This is one is obvious.
The glyph W in west can be rotated 90 degrees CLOCKWISE to achieve an E, as in East.
remember to remember simple true blue rules about the 3-4 dimensional matrix we inhabit?
Z = S = 5 = 2 = N
So then HOW do we get the N in north to resemble the S in south?
AND if any of EWE feel that it is a coincidence that W and E are
rotations
, and N and S are
reflections
along the Z axis, then really I must tell share with ewe a fact of life.
get a life, you are wasting valuable time taking your
directions
from sadukan.
there is a better vay, simpler more holistic way to the truth....
MOST of ewe are terribly lost, as I once was....
But I turned over the rock of ages and found some good luck to help guide me along my journey.
My learning curve beginning at age 47 went thru the celestial roof?
WHY is there an apparent relentless NEGATIVE advertising camPAIN to dis what I found, the swastika = the KEY of UNIVERSAL VORTEX Movements that help explain torsion fields?
Maybe just maybe ...
jeSuS and Vatican Inc. will lose market share?
WE CANNOT HAVE IT BOTH WAYS.
Is it time we crucify JESUS again or resurrect him?
This time if jeSuS is resurrected magically once more, can I recommend we associate him with the HOOKED Cross, the swastika?