| | |
| --- | --- |
| From: timber (Original message) | Sent: 28/10/2017 20:55 |
Castro Script
I was looking for something over at YouTube and I found this drawing site and one of the videos was for making Name Art. I took the idea and used PSP to create name art similar to what I saw in the video. You can see the Name Art video here. The YouTube channel is Draw So Cute. When I learn to use my Pen Tool I would love to make some of her cute chibi-style characters.






For my name I used text size 72 with color black. I duplicated the layer, flipped it, and moved it to mirror the first layer, then merged the two layers together.

To add the colors, I used the Magic Wand Tool to select inside the spaces where I wanted to add color, expanded the selection by 2 pixels, added a new layer below the black text and filled with color. Repeat the process for adding color to more spaces. The three colors I used are #00A0C6 (blue), #00BD13 (green), and #C00000 (red). After all the colors are added, I applied Meadow Studio`s Coconutice Clear Glass (for SuperBladePro). I duplicated the iced colors layer and changed the blend mode on the duplicate layer to hard light to make the colors brighter.

I added a drop shadow to the black text layer of 2, 2, 25, 3, black.

I also made an avatar-sized image and rotated it 90 degrees left and another at 90 degrees right. I think it looks like some kind of tribal art.




And I also placed one on top of the other and now it kind of looks like an alien creature lol.





If you have a go at this challenge I would love to see the names you create!

First
Previous
2 to 5 of 5
Next
Last
| | |
| --- | --- |
| From: JossieAnn | Sent: 29/10/2017 20:34 |
Love it. The colors are wonderful. I actually have a light table the I have had for years. I use to own a small Printshop back, way back in the day. It will be fun to try this at home and then I can scan it into psp when I get up and running.
Fun project!. I look forward to playing.
Hugs, Jossie
| | |
| --- | --- |
| From: justjam | Sent: 16/03/2018 03:44 |
I just had to try this, it looked like so much fun!
I used the same colors as timber. It is amazing how different each name looks. I have loops and tails in my name so it is quite different.
After I did my name I duplicated it and mirrored it. Then I tried one where I put them back to back. I think this technique would make a good frame or border.
Thanks for sharing this timber!
| | |
| --- | --- |
| From: timber | Sent: 16/03/2018 10:17 |
Wow,
Judy
, your name turned out great! Having letters with loops and tails is a little more challenging but it makes a more dramatic effect, I think. I love the duplicated and mirrored tag! It looks so "tribal" to me.
Thanks so much
for giving this technique a play, Judy, I sure did enjoy seeing your results!
| | |
| --- | --- |
| Reply | Message 5 of 5 on the subject |
Well, I had to make do with what I could. I used EC4000 Glass and added a simple Noise effect using PSP8. I will have to try this one again, for sure! :-]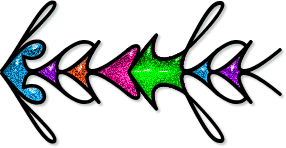 First
Previous
2 a 5 de 5
Next
Last