Gardenhose Tag




This is the tag we will be making.





This tut is easy to do if you are familiar with PSP and Animation Shop.
I have provided the supplies you will need.


You can find the zip file GardenhoseTut Here


The flowers and vines were made by me using a tut by Nightwind, many years ago. The hose and water animation are made by me. You may change the color, flip, combine, etc. as you need, for your tag. Please don't claim these supplies as your own or share with others.

The font I used is called Air Conditioner and is also supplied.


Open your gardenhose ani supplies in PSP.

Open a new image 300x200 or larger if your name is long. We will crop it later.


Select your text tool and the font, Air Conditioner. The size should be 36 with a stroke of 1 and Anti Alias checked.

Set the foreground color to #226719 and your fill color to #558A42.


Since we are working with such small items, I recommend zooming in most of the time.

Type your name and center it in canvas.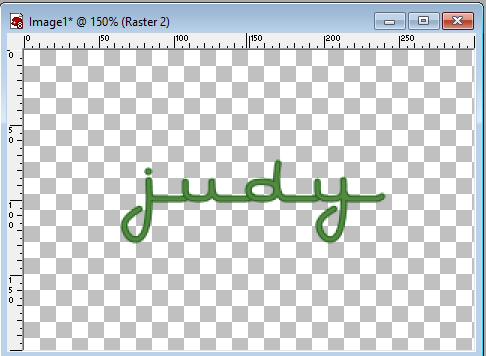 Apply an inner bevel to your name with these settings.






Copy the grass layer from the supplies and paste it as a new layer. Make sure to move this below your name layer.


Now the fun begins! Copy and paste flowers and vines from the supplies and begin arranging them around your name. You can move the layers around (up or down) as you like to decorate your tag until it looks good to you.


When you have it arranged, you can add your watermark.





Go to edit-copy merge and paste it into Animation Shop as a new animation.

Duplicate your layers until you have a total of three layers.


Open the waterhose ani file in Animation Shop.

Now select all of the layers in your waterhose ani and your name ani.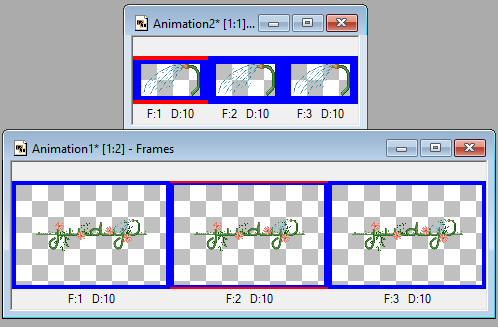 Be sure you are zoomed in! Copy the hose layers and paste (paste into selected frame) into your name ani layers, so that the hose looks attached to the end of your name.


The speed of the frame delay is set at 10, but you can adjust it if you like. View your animation.


If you like the way it looks, you can crop-surround layer opaque. The optimization settings I used are opt octree and nearest color. Under the Optimizations tab, I selected the middle three choices.


Save your new tag as a gif!

I hope you have fun with this one and I would love to see your results.



I'd love to see your results!
You can post them with the other member results
HERE
This original tutorial was written by justjam on May 7, 2018.
Any similarity to any other tutorial is coincidental.
Please do not claim it as your own, pass it around in groups or post to any other location.
You may print out a version for you own use.