| | |
| --- | --- |
| From: timber (Original message) | Sent: 21/08/2019 19:38 |
| | |
| --- | --- |
| Reply | Message 496 of 510 on the subject |
| | |
| --- | --- |
| From: timber | Sent: 16/12/2020 02:53 |
Happy Holidays!
Hi,
Daphne
, good eye!

That's the tutorial that I found way back in 2005 that taught me how to make my tag

. Your tag looks like the original tutorial and my tag uses a fill that a friend made. Your tag looks perfect with that cute elf tube!
That's great news about Australia; I'm so happy to hear that!

I hope it stays that way.
I found this font from a Font Challenge so I've been playing with Animation Shop Effects and made this tag using Rotate Colors. I have a second version of the tag that uses a second effect so I'll probably add a challenge to the board here so I can share my settings with everyone.
Take care and be well!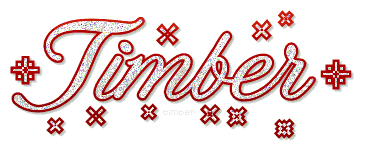 | | |
| --- | --- |
| Reply | Message 497 of 510 on the subject |
I love my new tag that timber made for me, Daphne.
I'm hoping to work on my skills so I can make everyone
name tags too!
Happy Holidays
| | |
| --- | --- |
| Reply | Message 498 of 510 on the subject |
| | |
| --- | --- |
| From: timber | Sent: 17/12/2020 23:38 |
I'm so glad you're enjoying your tag,
Fran
. Getting good at PSP only requires love

, patience and practice. And having friends to help you along your way is also very helpful!

Have a great rest of your week and weekend!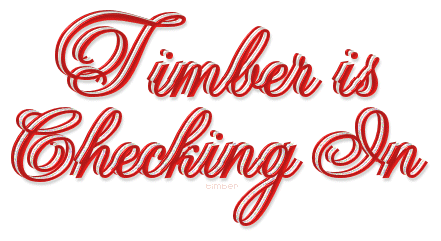 | | |
| --- | --- |
| Reply | Message 499 of 510 on the subject |
| | |
| --- | --- |
| Reply | Message 500 of 510 on the subject |
| | |
| --- | --- |
| From: Chuy | Sent: 20/12/2020 22:33 |
M
e
r
r
y
C
h
r
i
s
t
m
a
s
a
n
d
H
a
p
p
y
N
e
w
Y
e
a
r
.
M
a
y
a
l
l
o
f
y
o
u
r
d
r
e
a
m
s
c
o
m
e
t
r
u
e
.
C
h
u
y
| | |
| --- | --- |
| Reply | Message 501 of 510 on the subject |
Happy Holidays, everyone!




I hope you are all doing great and enjoying the Christmas season ♦ I am sorry for having been gone for so long and missing out on things here and with everyone. Things are all right, on our part, though just been feeling a bit under the weather. My honey and I have been sneezing/stuffy and feeling crummy due to allergies (it is that time of season here for sure). So far, that is all that is bothering us and we are hoping that it does not get worse or we get that "something else" that is still going around.




It is so nice to come by and check in after so long. I really have missed everyone and your creations. Jossie, Fran, Moon, Daphne, Judy, Timber and Chuy, love your tags and sigs! I have not worked on anything in months! Not even for my websites... bad me! Not sure if I am back for good but will try to check in as often as I can.




Take care everyone and hope that things are better for your granddaughter, Jossie! ♥



| | |
| --- | --- |
| Reply | Message 502 of 510 on the subject |
Hi Karla , I am just so very pleased to see you back here I was thinking terrible things had happened to you and was so very worried... but glad to see you at last... I have been making a website for my daughter and her hobby which is breeding and showing Cavy guinea pigs so that kept me busy for a while.... I made good use of your tutorial for "Dazzle Doll Glitter text " .
We are now having Coviud back in Sydney which was such a surprise as we had gone over 2 weeks with no cases of it , then it just started up again and part od Sydney are again in lockdown, which is not good for Xmas. I hope everyone stays safe and has a Happy New Year.
| | |
| --- | --- |
| Reply | Message 503 of 510 on the subject |
| | |
| --- | --- |
| From: SharonK | Sent: 25/12/2020 19:17 |
| | |
| --- | --- |
| Reply | Message 504 of 510 on the subject |
Hope everyone had a Merry Christmas! We celebrated alongside my mother in law and fam. It is the first year we are without my father in law, so it was a sad but sweet Christmas. My mother in law had her friend create pillows for her children and grandchildren, using my father in laws button shirts. She even sprayed some of his cologne onto them. It was her way of having him with us ♥




Oh Daphne, I am sorry I had you worried. You are thoughtful for doing so. I do have fam here in TX that have gotten the CV and a lot of them have been isolating themselves from others and still got sick. My little nieces (6 & 4) and their mom got sick too and they are in California. They have kept to themselves prior and still got it. It is ridiculous how it is still going around and completely changing the lives of everyone around the World.




That is good that you have kept busy! How is the website coming along?




Well, I better get this posted now before I head back to bed. Been sick in the tummy and just finished drinking some chamomile tea. I am so tired and dehydrated. Hopefully, I am feeling better by morning. See you all later!




☺
| | |
| --- | --- |
| Reply | Message 505 of 510 on the subject |
| | |
| --- | --- |
| Reply | Message 506 of 510 on the subject |
Well Christmas has come and gone , now we look forward to the New Year 2021 which I do hope is better than 2020 and that Covid ceases to exist. Karla I am please that you had a nice Christmas with family and sad that so many people are still contacting Covid even when staying home.... here in Sydney they have now told people to stay away from the Sydney City Centre for New Years Eve for fear of a break out as we have just started getting more clusters of it in some areas..
I hope your tummy worries are all better now...
Yes I have been updating my websites as I have two additional domains as well now... on is just for my daughter and her hobby , it is not finished as it needs all her data and pics added but you can see how it is looking, she wanted a theme and colours.... www.daisychaincavystud.com
Such weird weather here for this time of year as we are normally having very hot weather and fires, now we are having cooler weather and thunder storms and rain.... go figure..
Well best stop chatting and I wish everyone a Very safe and Happy New Year
| | |
| --- | --- |
| Reply | Message 507 of 510 on the subject |
Hi again, I was just wondering if anyone here has ever done any of those beautifl video graphics that I see in Pinterest of a graphic that moves and looks wonderful ... would love to give it a try but no idea what programme does this
| | |
| --- | --- |
| Reply | Message 508 of 510 on the subject |
| | |
| --- | --- |
| Reply | Message 509 of 510 on the subject |
| | |
| --- | --- |
| From: timber | Sent: 01/01/2021 07:59 |
This thread is now CLOSED!
Please visit the new thread
here
to check in, thank you!
First
Previous
496 a 510 de 510
Next
Last