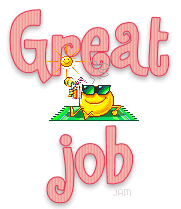 Awww... what a sweet
little mermaid. I'm glad you didn't create a text tag,
Judy
, because this is a color palette challenge (not a text or font challenge). I created a text tag because I wanted to make a tag with an animated trail. You could have created a pattern with the palette or colorized a portion of something in your tag. A color palette challenge is kind of a random challenge; it's open to interpretation.
After saying that I do have to say that I love
how your text looks
LOL. Those aqua colors are sooo pretty on your tag. I may have to play with those colors for a text tag
.
I have also done the Text Twinkle tutorial, so I will post a challenge for it. I looked in my folder for that tut and I have an additional three tags that I never finished, so I may have to get those done.
Thanks
for giving this challenge a play. I enjoyed seeing your results!