| | |
| --- | --- |
| From: justjam (Original message) | Sent: 15/08/2018 05:20 |
Claw Alphabet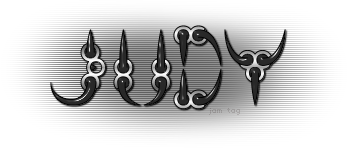 Here is the latest alphabet that I colored. It is made from the Claw 1 font.

This has a gothic look to me and I can't wait to see how you would use it.

You can download the png file HERE.

To use this alphabet in PSP, just open the png file and using your lasso tool, select the letter you want. I usually set my lasso tool to freehand. Copy and paste this letter into another image as a new layer.

Repeat copying and pasting until you have all the letters you need.

Arrange the letters to spell out your name or other words.

Then, merge the letter layers and decorate as you wish.

I hope you will have fun with this alphabet and please come back here and share your results.
First
Previous
2 to 4 of 4
Next
Last
| | |
| --- | --- |
| From: SilentEyez | Sent: 15/08/2018 10:57 |
Had something else in mind but then I went a different direction

lol

And yes, it is a

snaggy

♥
Poser witch from:

Sparkle tube (eyes): [not sure from what webby I got it from]
| | |
| --- | --- |
| Reply | Message 3 of 4 on the subject |
| | |
| --- | --- |
| From: Jossie | Sent: 18/10/2021 23:10 |
Here is my tray with the Fabulous Alpha.
| | |
| --- | --- |
| Reply | Message 4 of 4 on the subject |
PRECIOSOS DISEÑOS
First
Previous
2 a 4 de 4
Next
Last